iPad Air 3 and iPad Pro 10.5 Back Cover Cases that Work with Apple's Smart Cover in 2022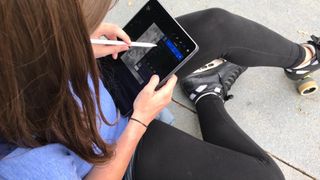 If you're someone who's ever used Apple's Smart Cover with an iPad, you'll know how awesome of an accessory it is. The tricky part is securing the back of your iPad Pro. Here are a couple of different back cover cases that'll fit your iPad Pro 10.5 or iPad Air 2019 and will work with Apple's Smart Cover.
Pick the perfect partner for your iPad Air 3 and your Smart Cover
Finding the perfect back cover case for your iPad Pro 10.5 or iPad Air 3 that'll also work with your Apple Smart Cover can be tough. There are quite a few different options to consider. The KHOMO Companion Cover (opens in new tab) isn't only price efficient and incredibly reliable. Its sleek and subtle design makes it a great accessory to use with your iPad Air 3 or iPad Pro 10.5. The pencil holder is an excellent touch if you use an Apple Pencil.
If you don't need the pencil holder and just want something incredibly simple, I'd recommend the MoKo Case Fit New iPad Air 3 and iPad Pro 10.5 (opens in new tab). It's just a basic back cover that's clear so you can still see your beautiful iPad underneath. Plus, it won't break the bank.
Cella writes for iMore on social and photography. She's a true crime enthusiast, bestselling horror author, lipstick collector, buzzkill, and Sicilian. Follow her on Twitter and Instagram: @hellorousseau
Get the best of iMore in in your inbox, every day!
Thank you for signing up to iMore. You will receive a verification email shortly.
There was a problem. Please refresh the page and try again.