Facebook Messenger for iPad is here!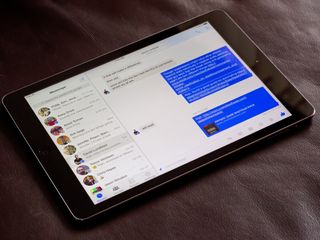 Facebook's standalone Messenger app has finally arrived on iPad. Previously a blown-up version of the iPhone app was available for tablet users, but now the iPad gets its very own Messenger app, complete with multi-window interface. You can view your current conversation in one pane alongside a list of recent threads.
No new features to tag along (that we can see anyway) so it's the same Facebook Messenger that you know and love. Chats, photos, stickers, voice messages, group conversations — they're all here. Of course it's also free which is always a good thing.
The app is showing for some, but not for others, so if you don't see it yet be sure to check back in a bit!
Get the best of iMore in in your inbox, every day!
Editorial Director - High Yield
After getting his start writing about BlackBerry in 2008, Adam is now the Editorial Director of High-Yield content at Future. Leading an outstanding team, he oversees many of the articles the publisher produces about VPN, TV streaming, and antivirus software — from buying guides and how to watch content, to deal news and in-depth reviews. Adam's work can be seen on numerous Future brands including TechRadar, Tom's Guide, T3, TTR, Android Central, iMore and Real Homes.
The last thing I need is a proprietary messaging app whose purpose is for Facebook to spy on me.

Yay!!! Oh wait... Facebook deleted! :)

Is it a single binary? Or standalone from the iPhone app?

My iPhone just answered my own question... single binary

Another crap app on the imore page. Nothing to see here.

So why are you still browsing this page, mate?

Actually Facebook messenger is quite good at what it does. And it programmed very well. You don't like Facebook fine. Us that use it, this app is quite good.
ಠ益ಠ

My apologies. But these are the kind of apps you know about along with tired apps like Angry Birds. I'd like to see the ones you might not know. I did see Rene announce some sort of editors choice apps thing. Hopefully this will be what I'm wanting to see.

I guess you have a boring social life Sent from the iMore App

Based on the photo, it looks like they used iMessage's UI.

Big effin whoop Sent from the iMore App

I use it on my iPhone 4 quite often mainly because the Facebook app itself is TOO DAMN SLOW. I've yet to have any problems with it Sent from the iMore App

I still don't understand how having to use a separate app for FB messages is a better user experience.
Thank you for signing up to iMore. You will receive a verification email shortly.
There was a problem. Please refresh the page and try again.