iPad at Work: Audio Visual Coordinator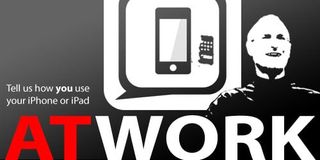 How does an audio visual coordinator use his iPad to get the job done and what iPad apps help get him through his day? TiPb's iPad at work contest aims to bring you just such slices of the iPad life. Here's Aaron's answer and as a small token of thanks we're sending him a $20 iTunes gift certificate. If you want to see your name up on the TiPb home page and get a gift certificate all your own, head on over to the TiPb iPad Forum and share your story now!
I am the AV coordinator for a school district. My tasks include things like video editing and equipment repair, but the bulk of time is spend managing and running the theatre.
Of course I use my iPad for the usual synching with our exchange server. I use Safari to log into our help desk to check requests people have submitted to the AV dept. Things (opens in new tab) is a must on my iPad. It is in sync with Things (opens in new tab) on my iPhone and MacBook Pro. Everything from daily todo's to major events taking place in the theater are organized in/with Things. When a new help ticket comes into my email inbox, it goes straight into Things.
In our main theater, we have an ETC Ion lighting console that can be remotely controlled from the iPad with the iRFR (opens in new tab) app. Simply turing lights on or off while on the catwalk, or sitting in the audience or fully controlling the moving lights are done from the iPad. When students are running the board, I can monitor the cue list from my iPad as a show is going on, even taking notes on individual cues.
The main sound mixing board can be accessed via VNC and controlled from anywhere in the theater. Instead of mixing the sound from the back of the hall, I can be sitting where the audience will be, or various places throughout the hall.
Simple Note (opens in new tab) is used for all note taking in meetings and anytime I need to jot down some info such as part numbers, if I am working on a repair.
In my office, my iPad is on my desk in a Griffin Loop stand, ready to be used as an additional monitor with Air Display (opens in new tab).
Since i got my iPad, my MacBook Pro has seldom left my desk, when I used to carry it across campus everyday.
What about you? Are you an audio visual coordinator? If so, which apps help you with coordinating? If not, head on over to the TiPb iPad Forum and let us know how you use your iPad in your job.
Former app and photography editor at iMore, Leanna has since moved on to other endeavors. Mother, wife, mathamagician, even though she no longer writes for iMore you can still follow her on Twitter @llofte.
I really must admit that the iPad has not yet ceased to amaze me. All of the different ways in which people utilize their iPads is simply marvelous. I read an article just the other day about a man who bought one for his grandfather and through the course of the article I came to realize that this little marvel could be the one "computer" to come along that could finally breach the technology and age gap. The older generations, not all, but many still have a hard time with computers, but because of Apple's design the iPad is one of the most user friendly devices on the market. The guy's grandfather is in love with it and he had used computers in the past, but was irritated by all of the functions that you have to learn, it wasn't something that felt innate.
There is an interview series on the iPad that I think you might also really enjoy.http://www.ourblook.com/topic/ipad.html

Great read! Good for those involved in the audio visual world. Downloaded air display after reading this!
Get the best of iMore in in your inbox, every day!
Thank you for signing up to iMore. You will receive a verification email shortly.
There was a problem. Please refresh the page and try again.