iPhone 11 review roundup: The iPhone most people should buy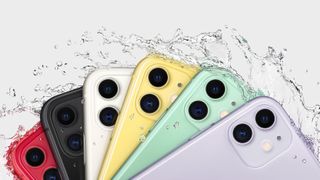 (Image credit: Apple)
With an affordable starting price of $699 and a slew of upgraded features, the iPhone 11 is arguably Apple's most compelling smartphone. Don't just take our word for it; several reviews of the iPhone 11 are out today, and they all seem in agreement: The iPhone 11 is the iPhone most people should buy. Here's what people had to say.
iPhone 11 review: The one for everyone
Are the cameras any good?
Last year's iPhone XR has a single camera, and the iPhone 11 gets an upgrade to a dual-camera setup. But this isn't just a straight port of the iPhone XS camera.
Wired said the iPhone 11's camera doesn't produce remarkable results but praised the Camera app's simplicity:
The Verge said the ultra-wide sensor is a little slower than the main camera:
What about Night Mode?
It isn't just the Pro model that features Apple's new Night Mode. The good news is the iPhone 11's camera is capable of producing good results in low light.
Engadget said the iPhone 11's Night Mode is more subtle than competitors, which isn't a bad thing:
Wired said the iPhone 11's Night Mode is good, but doesn't quite best Google's Pixel 3:
Battery life
The iPhone XR was a battery champ last year. Does the iPhone 11 carry on that torch?
iMore said the iPhone 11 crushed its battery tests:
TechRadar said the iPhone 11 battery basically lasts forever:
The screen
The iPhone 11 features an LCD, not OLED. Is that a big deal? Maybe to diehard tech enthusiasts, but it won't be noticeable to the average user.
The Verge said the iPhone 11 display is as good as last year's iPhone XR:
Engadget said the screen looks great. However, the bezels are still a little big:
The colors look great in person
The iPhone 11 comes in a variety of bright colors, which keeps the line feeling fun and fresh.
CNBC said the variety of colors keeps the iPhone from feeling boring:
iMore found last year's colors to be better than this year's more pastel look:
The iPhone most people should buy
Even though it's not quite as premium as the iPhone 11 Pro, the iPhone 11 still feels premium and is much more affordable. Therefore, it's the model most people should buy.
The Verge starts out its review by saying as much:
Engadget said that although the iPhone 11 as similar shortcomings as the iPhone XR, it's still a fantastic device:
TechCrunch found the iPhone 11 is a great option for the average consumer:
My husband use to be a big time cheat,and i was curious of getting proofs about it for real then i saw recommendations about onlineghosthacker247 AT GMAIL DOT COM online and never hesitated to contact him, He asked me for few information about my husband mobile device, no personal info was asked for also, i provided it all to him and in less than 24 hours i was getting too see my husband text messages, Call logs, Emails, Facebook messenger and as well as Whatsapp messages as they come into his phone, i was able to get good and concrete proof for my Anthony to file a divorce, if you are having similar issues i would advice you contact onlineghosthacker247 AT GMAIL DOT COM tell him khole thompson referred you. You can thank me later
Get the best of iMore in in your inbox, every day!
Thank you for signing up to iMore. You will receive a verification email shortly.
There was a problem. Please refresh the page and try again.