iPhone: The ultimate guide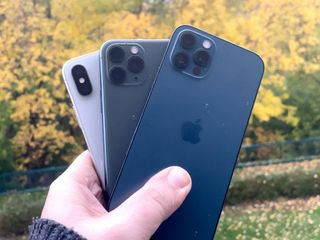 (Image credit: Rene Ritchie)
When Steve Jobs introduced the iPhone back in 2007, he called it a "pocket camera, computer, and communicator," all in one device. It's no doubt Apple's most successful product of all time, as Apple has sold over a billion iPhone devices since the original.
Current iPhone models that Apple sells include the iPhone 12 mini, iPhone 12, iPhone 12 Pro, iPhone 12 Pro Max, iPhone SE, iPhone 11, and iPhone XR. Yeah, that's a lot of iPhones, and each one has its own unique set of features, and the price points are all different. It can definitely be tough to sort everything out.
Thankfully, we're here to help you out with our complete iPhone guide!
iPhone reviews
Every year, Apple releases a new iPhone — this is pretty much guaranteed at this point. And that means that every year we review said iPhone, so you can make an informed decision about which iPhone would best suit your needs.
If you're eyeing the new iPhone 12 lineup, we have you covered with our iPhone 12 mini review, iPhone 12 review, iPhone 12 Pro review, and iPhone 12 Pro Max reviews. These are the four latest and greatest iPhone offerings that Apple has on sale right now.
For those who want to save a little money, you'll want to check our iPhone SE (2020) review, iPhone 11 review, and iPhone XR review. The iPhone SE is a great value iPhone, while the iPhone 11 and XR are a little older but still work great.
However, we strongly believe that the iPhone 12 is the best iPhone for most people. It has most of the flagship features that Apple offers in the Pro version, but you can save a little dough with the lower price point.
Buying your iPhone
Before you consider buying a new iPhone, you'll want to make sure that you have enough cash to do so first. A great way to do this is by selling or trading in your old iPhone or another device for some cash to put towards your new iPhone, but make sure you wipe and erase all of your data first.
When considering your next iPhone, you'll want to make sure that you choose the right storage configuration, as well as color. After all, you're going to have this device for at least a year or more. If you want the most storage, the iPhone 12 Pro storage size goes up to 512GB, which is great for those who are going to take a lot of photos and video. Those who go for the iPhone 12 mini or iPhone 12 can get up to 256GB of storage, which should be enough for most people and all of those photos and apps.
If you're considering an iPhone and on a budget, you can't go wrong with the iPhone SE (2020). With the iPhone SE you can get up to 256GB of storage, which again, is plenty for most people. For those who are looking at older models, the iPhone 11 comes with up to 256GB of storage, but the iPhone XR only goes up to 128GB. Depending on what you plan to use your iPhone for, there is plenty of space regardless, especially because you may already be using a cloud storage service and streaming services.
Now, the other thing to consider when purchasing your iPhone is which color you want. The iPhone 12 comes in five gorgeous colors, while the iPhone 12 Pro comes in four, but they're more sleek and professional color options. Whether you go iPhone 12 or iPhone 12 Pro, the blues are a fantastic new addition to the lineup that Apple offers.
You can definitely save some dough by going with the iPhone SE (2020) or even the older models that Apple still sells. The iPhone SE comes in three simple colors, but the iPhone 11 has six hues, and even the iPhone XR has six (but different from the 11). No matter which phone you go with, there is sure to be a color that you'll absolutely love!
Then there is also the purchasing method that you want to consider — should you buy it outright or sign up for something like Apple's iPhone Upgrade Program? And don't forget to add AppleCare+ or some insurance for your iPhone for extra peace of mind!
Using your iPhone
Now that you have a new iPhone in your hands, you'll need to begin the process of transferring data from your old phone to your new iPhone. But maybe you are switching from an Android device to an iPhone? Even if you are coming from Android to iOS, it's a pretty straightforward process, and once you're done moving your data over, you'll be glad you did!
While you use your phone, you should be getting enough battery life to power you through the entire day. If that's not the case, then there are a few ways to fix any iPhone battery life problems you are experiencing. And if you encounter any other issues, then make sure to check out our full iPhone troubleshooting guide to fix common iPhone problems.
Currently, the only iPhone that Apple sells that still has Touch ID is the iPhone SE (2020). Touch ID is a fingerprint sensor in the Home button that is used for security and biometrics. It's super easy to set up Touch ID, and the benefit of it over Face ID is the fact that you can register up to five fingerprints, so it's easier than ever to unlock your iPhone.
But if you get an iPhone XR, iPhone 11, iPhone 12 mini, iPhone 12, iPhone 12 Pro, or iPhone 12 Pro Max, you'll forego the Touch ID in favor of the newer Face ID technology. Setting up Face ID can be done when setting up your new iPhone, or you can even do it later. And while Face ID doesn't let you store up to five different faces to get to your iPhone, you can at least set up one alternate appearance to make it easier to recognize you with glasses or a hat on, or even your significant other for emergencies.
All of the iPhones that Apple currently sells will work with iOS 14. Make sure to check our iOS 14 review for all the details about how to make the most out of the new software.
Best apps and games for iPhone
Once you have your iPhone set up, it's pretty much ready to go. But you can totally enhance your iPhone experience by loading it up with some apps and games from the App Store.
If this is your first iPhone, boy, you're in for a treat! We have rounded up a huge list of the best apps for first-time iPhone owners. From social networking to cloud storage to password managers and other apps for boosting your productivity, we've rounded up the best of the best in that list! Even if you're a returning iPhone user, there are sure to be some apps on the list that you'll want to give a try.
For those looking for some ways to keep busy, we also have a list of the best iPhone games that you can find on the App Store. And if you want even more amazing titles to play, make sure to check out everything available on Apple Arcade, which is Apple's gaming subscription service with over 180 games, including some timeless classics from the golden days of the App Store.
Best accessories for iPhone
Now that you have everything set up on your iPhone software side, it's time to protect it with the best accessories out there.
For those with an iPhone 12, you won't want to miss out on what we think are the best iPhone 12 mini cases, iPhone 12 cases, iPhone 12 Pro cases, and iPhone 12 Pro Max cases. With a great case, you'll be able to keep your iPhone 12 device in pristine condition with no scratches or scuffs on the chassis.
But what about the screen? While a case is great for protecting the device's sides and back, the front screen can be vulnerable. We also have some great recommendations for the best iPhone 12 mini screen protectors, iPhone 12 screen protectors, iPhone 12 Pro screen protectors, and iPhone 12 Pro Max screen protectors — check them out if you want to keep that gorgeous display scratch and crack-free.
Since Apple also stopped including a charger with the iPhone 12 devices, you'll want to make sure you pick up one of the best iPhone 12 chargers on the market. These can also work with older devices, but the latest iPhones will benefit the most with the fast charging capabilities. And grab one of the best portable battery packs for iPhone for on-the-go charging!
Another thing that is new with the iPhone 12 lineup is MagSafe. With MagSafe, your iPhone 12 has a ring of magnets in the back that make it instantly snap into place with the best MagSafe accessories like chargers and wallets.
There are also a slew of MagSafe-compatible iPhone 12 mini cases, MagSafe-compatible iPhone 12 cases, MagSafe-compatible iPhone 12 Pro cases, MagSafe-compatible iPhone 12 Pro Max cases on the market. These are great if you want all-over protection without losing MagSafe capabilities.
Don't worry, we also have the best iPhone SE (2020) cases and screen protectors, if you went with the best value iPhone.
And while the other two iPhones are older, there are still plenty of great iPhone 11 cases and iPhone XR cases to choose from, as well as iPhone 11 screen protectors and iPhone XR screen protectors.
Questions about this iPhone guide?
This iPhone guide should help you choose your next iPhone, get it set up, load it up with some great apps, and keep it protected with the best accessories. Enjoy your new iPhone!
More navigation links:
The Ultimate iPhone Guide:
Get the best of iMore in your inbox, every day!
Christine Romero-Chan was formerly a Senior Editor for iMore. She has been writing about technology, specifically Apple, for over a decade at a variety of websites. She is currently part of the Digital Trends team, and has been using Apple's smartphone since the original iPhone back in 2007. While her main speciality is the iPhone, she also covers Apple Watch, iPad, and Mac when needed.

When she isn't writing about Apple, Christine can often be found at Disneyland in Anaheim, California, as she is a passholder and obsessed with all things Disney, especially Star Wars. Christine also enjoys coffee, food, photography, mechanical keyboards, and spending as much time with her new daughter as possible.

Hello I am not sure if this area will direct to correct forum. I have a 5S I phone and with sim card in slot Phone will send and receive occasionally. When I removed LCD and Digitizer it is one piece. I can see carriage for sim card when card is in a mechanical switch is forced open with sim card. Did find a screw stuck to magnet on speaker.

I don't like the newest IOS update, took my send button away in iMessage . The arrow does not work every time. My iPhone is for work but I was considering switching to iPhone for my personal phone , but I'm not sure now .

I would not be surprised if it was redirected and you were hacked. Anytime something is greyed out in your phone? Unable to access a feature? You've been hacked. Trust me I've been going thru this BS for a few years now. Doesn't matter if you change your SIM card, or #. If you get a new phone and the hacker is a persistent one? (Like my darling one) HA.
They get right back in. I was told to change my IP address. If you leave it around a person (don't underestimate anyone) all they need to do is go to call forwarding and change the number and back it up. That's only 1 way I'm aware of. A "good" friend of mine did it to me and I had no idea he was that infatuated or even had feelings for me that sick.
Now the IPhone 📱 7? If a contacts phone number IN YOUR CONTACTS PAGE comes up red? Notice another contact if you open it is blue.
That person in red is in your phone.
Also? If you get a text and next to it is an eye? Instead of a dot, or at least that's what it reminds me of a half open eye. DO NOT OPEN IT! Your phone is warning you it's a compromised text and once you open it? It can infect your phone. Be careful of backing up your phone because it also will back up any malware or spy ware in your phone and it will be locked in. The only way to MAYBE get them out is by going to an Apple Store or Geek Squad to restore it back to factory default. Write your contacts so you can put them back in..
Jennifer
Good luck!
I need it too!

I know how it feels! I've had all my devices hacked! Going on over 6 months and they are taking pics and taking videos of me! They have major issues! Shame it's so easy for these obviously psychotic people to take control through a phone!

I can see carriage for sim card when card is in a mechanical switch is forced open with sim card. Did find a screw stuck to magnet on speaker.

The new bedtime functionality as part of the clock app is a nice idea, but not mature yet.
For me it would start to make sense with an Alert option of the Bedtime Reminder.

I hate this. Where do I ask my question?

Try here: http://forums.imore.com

how can lock apps like (whatsapp,facebook) free

At this point, I do not have much comments to make. Because I'm a new comer to this site

Happy Anniversary Iphone 💖💖💖
-im not iphone user ,i have samsung galaxy s4 only, but i always watch the marketing video of an iphone like iphone7 https://m.youtube.com/watch?v=Q6dsRpVyyWs its really awesome i love iphone while watching video, i am a selfie king who loves takes selfie in every places that i visited . but through other phone i spend time to edit my photo to post in facebook ,instagram and twitter . Sometimes i wonder if i had an iphone someday like even iphone7 the latest maybe that is my phone forever i love taking a pictures in everywhere using that iphone7 but sad to say it very expensive here in the Philippines. I hope there's a time that the price is affordable ... i understand why iphone is expensive cuz it durable,quality,elegant and it is very professional ❤❤❤
#iwishiphoneonmybirthday
#01171995 HAPPY ANNIVERSARY

if you any solution guide me? ..i already done restore . i have iphone 5s and the problem is while i attend or dial a call my phone screen goes freeze ... this is happening again and again ...i am using 10.2 software

Hey there, Bought an iphone 4 for my son. Downloaded whats up, and now it will not take the new number. What can I do?

it's quite simple, some of the new WhatsApp users might not be aware of it. Here is how you do it. Let's check out!
1. Go to the Whatsapp Settings from the bottom right corner.
2. Than go to the Account.
3. Tap on Change Number.
4. Tap on Next from the top right corner.
5. Enter your old phone number and the new phone number along with the country code.
6. Tap on Done from the top right corner.

My iPhone 4s is so slow. Can I make it any faster?

i just need to unlock my iphone 4s cant make outcalls able to answer incoming and stuck on emergency call mode which requires numerical passcode which i never had.screen reads iphone is disabled connect to itunes;it wont take me out of the mode im stuck in help

I have an iPhone 5S my son has been using, and it goes like the clappers, but he needed the display replaced last month and now the proximity sensor doesn't work when he takes a call. The techo who replaced the screen keeps saying it's the software, but it seems co-incidental that we never noticed the problem before the display was replaced. Can anyone give me any clues about this please?

An awesome site guys! Thanks.
Couple questions why can't I find an external battery universal charger cradle like I have for android batteries?
Will I be able to get any life from my 6 s plus if I only have an LCD and digitizer attached?
Or do I need the full screen frame camera proximity and as home button? Just trying to check this inexpensive ly ad possible . Thanks so much guys

I also have a dead 5s I ordered USB charger and battery in advance. Should I do more first I was going to check voltage in etc battery USB port etc?

Link for scew maps legend etc for proper screw placement? Anyone?
Thankyou!

I am using iphone 6 since last year. But in the last few months, everytime Facebook updates comes and I update it the Friend Request icon(located at the bottom left corner) disappears! I tried uninstalling and installing but nothing works. Any help??