iPhone 4 features: Hands-on with 5 megapixel, front-facing, and 720p video camera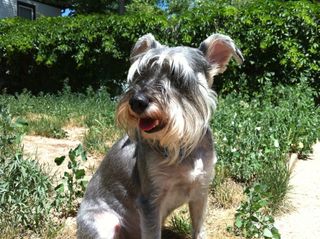 The iPhone 4 was officially launched today and after picking mine up, I was eager to test out the new cameras. The rear camera is 5 megapixels and features 5x digital zoom and 16:9, 720p HD video recording. It also has a built-in LED flash that can be used for photos or video. The front-facing camera is VGA quality and can be used for both 1.4 megapixel stills and 360p video as well.
So how do the iPhone 4 cameras perform? Find out after the break!
Photos
Photos taken with the rear camera are beautiful. They are very crisp and the iPhone 4 does an excellent job with exposure and focus. As with the 3GS, I am extremely impressed with the macro ability of the lens. Here's a few pictures I took with the 5 megapixel camera.
(opens in new tab)
(opens in new tab)
The quality of the VGA front-facing camera also impressed me. The photos are, as expected, not as good as those taken with the 5 megapixel camera, but they are still very nice. This self-portrait was taken with the front-facing VGA-quality camera:
(opens in new tab)
The LED flash is much better than expected. I have not been able to test it while recording video because it's still daylight, but photos taken with the flash look great. Here's a sample of a photo taken with and without flash.
(opens in new tab)
(opens in new tab)
I will admit to being a skeptic about the 5x digital zoom. Optical zoom is so superior to digital zoom that I expected it to look horrible. I was pleasantly surprised to discover that software behind the digital zoom does a great job with the photos. Clearly, they are not as good as they would be without the the zoom, but not too bad. Here's a series of photos I took in increments of 1/4 of the full 5x digital zoom.
(opens in new tab)
(opens in new tab)
(opens in new tab)
(opens in new tab)
(opens in new tab)
Video
HD video recording on the iPhone 4 is a dream come true. The ability to record 720p video with my iPhone feels like such a luxury. The video comes out crisp and beautiful and is so easy to edit with iMovie directly on the device. My only complaint is that the tap to focus feature can be a bit touchy (pun intended!). When standing still while recording, tap to focus works wonderfully. However, if you've walked around for a bit and then decided to tap to focus, the iPhone sometimes struggles to grab a good focus. I demonstrate this in the the video below.
The VGA-quality front-facing camera also captures video, and although it's not HD, the quality is still pretty good.
Here's a video I put together with iMovie for iPhone with video and photo samples. What do you think? If you've put your iPhone 4's video recording to the test, we want to know your experience and thoughts as well. Sound off in the comments below!
[gallery link="file" columns="2"]
Get the best of iMore in your inbox, every day!
Former app and photography editor at iMore, Leanna has since moved on to other endeavors. Mother, wife, mathamagician, even though she no longer writes for iMore you can still follow her on Twitter @llofte.
cool. and my mom has that cup!

Nice vid....two words.. LAWN MOWER :-)

Leanna definitely disappointed. I know, unless you are special. That you didn't get a white iPhone! Ugh! Now I'm going to be forced to buy a black one. End of July is waaay too long to wait.

Yeah, I'm loving the new iP4 myself and the cameras are wonderful - even compared to my 3GS.

@Max - HAHA! We just moved yesterday! Give us a break! We got to move in early for free if we agreed to do the yardwork. My husband is going to do it over the weekend.
@Gregg - Oh, don't worry! I WILL get the white iPhone! I will use my husband's line to get one at a subsidized price and cell my black one :)

Awesome video thanks for the completeness.

Great Camera Review.... I'm finally getting the ipad tomorrow and I have a question about your griffin jumper review. Was the one you reviewed blue and white or was it black because I've been looking for a blue one and I cant find it.

I need someone to do that for me. Thats a good idea!! I still want white, but I cant wait that long. I dont want to miss the upgrade window for next year!!

Anyone wanna FaceTime....614-483-6629

Not bad for the video. Looks like it may be a suitable substitute for a Flip.

Great Great Great vid Leanna... Thanks for that ;)

@Gregg I am waiting for the white iPhone and I to also thought about the upgrade date for next year but I think that Apple will realize that they screwed up and talk to At&t about giving us early upgrade eligibility like they did this year maybe a month or so.... but that's just a thought

Great video. I think that it's steps above the 3GS and the 720 video looked wonderful on this display.

How do you get the 720 video to YouTube? Can you upload direct with compressing? Or do you have to rip it from the iPhone with iPhoto or Aperature and then uupload? I can't figure it out.

Can you change the video resolution or is it always 720P?

Not fair, i'm a lefty im really considering not to change my 3G for an iphone 4 :@ !!!

the wait time over here at Brea Mall in SoCal is not that bad. 5 hours if you have a reservation and the people from apple are pretty cool and helpfull. they were giving most of the people waiting in line drinks and snacks. =)

ignore my last post...that's what i get from not reading the headline of the topic..lol

I think the focusing problems are more related to low light than merely moving the camera around. Most cameras have problems with autofocus in low light and the locations you had problems with were darker than those where you experienced good focusing. They were just not that noticeable as being darker because the exposure adjusted to compensate. However, that exposure compensation does not overcome the fact that there's little actual light to assist the autofocus process.

very nice review. thanks for making it.
i still have a question regarding zooming while in video mode. seems like iphone can focus in that mode, as you indicated, but can't zoom while videoing. for example, if i'm looking at a great blue heron at the far edge of a large pond and i were using an iphone 4 i would not be able (without swimming to the middle of the pond!) be able to capture that heron on video. is that correct. what if in camera mode i zoomed in on the heron, then switched to video mode. would that work? thanks again.

as far as i have tried, i cannot figure out a way to actually zoom in and out on the video camera feature for iphone 4. This would have been a really nice feature!!

How about any zooming features for the video recording?

Thanks for the review! I was really enjoying my iP4, however, not anymore now.. After 3 weeks the built-in speakers are not working anymore. Shame..

Thomas just take ur iphone direct to any apple shop they should be able to do something especially under a years warrenty aswell. They will try to fix the problem if they cant then deffo they will replace it with a new one! Apple is just brilliant like that.. Their known for their good reputation :)

Thanks for the ideas you have shared here. One more thing I would like to state is that pc memory requirements generally increase along with other innovations in the technology. For instance, when new generations of processors are introduced to the market, there is usually a similar increase in the type calls for of both pc memory as well as hard drive space. This is because the application operated through these processor chips will inevitably rise in power to take advantage of the new technological innovation.

We absolutely love your blog and find nearly all of your post's to be what precisely I'm looking for. Would you offer guest writers to write content available for you? I wouldn't mind producing a post or elaborating on a few of the subjects you write with regards to here. Again, awesome website!

Lip leg back when aging thickness of lions. Scalp hair similar to an individual with can be sure to.