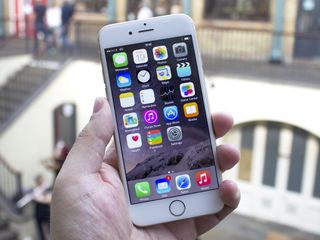 Here it is, the real, actual, retail iPhone 6! While North America is still waiting in line, here in Europe we've been able to turn up and collect – or queue an insane amount of time for – our shiny new iPhones already. We'll be adding to this collection of photos throughout the day as we lay our hands on the various colors. But to get us started, here's a few of the incredibly hot looking gold iPhone 6!
If you're still waiting in line somewhere, hang tight. It'll soon be over!
Looks good :) I actually think this is the best apple design so far! This is coming from a Lumia fanboy :P

I didn't know Lumina had fanboys. Sent from the iMore App

well now you do. :)
(btw is Lumia, not Lumina)

Dude, polish that Apple logo on the back if you're taking a pic - I keep wanting to wipe it... :D I'd better pop to O2 and pick up my "Space Grey" one in a bit before someone steals my pre-order, I'm playing it cool though...

yes! That smudge is killing me also!

I was in Covent Garden market, it was bad enough I had to go there to take pictures let alone clean something I might very well drop on the concrete :P

Any sign that logo glows with notifications?

https://www.ifixit.com/Teardown/iPhone+6+Plus+Teardown/29206 I would say pretty big no for that :)

NO Sent from the iMore App

It's stainless steel, isn't it?? Sent from the iMore App

At least you didn't drop it unlike "that guy"... :P
Nice job Richard, nice to see you around!

I really like the gold, but would like to see it with black or dark gray screen and accents instead of the white.

I totally agree. I really like the look of the gold but think it would be for me if it had the black face and trim of the space gray....

I love it! Posted via the iMore App for Android

Those antenna bands looked ugly in the original leaks, and they still look ugly in the finished hardware. It's the ugliest iPhone so far, to my eyes. That camera bulge is oddly un-Apple like too. I'd much sooner have had a slightly thicker phone with no bulge and a bigger battery.

Downer??, you will case it anyway. Sent from the iMore App

Beautiful! Although I can't stand my 5s gold so I went back to silver. I've regretted the color since I got it!
How long did you have to wait?

About 15 minutes. I reserved for in-store pickup ;-)

Nice work! Mine is on a UPS truck right now :-)

The imore.com seems more difficult to scroll with iPhone the last days. The page has a little "lag"

Looks great, hopefully mine is at home waiting for me, I am in Glasgow at the moment and the Apple store was mobbed at 8am, bit better at lunch time and I have just been in to hold the phones, and I made the right decision, the 6 plus is too big. I picked up a case which I forgot to order but looks and feels horrible - why do Apple make such amazing phones and such crap cases!! Anyway good luck to everyone that picked one up today!!

Can't wait for mine to arrive at the house!! Space Grey for the win! Sent from the iMore App

Not sure I like the white lines at the top and bottom. My first thought was that the shape makes it look like Apple took design lessons from HTC (not my favorite designers). But with those lines I'm, wondering if they plan on releasing a Silver/Blue R2D2 edition.

I queued from 6:15 until 11am, and was literally 8 people away from the door to the store when I received an email saying the iPhone 6 that I had previously ordered online would be delivered on Monday. It hurt to do so after nearly 5 hours waiting, but I decided to go home and wait. If only they'd emailed yesterday :)

Nice! Thanks for the photos! Sent from the iMore App

Bout to drive the 52 miles to Apple store. Glad I got preorder in, saw a line at best buy last night.

really liked the design of this phone and iOS 8 overall. although i would personally prefer a space grey version over gold, or maybe even silver. :)

My 5s still looks better tho Sent from the iMore App

If you see the Plus, you will change your tune. Sent from the iMore App

Gorgeous!!!! Can't wait to get my hands on mine.
Enjoy!!!!!

Those "necessary" white lines at the back are killing the look of this phone especially in gold. Never seen Apple make such trade offs before esp. in Steve Jobs era. They shouldn't have released the product until they had a workaround tbh. Other details and elements are fine.

Yep, and that camera protrusion on the back is just hideous (imho).

I like that gold color but I still can't stand those antenna lines and that protruding camera ring. I'd definitely have to put some kind of case over it to hide those lines and prevent it resting on the camera ring when it's laying flat on some surface.

It really looks like someone glued two pieces to the top and bottom of the phone. I stay with my 5s for now. Especially because after iOS 8 upgrade typing is much improved with new predictive text. Sent from the iMore App

BTW does it have only one external speaker? Sent from the iMore App

Yes, but it's loud as hell on the Plus! Sent from the iMore App

Dude the 6 plus blows away that little unit you have its awesome! Sent from the iMore App

Got my 6 Plus 64 gig space grey at Best Buy waited out front at 4:00 am. Sent from the iMore App

How is it Tech? Just ordered mine. Now the waiting game..... Sent from the iMore App

So well worth the wait!!!!, you will love the Plus!!! Sent from the iMore App

The camera is not nearly as big of a deal as so many people made it out to be.

Looks like my M8 Posted via iMore App

I would like to participate in the competition to win iPhone 6

Looks cool Apple's the best product ever :)
Thank you for signing up to iMore. You will receive a verification email shortly.
There was a problem. Please refresh the page and try again.