Have your iPhone follow you wherever you go with the Galileo robotic stand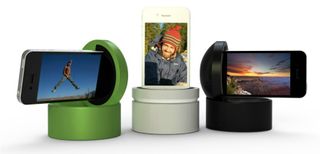 Let's say you're trying to have a Skype or FaceTime video call but you're also busy moving around an doing things. You can't hold your iPhone because your hands are full but you can't put it down either because you'll continuously be out of frame. Enter the Galileo robotic stands for the iPhone! It automagically follows you whichever way you go with complete, 360 degree rotational ability. (And it's cute too!)
For everything from baby monitoring to remote learning, time lapse photography to cinematography, to all manner of specialty imagining, the Galileo provides full 360 degree pan and tilt, can be controolled via your iPhone, iPad, iPod touch or the web, and can even be mounted on standard tripods! The Galileo is rechargeable and can charge your iPhone as well.
It works with the iPhone 4S, iPhone 4 and iPod touch 4, and comes in black or white, or limited edition Kickstarter green.
But the most exciting part is this -- Galileo has an SDK! That means Galileo can be integrated into full on robots. How cool is that?
Galileo comes from Motr and the inventive minds of Josh Guyot and JoeBen Bevirt, who previously created the Joby and GorillaPod camera mounts. It's up on Kickstarter now and has 13 days to go. So, if you like it, head on over the get a backing!
Source: Kickstarter
Get the best of iMore in your inbox, every day!
Senior Editor at iMore and a practicing therapist specializing in stress and anxiety. She speaks everywhere from conferences to corporations, co-host of Vector and Isometric podcasts, follow her on Twitter @Georgia_Dow and check out her series at anxiety-videos.com.
It should be Have "your" iPhone...

It's a very nice product, by the way. I can see this thing selling a ton!

This thing looks awesome! What a great and original idea!

Looks great, I've just ordered one

if i had a hand free to constantly swipe the screen, i would just hold it. great product, sure, but would I buy it? Probably not. If it somehow used the iphone camera to automatically turn, then I would be more interested. Oh, and you should not state it automatically follows you, when you then point out that it does not. Its false advertising.

The thing is with the swipe the other person does it to follow you I think. I don't think you swipe yourself cuz that defeats the purpose

I am sure that functionality will come in time - they are releasing the SDK, so I would expect it is only a matter of time before some developers write an app that will track your face or body and then the device will follow you as you move around the room.

Wow, guy in the middle is totally wearing Jayne hat!

That's because Jayne hats are frickin awesome!! ;)

Looks sweet I'd love one. Good idea.

Hey there, You have done a fantastic job. I will definitely digg it and for my part suggest to my friends. I am sure they will be benefited from this site.