Join the discussion: Do you have any regrets buying the 12.9-inch iPad Pro?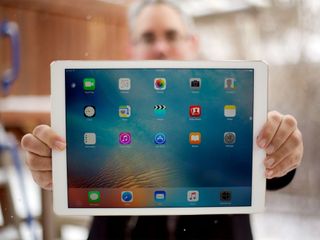 If you've picked up the 12.9-inch iPad Pro, you'll know how awesome the device is regardless of what you're using it for, but now first-time buyers are asking: Do you have any regrets buying the 12.9-inch iPad Pro?
Some people say that they love their 12.9-inch iPad Pro and use it daily!
… While others say they did regret their purchase, adding that it was far too big to carry around and that they ended up selling it.
At the end of the day, what do you think?
We're always having some awesome discussion in the iMore forums, so join us and let us know your opinion on whether the 12.9-inch iPad Pro is worth it or not! We look forward to seeing you there.
Get the best of iMore in your inbox, every day!
Cella writes for iMore on social and photography. She's a true crime enthusiast, bestselling horror author, lipstick collector, buzzkill, and Sicilian. Follow her on Twitter and Instagram: @hellorousseau
I was given one with a keyboard by work. I take it back and forth in my bag each day, I'm an android guy but there's no denying it is a stunning piece of hardware and I do love using it, particulary good for meeting notes and remote support sessions at work. Not bad for watching video at hom either ;-) Posted via the iMore App for Android

I love my 9.7 inch Pro. Though I was genuinely surprised at how comfortable drawing on the 12.9 inch one was (my sister had that one). I really wish Affinity would hurry up and put their apps on the iPad and make it the best platform for drawing out there. Procreate is already good but I think Affinity will really push things.

I'll keep it, until I can get a beta of iOS 11 ... that will be the test.

Work gave me one, along with the keyboard cover, and I bought a pencil. Haven't traveled with a laptop since. Anytime a business traveler can reduce "Shoulder Sprung" weight, it's a good thing!

omg ... i love mine ... got it to replace a 13inch macbook from 2008 ... it has become my only device ... i do all my design work, run my website and more and i couldn't ask for a better machine it can only get better from here

The only second guessing I've done is whether I should've gotten the WiFi only model rather than the LTE model and just tethered. Other than that I've loved the larger screen.

I purchased one and brought it back the next day and got the 9.7 inch. I use my 9.7 inch every day with goodnotes4 and take all my notes for school with it. I don't regret it at all. the size of the 9.7 takes a second to get used to when taking as much notes as I do for school. (hundreds of pages each quarter) But I am used to it now. The big beefs I had with the 12 inch was it was inferior in specs. It was heavy and cumbersome. I am a big man. I am 6'3" 380 lbs and found that iPad to be to big and heavy. so I couldn't imagine it for an average size person.then also the fact that a lot of apps out there don't even support the resolution was the straw that broke the camels back. I have heard rumors of a size in between and I may pick up one of those. My perfect combo for school is my 15" 2015 MBP Retina with the 9.7 iPad Pro. I honestly thought he 12.9 inch was a joke.

look at the 4x5 icon screen.... laugh so loud. where are the widgets maybe macOS would help....just stop this iPad ****

My 12.9" iPad Pro has completely replaced my ancient (and broken) MacBrook Pro. I use it with a Logitech K380 keyboard, and I love it. I mostly use it at home, but I have no problem throwing it in my bag and taking it to a coffee shop to work. I have no regrets at all!

I love my iPad Pro 12.9. I use it every single day. This is my home tablet. My iPad Pro 9.7 inch is carry around tablet on the daily go. I don't have any regrets at all.

When I went into the Apple Store and held one, I knew immediately that this is the iPad I've been waiting for. Large screen that's easy to see, and easy to hold. Got it November 2015, and it replaced a 13" Macbook Pro. No regrets and I've used it daily since. The perfect companion to my Mac.

You need 3 Apple products to make Apple work and they are iPhone Plus, iPad 12.9 and a MacBook Pro or Air
I would never give up my iPad 12.9 as its perfect for my construction job as well as a second screen with my MacBook Pro.
All these products are rativaly cheap to buy for many. I don't cre much for people wining about small costs.
I don't understand why this question was even asked about the iPad 12.9 size as surly their is better things to write about.

I absolutely love my iPad Pro 12.9. It is my preferred daily computing device. I have a 9.7 as well, but most of my daily computing is done on the 12.9.

I previously had the iPad Air 2 and decided to check out the 12.9 this past December at a Verizon store. I was stunned by the large screen size and the amount of content that fit on the screen, it was amazing to look at. I bought it that day and I've got to admit, I had some regrets for the first couple of weeks. IT. IS. BIG. I quickly found that the extra screen size went a long way into helping make the iPad a standalone computer, it wasn't just big, it was better. It was brighter, it was louder and it was more powerful all while sipping battery which is very important for a mobile computer.
The ability to multitask with a large screen cannot be understated. I love being able to stream a baseball game (ESPN or Fox Sports app), minimize it down to a corner, and get work done. Running two Safari pages side by side with a large screen is also very nice. Recently, Readdle introduced drag and drop between their own apps. This is a big productivity boost! Scan, edit, email all within the screen. I realize that some people require the use of a full blown PC/Mac but the iPad is now a standalone computer for the masses. As more apps begin to implement multitasking on the iPad, I actually prefer it to my MacBook Air. The Dish Network Hopper app on my Mac is a hog. It now requires its own app that is slow, limited and light on features. In contrast, their iPad app is snappier, has way more features and includes the ability to control your Hopper. I now take my iPad Pro 12.9 with me everywhere, I love this thing! (PS, the Pencil is worth it if you're going to take notes, draw or annotate PDF's.)

I work from home > 99% of the time. So my use-case was for collaboration and a virtual whiteboard for online meetings. Being a systems architect I need to resort to boxes and lines to convey ideas and solutions, and the mouse-drawing was just too tedious. I join my online meetings with by my iMac and iPad 12.9, and when I need to draw, i just use the pen on the iPad for on-screen annotations. Also, since having purchased the iPad 12.9, my 13" Macbook Air has been getting waaaaaay less air time.