Join the discussion: What're your favorite features in iOS 11?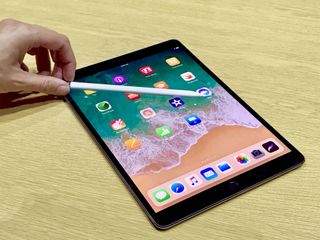 The iOS 11 update seems to be just around the corner, and after all those exciting announcements and features that were put on display at WWDC, it's hard not to be insanely excited for it!
Out of all the features that have surfaced with the announcement of iOS 11, is there one in particular that sticks out to you? Or maybe there's a feature that didn't make the cut that you would have loved to have seen in the update?
Some people are pretty pumped about all the new features that come along with the Apple Pencil...
While others – well, this speaks for itself:
Are you super pumped about the updates in iOS 11? Is there one you're over the moon about? Join us in the iMore forums and chat with us about which features you think are top-notch, which you think are missing, and which you think are pretty gosh darn useless!
Get the best of iMore in your inbox, every day!
Cella writes for iMore on social and photography. She's a true crime enthusiast, bestselling horror author, lipstick collector, buzzkill, and Sicilian. Follow her on Twitter and Instagram: @hellorousseau
I'm really finding that I enjoy the ability to markup screenshots on the fly, send them to someone if needed, then delete them and move on.
I have many friends who rely on me for iOS help and we go through a lot of screenshots since none of us live in the same geographic location.
It's a really nice feature.
iMessages in iCloud is a close second. Or document scanning in Notes... Ooh, that's my second.

One handed mode for keyboard use on the plus models is simply great, among many, many nice changes and additions.

I like all the new features but am worried with the one that blocks calls and messages when you are driving. I might not be driving; I might be just a passenger! Will I (or others in the car) still have our mobile phones blocked?