Keeping it in your pants: Top 10 smartphone etiquette tips for a first date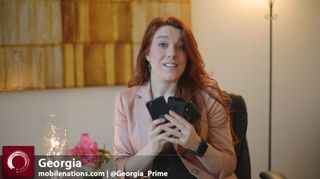 We're geeks. We get it. Our phones, be they Android, BlackBerry, iPhone, or Windows Phone, are among the most important things in our lives. We use them for everything, all the time. But in some situations our phones can get in the way, like on a first date. So, from one geek to another, I'm going to share ten basic tips on how to keep your smartphone from ruining a potentially great new relationship... by keeping it in your pants!
Here are the bullet points, watch the video for the details!
Don't use your phone during a first date. Your attention should be on the person you're with, not the device in your hand.
Turn your ringer off. Turn vibration off. Turn notifications off. Go into bedside mode, do not disturb mode, or whatever it takes to keep your phone quiet.
Turning your phone away isn't as good as putting it away. Really, it has to be out of sight to be out of mind.
If you're expecting an emergency call, be upfront about it. Knowing really is half the battle.
$#!+ happens. If you forget to turn your phone off and it goes off, apologize, put it away, and get back to your date.
If your date leaves the area, that's not an excuse to jump back to your phone. If you do decide to text your friend, make sure you don't get caught.
And don't post anything to a public social network your date might see, especially not without their consent.
If your date leaves their phone behind, that's also not an invitation to start snooping. Take a deep breath and leave their phone alone.
Pay attention to your date. Keep eye contact. Use their name. Make sure they feel like the most important person in the room.
Know when to break the rules. If your date wants a picture, to bump phones for contacts, to set up a second date, then do it!
There they are, my tips for how to have a great, phone-free first date. I'd love to hear your tips too, so hit up the comments and tell me what you think! (Especially if you have any juicy phone-related dating stories to share!!)
Master your iPhone in minutes
iMore offers spot-on advice and guidance from our team of experts, with decades of Apple device experience to lean on. Learn more with iMore!
Senior Editor at iMore and a practicing therapist specializing in stress and anxiety. She speaks everywhere from conferences to corporations, co-host of Vector and Isometric podcasts, follow her on Twitter @Georgia_Dow and check out her series at anxiety-videos.com.