KnowRoaming now offers unlimited data in more than 80 countries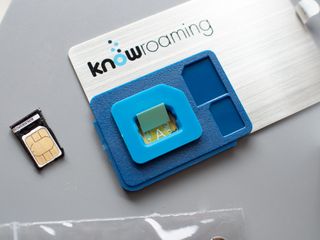 KnowRoaming has announced that those who use its global SIM sticker to save on cell rates when traveling around the world can now take advantage of unlimited data in more than 80 countries. The unlimited data package, which is available for $7.99 per day, is now available in a total of 86 countries after its most recent expansion, which brought the service to 12 Latin American countries.
The latest batch of countries to pick up support for KnowRoaming's unlimited data include:
Argentina
Brazil
Chile
Colombia
Costa Rica
Ecuador
El Salvador
Guatemala
Panama
Peru
Uruguay
Venezuela
If you're unfamiliar with KnowRoaming, the service works by giving you a SIM sticker to apply to your current SIM card. Once applied, the sticker opens up new roaming options while traveling in other countries without modifying how your SIM works at home. All of the options, including billing, are handled by KnowRoaming's mobile app.
Be sure to check out KnowRoaming's website for a full list of supported unlimited data countries.
"Canada, Data: $0.15/MB ($150/GB)" Ouch.

Try Dominican Republic... Sent from the iMore App

Pretty bad reviews on the App Store and in general - why is this being promoted here? People say that it often does not work and the support is non existent. I was quite interested, until I did the tiniest bit of a research. Sent from the iMore App

Actually I've used this service and it works fantastic. It was flawless during my entire 2 week trip in Europe just a couple of months back. The setup was a bit tricky and the app was buggy to start but I finished the setup with the help of their customer support before I left. Once I was overseas it was so good to have unlimited data for $8 a day. In Paris it was an absolute life saver, navigation, Yelp, searches, Netflix in the evening while I was chilling out in my flat. I'm sure some people run into issues, and like I said the setup was a bit of a pain, but the service was great.

Been using Knowroaming with great success since June of 2014. Service works as advertised and when I have problems customer service is quick to reply. Beats having to get a special sim for each country.
Get the best of iMore in in your inbox, every day!
Thank you for signing up to iMore. You will receive a verification email shortly.
There was a problem. Please refresh the page and try again.