Launch Center Pro for iPhone review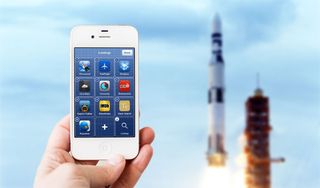 Simply tap to tweet, text, search, dial, and much, much more with Launch Center Pro for iPhone
App Cubby's Launch Center Pro is the newer, shinier, big brother to the existing Launch Center app, built with a new kind of power user in mind. The original Launch Center was a great attempt at organizing and enabling URL schemes. URL schemes are a limited way -- and currently the only way -- for apps to send actions to each other in iOS. Many apps support them and the net result is that Launch Center allows users to pre-program certain actions (for instance launching IMDb and immediately grabbing current showtimes for your area) in a list form. In other words, it lets you launch actions, not just apps. It was a great start and Launch Center Pro builds on this pedigree, but adds a entirely new level of customization that new users will immediately find accessible, but fiddly (and I mean that in the best way possible) users will dive into and love.
Launch Center Pro's interface is completely revamped. The original Launch Center was list-based, but Launch Center Pro presents a chunky, easy to hit touch-target grid that can be augmented with a secondary level of functionality. You can assign actions or groups to a button: actions are single target functions, whereas groups are nested functions that sit underneath the original button. The nice thing about groups, however, is that the control scheme to access the second level relies on pressing and holding the primary button and then sliding a finger quickly to the desired group action. It takes about three seconds to figure it out, and every time you use it after that is a delight.
In addition to the new grid layout, the levels of customization for each button are impressive. You can now change the look of the button by altering its color, texture, icon and label so that it's easily identifiable at a fast glance. The iconography is very cool too -- there's a nice mix of newer emoji-style icons as well as some charming classic computing-style icons to change things up. And if you like a more default look, in many cases you can appropriate an iOS-native icon as well.
So what can you do with Launch Center Pro?
Well, everything you did with Launch Center, and some new things. Carried over from the original are standards like composing an email/message, with or without a default recipient/body, quick dialers, Safari searches and page launches, a flashlight utility, and the ability to insert a custom URL string that can either launch an app function or a web page.
A nice new addition that I'm already enjoying is a brightness toggle that can be set to two default values; I usually keep my phone brightness at about 40%, but on a sunny day it really helps to be able to snap it up to 90-100% to quickly read something and then snap it back without ever having dropped into Settings.app.
If you have supported apps installed, their functions are still listed within the configuration page, as well as apps on the App Store that you might not have on your iPhone yet. Ultimately, if you're familiar with Launch Center, then you'll feel right at home in Launch Center Pro, and likely smile as you stumble onto the little things that make it even more enjoyable than its predecessor.
A few more nice additions: quick Google search access and a full phone dialer and contact search engine (Apple should take some notes on how that one works -- it's really phenomenal) quietly add some subtle power to Launch Center Pro.
The result from all these changes is simply this: Launch Center Pro is pure speed.
Launch Center Pro launches so quickly and sends actions so fast that it feels like it should be part of iOS. It's completely fluid within a few minutes of using it and just gets better as muscle memory kicks in.
App Cubby spent a lot of time not only optimizing the code to perform more admirably, but put a great deal of thought into the interactions you will need to perform within the app, minimizing finger travel time and effort to add to the overall perception of speed. It's markedly faster than Launch Center, and that's a very good thing. One of my only areas of improvement for Launch Center would have been to reduce the time necessary to open and perform an action, and it's been addressed nicely.
My only wish is that URL schemes would catch on more!
A lot of apps already support this functionality, but I want to be able to hit all the apps on my phone in one way or another. There's so much potential and power in this method, I think I may start emailing/tweeting developers to politely ask (demand? threaten?) for the inclusion of URL schemes so I can continue fleshing out my Launch Center more fully.
The good
Easy access to apps and actions that are sometimes screens away and stuck in folders
High level of appearance customization
Blisteringly fast app and action launch and response times
Clean, clever UI
The Bad
Not all apps will work with Launch Center Pro (yet... but it's still an unknown, especially if Apple decides to change the way URL schemes work)
Could benefit from an instruction panel or help screen for getting started and working with advanced features
The bottom line
Launch Center Pro is a separate app from Launch Center, not an update. The original Launch Center will remain in the App Store and get its share of updates, but if you want the new version you'll have to buy it. And let me tell you, you'd better be ok with it because aside from its intent, there's almost nothing in here that feels like it was simply carried over.
App Cubby rewrote Launch Center Pro from scratch, and it shows. If you like tinkering a little, or even think you might like a new way to think about using apps, do yourself a favor: buy Launch Center Pro, support the developers, and enjoy. Leave a good review and email your favorite developers to include URL scheme support. As iOS matures, we have a lot to look forward to, but it's not now, and has never really been a one-size-fits-all mentality for some of us. Apps like Launch Center Pro enhance the experience of an already great device in some new ways, without sacrificing the aesthetics of the platform we've grown to love.
Master your iPhone in minutes
iMore offers spot-on advice and guidance from our team of experts, with decades of Apple device experience to lean on. Learn more with iMore!
Seth fights for the users. The CIO of Nickelfish, he helps build apps like Stringer by day and co-hosts the Iterate podcast by night. He's also a lover of classic video games, surfer for life.