The LifeProof FRE Power iPhone 6 battery case works in up to 6.6 feet of water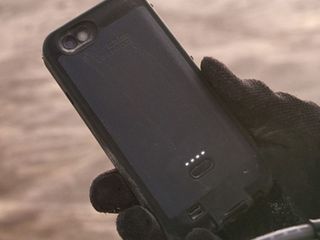 A few days after Mophie announced plans to launch a rugged battery case for the iPhone 6, LifeProof has revealed a compeitor, the Fre Power, which is now available on the company's website for $129.99. Here's the quick description (opens in new tab):
The LifeProof FRE Power will be available later via other online retailers.
Source: LifeProof (opens in new tab)
I have been writing professionally about technology and gaming news for 14 years.
I know I may get hated for saying this but lifeproof in general to me is over priced and over rated. I can't say as to water proof battery but there regular cases to me are same quality as the cheap generic Amazon stuff, for 20-35$

Right. Good luck trying to find a $25 water proof case on Amazon. Sent from the iMore App

I actually do have one thank you.

Seriously what they hell is wrong with this company leaving out the 6 plus. All they make for it is the nuud and that thing has just been getting god awful reviews. I don't see how it's hard for them to at least make the fre available for the 6 plus.

The nuud for iPhone 6+ is great. Sound is a little muffled, but it is waterproof and very tough. I love mine. And I am not crazy about the screen protector on the fre. The nuud has some drawbacks , but I give Two thumbs up for what you are getting. Sent from the iMore App

Word of warning, I bought one on pre-order and received it yesterday. When I got it I emailed Lifeproof asking about buying an additional charging cable (since it uses a life proof usb branded cable instead of the lightning cables), Lifeproof informed me they will not sell the cables individually and that they also don't recommend or warranty the case if you use a NON Lifeproof cable. So basically, you're stuck with one cable to cart around everywhere, you void their warranty, or have to buy another $125+ case to get a second cable. Seems stupid to me, but figured I'd share in case that was important to anyone buying.

?? Are you a retard?? The CABLE that you are hunting for is a standard
usb><micro power cable
Found everywhere
Go to your gas station they are next to the cash register 99¢

Yeah no shit slugger, but if you read the warranty paperwork that comes with the case, it specifically states the warranty is void if you use any other cable than the Lifeproof branded cable that comes with the case, and the warranty is sort of the whole point of this case. So why the fuck should I have to risk voiding the warranty just because this dipshit company won't sell an extra cable or two or remove that condition from the warranty? It's one or the other. Can't have it both ways. Other case makers don't have that stipulation, and unfortunately, some of us actually read the terms of our warranties.
Thank you for signing up to iMore. You will receive a verification email shortly.
There was a problem. Please refresh the page and try again.