Louisiana healthcare provider uses Apple devices to improve patient care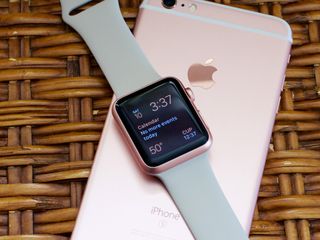 Ochsner Heath System in Louisiana has announced a new initiative called "Optimal Hospital," through which the group will leverage a mix of Apple devices and specialized apps to help physicians and nurses better address patient needs.
Ochsner specifically highlights three apps that make up Optimal Hospital. Doctors can take advantage of Epic Haiku on the iPhone or Apple Watch to quickly access patient lists and conditions, as well as admissions and discharges, while moving around the hospital. Similarly, doctors can stay up to speed with test results and reports with the Epic Canto app on iPad.
Nurses can also use the Epic Rover app for iPhone to scan the barcode on a patient's wristband to quickly verify the patient's identity and monitor their medication dosage. Ochsner says it is even supplying patients with iPads so they can keep track of their lab results, treatment schedules and more through a dedicated MyChart Bedside app.
The net effect of the Optimal Hospital initiative, Ochsner says, will be that speed, accuracy and patient safety should all be improved with quick access to beneficial apps on iPhone, iPad, and Apple Watch.
Press Release
Ochsner Health System Continues to Transform Healthcare With "Optimal Hospital"
Innovative program uses Apple Watch, iPad and iPhone to introduce a new model for care as a way to manage efficiencies in hospital care
NEW ORLEANS – Ochsner Health System continues to transform healthcare using the latest advancements from Apple. A national leader in healthcare innovation and no stranger to using iOS devices, Epic apps and Apple's HealthKit to better care for patients, Ochsner has a continued commitment to improving outcomes for patients suffering from chronic disease and providing a better patient healthcare experience in both the inpatient and outpatient setting.
Since launching the Digital Medicine Program last year, Ochsner has been continuously monitoring clinic patients with uncontrolled blood pressure and proactively engaging them to modify behaviors and, when needed, adjust medications. Utilizing Epic (Ochsner's Electronic Medical Record), Apple HealthKit and Apple Watch, patients enrolled in this outpatient program (watch video here) receive feedback from clinicians about important aspects of their care. This could include potential side effects once a new medication is prescribed, renewal notification for prescriptions and medications and lifestyle modification reminders to ensure good blood pressure control is attained.
One year later, groundbreaking data confirms this new virtual delivery model is working by delivering significantly better health outcomes, patient satisfaction and patient engagement.
"What we've seen is that two-thirds of our patients who previously experienced uncontrolled blood pressure are now in control within 90 days of enrolling in the program," said Richard Milani, MD, Clinical Transformation Officer, Ochsner Health System, and Chief Medical Officer, innovationOchsner. "We've seen higher levels of patient satisfaction using iOS devices over the more traditional methods of care and, overall, the patients are more engaged in their healthcare decisions. These are important factors which have a crucial effect on health outcomes in helping patients live more fulfilling lives."
Ochsner is committed to pioneering innovative solutions that pave the way for positive, disruptive change in healthcare. Last year, Ochsner formed innovationOchsner ("iO"), an innovation lab and accelerator whose mission is to re-imagine and revolutionize the experience and delivery of healthcare in a way that creates new value. iO's work is focused on solving healthcare's most pressing problems by using technology and data to create precision-focused, patient-centered solutions that dramatically enhance quality and access, decrease cost, and improve patient satisfaction and engagement as well as caregiver efficiency.
Now, through iO, Ochsner is expanding its innovative programs into the inpatient setting through a new initiative called "Optimal Hospital." Optimal Hospital uses a new wave of online tools and iOS devices to improve workflow efficiencies in managing patient care, initiating more frequent and dynamic patient interaction.
This new inpatient experience will improve the hospital experience for patients and providers alike. For physicians, who often are moving quickly between hospital buildings and floors making patient rounds, Optimal Hospital allows for a very mobile and more efficient experience– the moment Ochsner physicians arrive at the hospital, they can now use the Epic Haiku app on iPhone or Apple Watch to instantly review patients lists, their conditions, new hospital admissions or discharges and retrieve patient records
Utilizing the Epic Canto app on iPad, physicians can easily evaluate test results, current data or trending reports so they can quickly and easily intervene.
Nurses are also optimizing innovative apps such as Epic Rover on iPhone to scan barcodes on patient wristbands to correctly ensure the patient's identity and current medication dosage needs in a secure way.
Ochsner has also added the Sotera Wireless ViSi Mobile System, a wearable monitor that continuously measures and records a patient's vital signs, whether the patient is in or out of bed or in transport. Results are seamlessly linked into Epic as well as the care teams' iPhones to improve patient safety, anticipate problems and prevent adverse events.
While these enabled tools are beneficial to clinicians, they are centered on improving outcomes and the experience of the patient. With an Ochsner-supplied iPad, patients will have greater insight into their hospital experience through the MyChart Bedside app. While they are hospitalized, they can view exam and treatment schedules, see lab results, medications and vitals, and even receive additional education on their condition.
"Our goal is to empower our patients so that they are more informed and fundamentally involved in their own healthcare, whether it is through the inpatient or outpatient experience," reinforces Milani. "Optimal Hospital is designed to optimize processes, patient assessment and outcome predication while also improving safety, quality and the overall patient experience."
"Healthcare is undergoing the biggest transformation in its history. The needs of the population are changing and now we have new technologies to meet the needs of people. At Ochsner, we are doing everything we can to engage patients and improve lives through innovative platforms," notes Milani. "We will continue to embrace new technology and become a key player in the digital healthcare landscape to better meet the needs of our patients and provide a more effective and efficient workflow for our medical staff."
Get more iMore in your inbox!
Our news, reviews, opinions, and easy to follow guides can turn any iPhone owner into an Apple aficionado