Mailbox enters public beta for Mac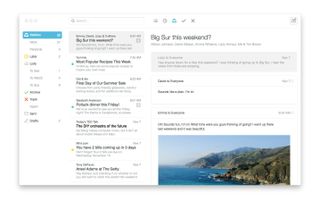 The team behind Mailbox has been busy today. In addition to releasing their updated iOS app today, the company has also moved their Mac app into public beta.
Mailbox had previously begun sending invites out in August for those who signed up to test the Mac beta. However, today the app went into full open beta, allowing any interested party to begin testing it.
One of the driving features of Mailbox for iOS is the ability to use quick swipes and gestures to archive, delete, or even snooze emails, and the Mac app carries these very same features over. In addition, all changes made on the Mac app will sync with the mobile version, and vice versa.
Will you be giving Mailbox for Mac a shot?
Source: Mailbox
Get the best of iMore in your inbox, every day!
i've played around with the private beta and I'm still not sure I see the advantage of Mailbox over the default Apple Mail app, especially on iOS with it's advanced swipe gestures...

I'm a big Mailbox fan, and have been using it on Mac (private beta) and iOS for a while. The beauty of it imo isn't in the swipe gestures, it's how it treats emails as items that can be deferred into the future -- the same way many task apps treat their tasks.

I loved Mailbox when it first came to iOS, but the lack of additional accounts (currently Gmail and iCloud) really limits its effectiveness. For some reason, Yahoo kicked them to the curb - still no reason why that happened. The developers have continued to state that they will add other accounts in the future...but that's been the company line for almost a year. If and when they add more accounts, I'll gladly give it another go.

Same here, until they support Outlook.com it's of no use to me. They've been promising support for 12 months. They also have no ability to star or flag an item on the Android or desktop app. I would need that too, it's a basic function. Just delaying for later isn't the same. Posted via the iMore App for Android

I've tried the iOS app in the past, but I've got a iCloud email address, GMail email address, 2 outlook.com addresses 1 Hotmail & 1 outlook along with an exchange account. For me the lack of anything other than GMail & iCloud is a deal breaker when Mail.app & Apple Mail support multiple providers not just GMail & iCloud. Roland Sent from the iMore App

I love the Mailbox app on my iPhone. It helps me keep my inbox clear. My preferred method for managing my email (gmail) on the computer is still through a browser window.