Manage tasks efficiently with OmniFocus 3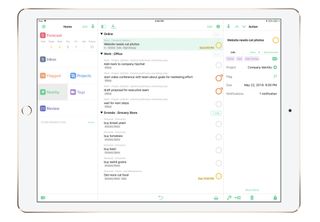 OmniFocus is a task management app for iOS devices with powerful organization options. Its newest update, OmniFocus 3, aims to make managing your responsibilities more efficient than ever.
OmniFocus developer The Omni Group announced today in a blog post that a new update is currently rolling out for the popular task management app, officially bringing it to version 3.0. The update, which comes on the app's 10th App Store anniversary, offers a highly customizable experience that includes new features like tag creation, a chronological forecast view, and more. OmniFocus 3 will ideally making keeping track of all your to-dos — no matter what they are — more intuitive than ever before. And if you're super attached to OmniFocus 2, don't worry: The Omni Group assures that the app should still feel familiar post-upgrade.
Here's the full list of cool new features OmniFocus 3 offers, according to the company:
Tags: What used to be Contexts in the older version of the app is now Tags. You can assign tags to anything, and create them based on person, priority, location — pretty much whatever you can think of. You can even add tags based on how much energy it will take you to complete a task, which is incredible for individuals with disabilities who plan their day-to-day activities based on the spoon theory.
Perspectives: Perspectives created in OmniFocus 3 are basically like filters for your tasks. They're built from filter rules and allow multiple tag selection, AND/OR/NOT groupings and nesting, and, and I quote, "lots of other cool stuff." This just makes it easier to see the tasks you need to be focusing on in specific situations. Once added, you can drag the filter rules around to re-arrange them.
Multi-Pane Mode: On bigger devices like the iPad, OmniFocus now offers a three-pane view so you can see more of your content all at once. You can choose to show a left sidebar or a right inspector, and both can be "pinned" to the screen so that they won't go anywhere.
Batch Editing: You can edit multiple items simultaneously in Edit mode.
"Fancy" Repeats: Because OmniFocus offers a bunch of different options for repeating tasks, the developer has adjusted the UI to make it easier to find the type of repeat you're looking for. The app now boasts day-of-week and day-of-month intervals for all repeat types.
Flexible Notifications: Afraid you're going to forget something? Fear not: OmniFocus 3 supports several new notification types. You can now be notified "at the time an item is Deferred Until or Due, or at the latest time you should start (Due time minus estimated duration)." You can also throw those rules out the window and set your own customized notifications at completely arbitrary times.
Customizable Inspector: OmniFocus now hides most fields in the inspector, or the little section where you can view the details of a specific item you've selected, by default so you don't have any extra info clouding your vision. To choose which items to hide and which to show, you just tap "Customize Inspector" and drag 'em around.
Interleaved Forecast: Your Forecast now appears as rows interleaved with your actions in chronological order, giving you a better picture of exactly when in your day you should be getting things done.
Forecast Tag: In Forecast's View Options, you can select a tag to display in your Today section. Once you set a Forecast Tag, you can quickly tag items with gesture controls — specifically, a left-to-right swipe. According to The Omni Group, this is great for important items that don't have explicit dates and daily rituals.
Clean Up: If you love the Clean Up style of OmniFocus for Mac, get ready to be excited, because you can now do that across all views, no matter your device: "To manually clean up on iPhone, pull down on the outline as if to sync. On iPad, use the broom button next to View Options." In addition, a Clean Up area has also been added to the app's Settings.
So, need some hyperorganization in your life? You can try OmniFocus for free by clicking the link below. After your trial is up, however, you will be asked to purchase the app. There are two versions — Standard, which is $39.99, and Pro, which is $59.99. Opting for the Pro tier allows you access to the "all," "any," and "none" filtering rules, the option to include a specific tag into Today's Forecast, the ability to add custom perspectives, and the ability to customize your sidebar and home screen.
If you're already an OmniFocus user, you may still have to pay to upgrade to the same edition (Standard or Pro) of OmniFocus 3. However, you will get a 50% discount on your purchase. On the other hand, if you purchased OmniFocus 2 for iOS since October 2017, then you'll be able to upgrade for free.
Thoughts?
Would you give OmniFocus a try? Why or why not? Share in the comments below.
Master your iPhone in minutes
iMore offers spot-on advice and guidance from our team of experts, with decades of Apple device experience to lean on. Learn more with iMore!
Tory Foulk is a writer at Mobile Nations. She lives at the intersection of technology and sorcery and enjoys radio, bees, and houses in small towns. When she isn't working on articles, you'll likely find her listening to her favorite podcasts in a carefully curated blanket nest. You can follow her on Twitter at @tsfoulk.