Microsoft Garage releases new My Workspace menu bar for Mac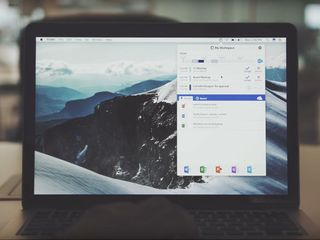 The announcement came in the form of a video on Microsoft's YouTube channel:
https://www.youtube.com/watch?v=qo4WIiAHlhw
The project began as a challenge: Microsoft asked its Vancouver interns to come up with a way to "add value to a person's day" by having them use the Office 365 suite. They began by asking Mac users what they needed to stay organized during a busy day working with Office 365. Then development began. Many responded that they'd like an at-a-glance view of their day as well as easy access to their shared files, so the team began developing My Workspace around those ideas. According to the company, during testing they continued to communicate constantly with their target demographic in order to optimize the quality of the My Workspace experience. Those who worked on this project assured consumers that there is no comparable interface on MacOS for Office 365 apps.
My Workspace is specifically designed to increase the user's day-to-day productivity, giving them easy access to all of their Office 365 apps as well as shared and recently-opened Office 365 files. In addition, users can also quickly launch OneDrive from the menu to see even more of their content, and share it fast for streamlined collaboration.
As for keeping track of a schedule, My Workspace works with iCloud Calendar to show users their upcoming appointments and events, and they can even join prescheduled Skype meetings with a single click. The app also allows for convenient and quick Office 365 account management, so users can make changes to their account if they so desire.
You can download My Workspace for Mac here:
My Workspace a Microsoft Garage project
Thoughts? Questions?
If you're a Mac user, do you think My Workspace will encourage you to be more productive? Let us know in the comments!
Tory Foulk is a writer at Mobile Nations. She lives at the intersection of technology and sorcery and enjoys radio, bees, and houses in small towns. When she isn't working on articles, you'll likely find her listening to her favorite podcasts in a carefully curated blanket nest. You can follow her on Twitter at @tsfoulk.
Might be nice if it would log into Office 365. It picks up my organizations ADFS but when it goes to redirect to the login screen? BLANK

Same here, and that's six months after release. They seem to have abandoned this already.

Hmm, I swear I must be allergic to Microsoft. When I tried to install it nothing but headaches. First every account had to be signed into again, and again. Only this time I needed an app password. Since I have two live accounts for work and personal it wouldn't allow both. What a hassle. Then once it installed and set up I couldn't open Outlook, again had to sign in and verify. Then with the apps nothing appeared and no recents were showing. When I checked the apps they all had lots of recents so why nothing showed there I don't know. This seems to be my experience with all my Microsoft app experiences. More hassles then they are worth. Since our campus use Office I try to stay current but I need just to learn to let go and stay with something Mac like that works. From what I see a lot of effort just to see the icons you can already place in the Dock. I do so hope others' experience is better than mine.

At least you got that far. I can't even sign in. I just fired up App Cleaner and deleted the app.

I tried installing this as well, and after logging in, I got nothing but a red bar at the top indicating sync or connection errors. Complete fail by Microsoft. Got rid of this app immediately.

Online Norton Help and Support by PC Planet
PCPlanet's Certified Technicians can help you scan, detect, and remove all types of viruses and malware in your computer. Our techies have years of experience and the expertise in providing support for antivirus and fixing computer virus problems online through remote connection. Our support services are available through phone, chat and email.
Just call us at 1-888-406-4114 to chat with a certified expert and get instant support for Norton Antivirus to make your computer virus free.
Thank you for signing up to iMore. You will receive a verification email shortly.
There was a problem. Please refresh the page and try again.