Minecraft Pocket Edition for iPhone and iPad uncovers infinite worlds in latest update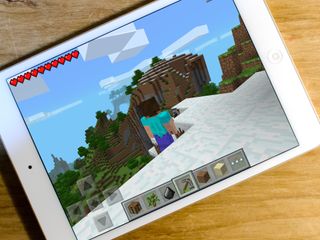 Mojang has released a fairly substantial update for the Pocket Edition of Minecraft, available for iOS and Android. This release focuses on adding more mobs, features and extended functionality, while also addressing the size of worlds and squashing any known bugs affecting the immersive experience.
Version 0.9.0 contains quite the feature list, so be sure to check out the list below for a full run through.
Infinite worlds
Caves
Loads of new blocks and items including Monster Eggs and huge mushroom blocks.
Wolves! Tame a loyal companion.
Loads of new flowers! So pretty.
New mobs, including the spooky endermen and less spooky Mooshrooms.
New biomes from the PC version, including mesas, jungles, swamps and extreme hills.
Abandoned mineshafts, villages, and many other cool places to explore.
A brand-new "interaction" button. Never accidentally punch a sheep again!
New feature generation, including lakes, vines and monster rooms.
Many bugs fixed, and possibly a few added.
How are you enjoying this latest update? If you haven't yet checked out Minecraft, give our top tips and cheats guide a read through.
Get the best of iMore in in your inbox, every day!
ive been playing this obsessively for the past 5 hours, im starting to get a reaaly sore wrist but its amazing! its pretty much as good as the pc version but i am actually considering buying an android tablet to play it just because they make it so much easier to get the texture packs and mods installed, not gonna get rid of my mini retina or anything, its still by baby, but honestly i could handle having both, and the galaxy tab s is about to come out, they each have their pros and cons i guess. Sent from the iMore App

Have been waiting this update... :) Sent from the iMore App

Just went on minecraft when the update happened and I am not a happy customer, because it has deleted a very large castle that I had spent hours on building it, and it said that I could continue it as usual but it's not like that! Very annoyed!!
Thank you for signing up to iMore. You will receive a verification email shortly.
There was a problem. Please refresh the page and try again.