Mobile Me is Up, Down for Us. How about for you?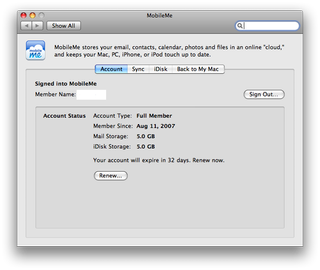 Here at TiPb, we've all had bugs with the leaked 2.0 update and, like the rest of the interw00ts, we're also not getting Mobile Me working reliably since it went live yesterday. Thankfully, Apple has fessed up and admitted that the transition from .Mac has "taken longer than expected" (per Engadget).
The Mobile Me desktop login just worked for me for the first time just now, this morning. I'm successfully pushing data out, but I'm not about to start depending on it for real work. Is it working for you?
It's dumb slow just to get the Login screen to load. I'll let you all know once I get past it...

Yeah, I got in... and it went dead as soon as I clicked the Calendar icon... Ah well...

Its up & down for me, and buggy when its up. The calendar in particular doesn't seem to be working when its up.

A disaster for me. I set it up this morning to sync with my Outlook calendar. It then : deleted all this week's appointments from Outlook (great) refused to let me modify or enter new calendar entries in Safari or IE (after giving me an error message that the calendar cannot be loaded from the server) moved all my calendar entries back 3 hours to west coast time (even though the option for time zone support is not checked) And now I can't log in at all.

The MobileMe dialog box within Leopard displays the correct storage amount of 20G... so it looks like it's communicating finally.

I've used the web-based version at work (on a PC, Firefox 3).
Not impressed yet (but it looks pretty).
- Very slow.
- Unable to access my Address Book, iCal, or anything other than Mail.
- Email seems unreliable (replied to a message and was told that there "was a problem" sending, and it "may have" lost connection to the server)
On my home computer (iMac G5, Leopard) I don't plan on syncing anything for a few days at least. I'd hate to have the same problems Stephen had. I just hope messing around with the web-based app earlier today didn't end up creating a problem that will affect my iMac. I can't see how it would, but you never know.
I've waited this long for Mobile Me to get here, I guess waiting a little longer for dependability's sake won't hurt. :(
Feeling a little let-down by Apple on this one.
Get the best of iMore in in your inbox, every day!
Thank you for signing up to iMore. You will receive a verification email shortly.
There was a problem. Please refresh the page and try again.