Mobile Nations Community Update, April 2014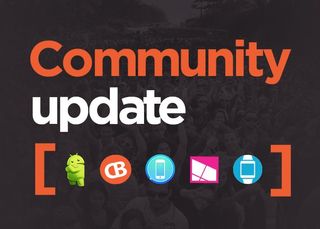 Community Update
It's time for another edition of the Mobile Nations Community Update! As usual, the Android Central, CrackBerry, iMore, Smartwatch Fans and Windows Phone Central communities have been jam-packed with activity.
The past month has been a mix of new devices, financial analysis, conference coverage, and site planning. The HTC One M8 has been announced, BlackBerry held their Q4 financial results conference call, Rene and iMore hit up (and did a fabulous job) covering Macworld|iWorld 2014, and Windows Phone Central is in the middle of Microsoft Build 2014 conference coverage as we speak.
You may have also noticed the unveiling of the Mobile Nations Newsroom, put together to provide you with a better experience. We're excited about it, and hope you enjoy the benefits it will provide: in addition to enhanced news coverage, expect to see a lot more original content.
Let's get down to it.
Mobile Nations Contests!
If you're looking to win some cool stuff, then you'll certainly want to check out the ongoing contests below and remember, new contests can go up at any time so be sure to keep checking the individual Mobile Nations sites.
Win an amazing bundle of prizes from the new Ducati line by Element Case!
Enter Android Central's Weekly Photo Contest!
The full details as well any contest rules and closing dates that may apply can be found on their respective sites, and good luck!
Community Spotlights
Android Central:
The folks at Android Central have had their hands full the past few weeks with the ongoing coverage of the Samsung Galaxy S5 as it gets closer to officially being available in stores. Everything from pre-order dates, right down to complete teardowns and scrutinizing of the display has been covered thus far. If Samsung devices aren't really your thing though, there's also been plenty of coverage for the brand new HTC One M8 that got unveiled late March at events in New York City and London. If you've not read the full on review yet, you can check it out right here.
CrackBerry:
Although we're into April now, BlackBerry on March 28th reported their Fourth Quarter and Year-End Results for Fiscal 2014, which led to a lot of dicussion about where they stand as a company and where BlackBerry CEO John Chen wants to take them. If you're not interested in financials, there's been plenty of other stuff happening as well. A early build of BlackBerry 10.3 leaked out, BlackBerry won an injunction against Typo, which ultimately ceases sales of the BlackBerry-style keyboard for iPhone and finally, after BlackBerry CEO John Chen laid down the law for leakers, the CrackBerry team has been taking a look back at some of the best leaks of years gone by.
iMore:
While the iPhone 6 rumors continue over at iMore, there were a few other things on the agenda as well. Most notably, Macworld / iWorld 2014 took place and Rene and Peter were on hand to attend the events. There was plenty of new gear on display, plenty of new apps to check out and over the course of the event, plenty of podcasts were recorded. Some great coverage for those unable to attend and certainly worth checking out. The end of March also marked the 6-month anniversary of the iPhone 5s and iPhone 5c release and with that, the iMore team took some time out to revisit the devices in their 6-months later reviews.
Smartwatch Fans:
Over at Smartwatch Fans, Google gave folks plenty to buzz about with their announcement of Android Wear. To go along with the actual Android Wear announcement, Motorola announced the Moto 360, LG unveiled their G Watch and folks such as Fossil, ASUS and more have noted to be working with Android wear. It was so much to handle, there had to be a special Android Wear, Smartwatch Fans and Android Central podcast just to cover it all. On top of all that, we have some very special plans to put in place on Smartwatch Fans in the weeks and months ahead. Would love to spill the beans on this, but you'll just have to wait and see!
Windows Phone Central:
This week, the folks at Windows Phone Central are at Microsoft's Build 2014 dev conference to cover the massive event. Much of the focus for the past weeks has been on Windows Phone 8.1 and its eventual arrival on phones but before that happens, it'll have to make a stop at the Developer Preview Program and that appears to be set for April 14th. If you're looking for all the latest Windows Phone news from Build, head on over to the Windows Phone Central Build 2014 page and get yourself caught up.
Hot forum threads
-- begin forums links -->
-- end forums links -->
Members of the month
Member since: January, 2011
Posts: 4,503
Devices: Samsung Galaxy S3
Providing a wealth of knowledge and experience with the Samsung Galaxy S3, GSDer is proving to be a huge asset to AC members that carry the device. Our Mod Team Leader (Paul Petko) wanted to make sure we recognize GSDer for all the time and effort he puts in to helping our members. Thank you GSDer!
Member since: January, 2008
Posts: 11,607
Tre is a prolific poster and longtime CrackBerry member. He always provides strong opinions, but also respects the opinions of others. No fights, no drama with Tre. Just good old-fashioned discussion. On top of it all, he's always willing to lend a hand to CrackBerry members in need!
Member since: February, 2008
Posts: 7,864
Devices: iPhone 5s, iPad mini
One of our more outspoken members, SeanHRCC has really ramped up his time at iMore over the last little while. With almost 8,000 posts to date, Sean is all over the iMore forums… and with the MLB season underway, you can often spot him in the iMore Off Topic sports forum talking baseball (among other things!).
Member since: November, 2013
Posts: 97
Devices: Nexus 5
One of Smartwatch Fans 'up and coming' members, Penguwin carries a Nexus 5, but shares a love for wearable tech with the community. Penguwin can be found in all areas of the forums, from Pebble to Galaxy Gear to Qualcomm Toq to 'old school' mechanical watch discussion!
Member since: August, 2009
Posts: 3,646
Devices: Lumia 920
A proud member since 2011, sinime is known for his sense of humour. The affable Texan is often found in the Off Topic Lounge and Windows Phone 8 forums, getting to know community members, and helping out where he can. He's also a dev, and currently packs a Nokia Lumia 920 as his daily driver.
Ambassador Spotlight
Our Ambassadors volunteer their time each and every day to make our communities more awesome. They make sure you get the answers you're looking for, and make you feel welcome in our forums. This month I'd like to acknowledge some very special Ambassadors for their outstanding efforts.
Member since: April, 2012
Posts: 4,998
Devices: Samsung Galaxy Note 3
Almeuit is one of our newest Ambassadors, having been named to the team in early March, he has blown us away with the amount of time and effort he's put into his new role at Android Central. Look for more from Almeuit in the weeks and months ahead, we have a feeling this isn't the last you'll hear of him!
Member since: August, 2008
Posts: 50,052
Devices: BlackBerry Z10, iPad mini
Fun, spunky, and friendly are just three of the words that come to mind when I think of jaydee. She is a critical part of the strong Ambassador team we have at CrackBerry. You can always find her welcoming new members, or helping answer your questions when she can. Truly one-of-a-kind, jaydee recently made her 50,000th post in the CrackBerry Forums. Amazing! Congrats!
Member since: November, 2010
Posts: 13,677
Devices: iPhone 5s, iPad mini 2
'Jag' is consistently one of the top performers on iMore. Always around to lend a hand or discuss anything Apple, he is one of the mainstays around the iMore Forums these days. Be sure to drop him a note or offer thanks for all the help and assistance he offers to our members!
Member since: September, 2012
Posts: 1,765
Device: iPhone 5s, iPad
Cat, aka 'eyecrispy' is one of our top Ambassadors on Smartwatch Fans. Always fun, always friendly, and always willing to lend a hand, she is very knowledgeable when it comes to the wearables and smartwatches on the market today. Smartwatch Fans is a much better place because of her!
Member since: September, 2012
Posts: 10,187
Devices: Lumia 710, Surface 2
Since 2012, BIGPADDY has been found in the Windows Phone Central Forums, stirring up debate, banter, and general silliness. His sense of humor is a bit off the wall at times, but members have come to love this Windows Phone diehard. His passion and dedication for Windows Phone is mind-numbing. Take a gander around the WP Central Forums, and I guarantee you'll cross paths with BIGPADDY within minutes. What a guy.
Moderator mentions
Our moderation teams are among the best volunteers in our communities. They put in their time and expertise to make sure your forums experience is a great one. Below are just a few of the all-star moderators you'll see around Mobile Nations.
Member since: November, 2010
Posts: 7,092
Devices: Moto X, Nexus 7
Before he became a moderator, Ry was very well known in the forums for participating in threads all over the place. He continues this insane activity level, with over 7,000 posts to date. Ry is just a solid member, plain and simple. If you ever need a hand, or have a question or concern… hit Ry up and he will be glad to help!
Member since: December, 2008
Posts: 30,787
Devices: BlackBerry Style 9670, Samsung Galaxy S4
You can almost always find BergerKing helping a member, or ANYONE with a BlackBerry-related question. The guy is good. Often times you'll find him in our Marketplace where he keeps everything neat and tidy, as it should be. A proud and strong cancer survivor, BergerKing is an inspiration to us all.
Member since: September, 2008
Posts: 2,918
Devices: iPhone 5s, iPad (4th gen)
Hailing from Los Angeles, California, Heisenberg is active all over Mobile Nations, but spends most of his time on iMore. An avid sports fan (note the Richard Sherman avatar), Heisenberg does his very best day in and day out to make sure the iMore Forums are a great place to be. With his trusty iPhone 5s and iPad by his side… he can't be stopped!
Member since: February, 2009
Posts: 7,297
Devices: BlackBerry Bold 9900, Samsung Galaxy Note 3
Andy, aka 'zocster' is the Mod Team Leader at Smarwatch Fans. While he has a small and growing team to go along with his small and growing site, there's nothing small about the way he thinks. He puts in the time and effort, and is always making great suggestions to make the site better.
Member since: June, 2009
Posts: 26,103
Devices: Nokia Lumia 920 & 900
When longtime Mod Team Leader Dave Blake stepped down, it was quite clear to everyone at Windows Phone Central who should take over. Laura had the experience, passion, and drive to take over where Dave left off, and I'm happy to report she's doing an absolutely fantastic job. I know she's going to do wonderful things for all of us, and chances are if you've crossed paths with her already, you know how wonderful she really is.
To each of the moderators listed above, a very sincere THANK YOU for all you do. There's no doubt about it, you make our communities awesome places to be.
Until next time...
I continue to be overwhelmed by the passion our members and volunteers bring to our communities. The time, effort and expertise they share each and every day makes my job a pleasure. Plus, it makes our communities THE place to find answers, meet like-minded folks, and just have a heck of a good time.
Before we know it, many of us will have Samsung Galaxy S5's in our hands, and some of us might even be at the Apple Worldwide Developers Conference (WWDC). Can't wait for all the great events and launches coming up this year.
But most of all, I'm looking forward to the changes we're currently working on at Smartwatch Fans. Wish I could unveil these changes for you right now, but you're just going to have to wait a little bit longer :)
Stay awesome,
James Falconer Community Manager Mobile Nations
Get more iMore in your inbox!
Our news, reviews, opinions, and easy to follow guides can turn any iPhone owner into an Apple aficionado