Mobile Nations Community Update, April 2015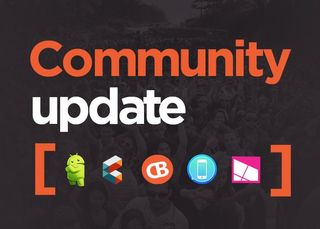 Mobile Nations Community Update
Hellooooo everyone! It's the end of the month, and that means it's Community Update time! Within we will take a closer look at the happenings around the Mobile Nations Network, including Android Central, Connectedly, CrackBerry, iMore, and Windows Central.
Perhaps the biggest buzz recently was centered around the Apple Watch. Following the device launch last week, many of our members are receiving their pre-orders, and the Apple Watch forums over on iMore are absolutely brimming with member activity. Make sure you check them out, especially if you're an Apple Watch owner (or are considering one).
Of course, I'd be remiss if I didn't mention all the Samsung Galaxy S6 and S6 edge discussion happening in the Android Central forums. Couple that with the LG G4 announcement the other day, and Android users have a lot of new gear to test, try, and drool over.
But I digress. There's a LOT going on around the network and I can't wait to share this update with you. The April edition of the Mobile Nations Community Update goes... NOW!
Mobile Nations Contests!
If you're looking to win some cool stuff, look no further than any Mobile Nations community. You can check out the ongoing contests below. Remember, new contests can and do go up all the time, so keep checking your favorite Mobile Nations community(ies) for even more contests.
The full details as well as any contest rules and closing dates that may apply can be found on their respective sites. Good luck!
Community Spotlights
As I noted at the top, the Samsung Galaxy S6 and S6 edge have been the devices of choice as of late. So many great discussions going on in our forums, and there's been a lot of great articles to take in as well. If you're considering upgrading to the S6 from a Note 4 or Galaxy S5, we've got you covered here and here. There's also a couple of camera shootouts worth noting, the Samsung Galaxy S6 vs. HTC One M9, and Samsung Galaxy S6 vs. iPhone 6. Of course, with the LG G4 announcement the other day, things are really ramping up there as well. Make sure you join in the fun in our LG G4 forum for all the latest.
During the past month, Connectedly has featured a number of cool new devices from the Jawbone UP3 to the ASUS VivoWatch. But more importantly I'd like to point out a new show we've been working on. This Week's Tech Top 5 is something new we shot and we'd really appreciate your feedback. We have a full production studio at our disposal, and we're just getting started with it (pretty cool, right?). Check it out, and keep an eye on Connectedly for even more shows and cool tech.
Over on CrackBerry, one of the hottest stories has been the BlackBerry Leap Review that Bla1ze posted mid-month. It's a great read if you haven't checked it out already, and there's even an unboxing video within. In other news, the BlackBerry Classic in white has started to roll out, and the BlackBerry Porsche Design Keian was caught in a new photo. Finally, one 'how-to' article I really appreciated this month was this how to hide BBM Sticker packs from James Richardson. Good stuff.
iMore has been all about the Apple Watch as of late... with a little bit of the New MacBook sprinkled in. With Apple Watch orders now shipping, our members are lighting up the forums, and Rene's editorial team are packing the home page with all sorts of useful guides and how-to's. Some of my favorites include how to extend Apple Watch battery life, 28 Apple Watch tips and tricks, and how to set up and start using your Apple Watch. After you read these posts, be sure to head over to our Apple Watch forums for more great discussion. And while you're at it, head over to the New MacBook forums to chat about Apple's latest notebook. Can't wait to get my hands on one.
For Windows Central readers, the folks at Microsoft are holding their annual developer event in San Francisco, right now. Build 2015. The conference kicked off with some incredible announcements from Microsoft such as new tools for iOS and Android developers that allow for them to easily bring their apps to Windows Phone. Plus, Microsoft has finally given an official name to their new browser previously known as 'Project Spartan' – Microsoft Edge. Daniel and his team have been hard at work, so be sure to check out all the news from Build 2015.
Hot forum threads
840
Pictures and Video taken with your 1520 (Windows Central)
705
Official 'I got my Passport' Thread (CrackBerry)
391
Upcoming Samsung Galaxy S6 Cases (Android Central)
237
Is the Apple Watch too expensive? (iMore)
22
Fitbit Flex vs. Fitbit Force (Connectedly)
Android Central Forums Connectedly Forums CrackBerry Forums iMore Forums Windows Central Forums
Volunteer of the month
Member since: August, 2008
Posts: 7.7k
Paul (aka Branta) is one of our longest serving moderators. Hailing from the UK, he volunteers his time to keep our communities safe, secure, and spam free. While it can been an uphill battle at times, he always comes through with the goods.
In recent years Paul was promoted to our Network Moderator team, and serves alongside HelloNNNewman and Bevcraw. The three of them make up our 'super team' of Net Mods that keep an eye open across our entire network for bugs, spammers, and other bad stuff. In short, they make sure things are awesome for our members.
The work he does behind the scenes isn't recognized often, that's why I wanted to single him out and give a tip of the cap for all the good things he does around here.
Paul, thank you for all you do, and keep up the good stuff!
Until next time…
What an exciting time we're heading into. No matter if you prefer Apple, Android, BlackBerry, or Windows, it seems as though there's something new waiting just for you.
Folks are getting their hands on the Apple Watch, Samsung Galaxy S6, BlackBerry Leap, and even some very cool white and gold Lumia 930 and 830 devices.
The cool gear is hitting us fast and furious, and I for one couldn't be happier.
As we push forward into May and June, I hope you'll stick with us here at Mobile Nations for the best coverage, best contests, and the best mobile-focused communities anywhere. Our volunteers and members really do make our communities awesome, and I hope to see you in our forums soon.
Be awesome,
James Falconer
Community Manager
Mobile Nations
Get more iMore in your inbox!
Our news, reviews, opinions, and easy to follow guides can turn any iPhone owner into an Apple aficionado