Mobile Nations Community Update, April 2016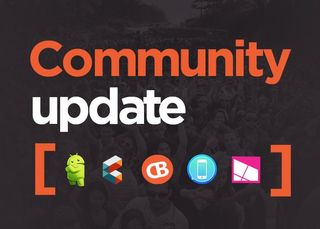 Mobile Nations Community Update
Time again for the Mobile Nations Community Update! That's right, it's time to round up some of the best stuff happening around Android Central, Connectedly, CrackBerry, iMore, and Windows Central.
We've had some really great contests this past month. We've given away a pair of LG G5's, Samsung Galaxy S7's, an iPad Pro, a couple of iPhone SE's, a Lumia 650, and a choice of BlackBerry Priv or Classic. Yes, we love hooking our members up with the latest phones. Make sure you read our contests section below for the latest live contests we have going on right now. All sorts of great gear waiting to be won!
Our coverage of Samsung Dev Con 2016 has wrapped up, and now we're gearing up for Google I/O and Apple's Worldwide Developers Conference in May and June respectively. So much goodness to cover, and you can count on Android Central and iMore to bring you the goods. Read on to our community spotlights for more details.
Off we go. The Mobile Nations Community Update for April 2016 goes... NOW!
Mobile Nations Contests!
We always have great contests underway around Mobile Nations - and we've got some really fun things coming up in May that you won't want to miss. We currently have several exciting giveaways currently underway around Mobile Nations so check them out below and make sure you keep it locked to our contest page for some really cool stuff in the coming month.
We've got an ASUS ZenFone Zoom for one lucky Android Central reader!
Remember, contest details, rules, closing dates and more are found via the links above. Go ahead and check 'em out... and good luck!
Community Spotlights
Perhaps the biggest news of the month was the arrival of the HTC 10. As you'd expect, Phil and team absolutely nailed the coverage. You can out the HTC 10 Review, HTC 10 vs Samsung Galaxy S7 edge comparisons, and even an HTC 10 vs iPhone 6s head-to-head. One other story I found of great interest was Alex's case for a Nexus 7P tablet. All great stuff.
Over on Connectedly the cool stories just keep on comin'. If 'thoughtful products for better living' sounds like something you can get into, check back with Connectedly daily. Some of my favorites from the past month include the Roccbox portable pizza oven, Floatti smart suitcase, and the Corkcicle.ONE. If you're into wine you've got to check it out.
No doubt about it, the big news within the CrackBerry community this month was the availability of Android 6.0.1 Marshmallow on the BlackBerry Priv. Daniel put together this great guide, and if you're rocking a Priv I highly recommend you check it out. We also have a fun T-Shirt contest wrapping up real soon! If you have the design chops to put together the next big CrackBerry T-Shirt, you could win a special package from CrackBerry including all sorts of CB goodies, and of course, the T-Shirt YOU designed! [Check it out here][http://crackberry.com/help-design-next-crackberry-t-shirt].
Two big things in the iMore community in April. First was the brand new 12-inch MacBook. Rene did it justice (as usual) with an extremely thorough review of the 2016 MacBook, complete with Intel's Core M Skylake processor and faster flash storage. Second, Apple recently released the company's 2016 Q2 earnings. Interestingly enough, they announced the first year-over-year decline from the company since 2003. If you're an investor, or are simply a concerned Apple supperter, you can check the full transcript right here. It's long, but there's a lot of great info inside.
Over on Windows Central, we learned the long rumored Surface Phone and Windows 10 Mobile Redstone 2 update are slated for April of next year. Microsoft plans to position the phone as the most secure phone in the world. We also learned that Microsoft's Executive VP of Windows and Devices Group is committed to Windows 10 on mobile for many years. Interesting. On a side note, I was fortunate enough to take the HoloLens for a test spin this month. I shot robots coming out of the wall. This is the future.
Hot forum threads
1399
Favorite Cases for the iPhone 6s Plus (iMore)
885
BlackBerry Priv Homescreens (CrackBerry)
650
S7 edge Battery Life (Android Central)
632
BlackBerry Classic Owners Group (CrackBerry)
373
Pictures + Videos taken with the Lumia 950 XL (Windows Central)
293
HTC 10 Initial Impressions (Android Central)
147
iPad Pro - Priced too high? (iMore)
111
Official 'I've ordered an iPhone SE' Thread (iMore)
64
10 Reasons I Love Windows 10 (Windows Central)
Android Central Forums Connectedly Forums CrackBerry Forums iMore Forums Windows Central Forums
Volunteer of the month
Member since: March, 2012
Posts: 63.5k
Devices: Nexus 5, Nexus 7
To be fair, our members and volunteers often amaze me, but this month one volunteer in particular has blown me away.
B. Diddy, our resident know-it-all (in a great way), and super awesome member is simply blowing the doors off the joint. He's posting over 2x more than ANYONE at Android Central, and is helping out members left and right with answers to questions, and heck, just a friendly welcome and hello when he can.
This isn't the first time B. Diddy has been bestowed this honor. Back in November of last year he received the same, and for good reason.
B. Diddy, today I'm giving you the DOUBLE tip o' the cap. That's something I've never done before. Woo! Seriously though, thanks for all you do around here, we really appreciate it!
Until next time…
April, we hardly knew you. And now it's goodbye. But no worries, so much good stuff coming in May, I can't wait!
Google I/O coming up next month, and after that it's WWDC time for iPhone 7 and all sorts of developer conference goodness.
In the meantime maybe I'll be lucky enough to strap the Microsoft HoloLens to my face again. Playing games and fighting monsters in the 'real world' is something I won't soon forget, and I want to do it again.
Talk with you again at the end of May. Until then...
Be awesome,
James Falconer
Community Manager
Mobile Nations
Get more iMore in your inbox!
Our news, reviews, opinions, and easy to follow guides can turn any iPhone owner into an Apple aficionado