Mobile Nations Community Update, August 2014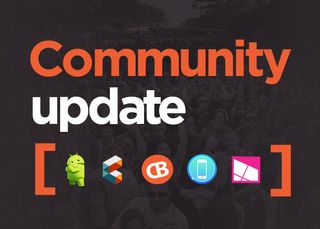 Community Update
Time again for the monthly Mobile Nations Community Update. Android Central, Connectedly, CrackBerry, iMore, and Windows Phone Central have been jam-packed full of goodness over the summer. As per usual, our forum members are keeping things lively, and our awesome members and volunteers remain willing and eager to help YOU with answers to your pressing tech questions.
Earlier this month, you probably noticed new header designs across ALL of our communities. The recent push we made on Connectedly, CrackBerry, iMore and Windows Phone Central brought the communities up-to-speed with the same layout and navigation found on Android Central. We hope you're enjoying the new look... the feedback has been extremely positive!
Looking ahead into mid-August and beyond, things are just starting to heat up. Before we know it, the holiday shopping season will be upon us (ugh!).Time to move on to the heart of the update. Off we go!
Mobile Nations Contests!
If you're looking to win some cool stuff, look no further than any Mobile Nations community. You can check out the ongoing contests below. Remember, new contests can and do go up all the time, so keep checking your favorite Mobile Nations community(ies) for even more contests.
Element Case Summer Sale and giveaway!
Follow Android Central on Instagram and get a chance to win 1 of 5 Lloyd hats!
The full details as well as any contest rules and closing dates that may apply can be found on their respective sites. Good luck!
Community Spotlights
Android Central:
Android Central has featured a lot of device reviews in recent weeks. They're worth pouring over if you haven't already. Reviews are up now for the LG G3, OnePlus One, Amazon Fire Phone, Samsung Gear Live, LG G Watch, and NVIDIA Shield Tablet. For more reviews, be sure to keep it locked to the Android Central reviews page. Of course, if you're on the Android L Developer preview, or are just patiently waiting for the official release, be sure to check out our Android L super page. It's all there. Trust me.
Connectedly:
As you'd expect, Connectedly continues to bring us daily doses of news for your connected life. Of interest, Kreyos finally began shipping devices to their backers. HP, Gilt, and Michael Bastian announced a partnership on a new smartwatch... and while we're talking smartwatches, Pebble recently announced a limited edition run of smartwatches, available in 'Fresh Green', 'Hot Pink', and 'Fly Blue'. If you're into cars (Vroom, vroom), Audi's newest TT sportscar features a wonderful 12.3-inch HD display the company is calling its 'virtual cockpit' (pictured below). Last but not least, Haroon posted a couple of great guides, especially if you're in the market for a new router. Check out his pieces on choosing the best router for your connected home, and his breakdown of the top 5 Wi-Fi routers.
CrackBerry:
On CrackBerry, we've seen a lot of goodness filter through the blogs. We've had a first look at the white BlackBerry Passport, along with an upcoming leather flip cover case for the device. While much of the buzz has been about the Passport, BlackBerry CEO John Chen has made big waves as well. He formally announced no offers have been made to purchase BlackBerry. In addition, an internal memo of his leaked, detailing the three-year-long restructuring process of the company has wrapped up. Brighter days ahead for BlackBerry? Only time will tell.
iMore:
Of course, the majority of chatter around iMore is focused on the iPhone 6, iOS 8, and the upcoming 'iWatch'. In fact, Rene and the iMore team recently took time to discuss all the rumors on the iMore show 414. Check it out if you haven't already! While it's fun to discuss the latest rumors, I'll be pleased when the covers are pulled. The latest details have Apple reportedly planning a September 9th unveiling for the iPhone 6. The date makes sense, and I suspect for many, the event can't come soon enough.
Windows Phone Central:
Over at Windows Phone Central we've seen a LOT of helpful articles and discussions started up around Windows Phone 8.1 Update 1. In fact, among the most popular was the 'How do you feel about Windows Phone 8.1 Update 1' article published by Rich. We also learned that IE11 actually renders websites better with Update 1 installed... and in the end, Daniel summed up the pros and cons of installing Preview for WP 8.1 on your device.
Hot forum threads
-- begin forums links -->
-- end forums links -->
Volunteer of the month
Member since: November, 2008
Posts: 32.9k
Device: Z30
According to our database, 'PK' joined us back in November of 2008... but in all honesty, it seems like we've known each other for 20 years (and that's a good thing).
Hailing from the city of brotherly love (Philadelphia), PK is our Mod Team Leader at CrackBerry. He's also a diehard Flyers fan. Often times he and I will debate the latest hockey news along with Paul over at Android Central (the three of us love our hockey). With the Flyers and Jets (my team) falling on hard luck the past few years, Paul has the upper hand at the moment, with his Blackhawks kicking butt around the NHL. But I digress...
PK really is a living legend around Mobile Nations. Not only is he the Mod Team Leader at CrackBerry, he's an Ambassador as well. To top it off, he also volunteers his time at Connectedly as a member of their mod team. One might say he's an unstoppable force of goodness around all of Mobile Nations.
His love and passion for technology is clearly evident. Anyone that crosses paths with PK will know how humble, helpful, and friendly he is. He's always willing to lend a hand, and if he doesn't have an answer to a question, he will find you someone else that does.
PK, on behalf of Mobile Nations, our volunteers, and MILLIONS community members from around the globe, THANK YOU for all you do. It's people like you that make the Mobile Nations network the most awesome and welcoming tech communities around. Each and every day our communities are a better place... because of you.
*thumbs up*
Until next time...
Exciting days ahead indeed. Can't wait for the latest from Apple and BlackBerry, and on the Android scene September is no doubt going to be pure craziness with a whackload of new devices. Windows Phone 8.1 continues to be the hot topic of discussion, and our members are loving it over at Windows Phone Central. In terms of connected accessories, I'm becoming more and more intrigued by connected automotive developments from the likes of Audi, Tesla, and more. It's all good stuff, and Mobile Nations has it ALL covered.
Wishing you all the best for the rest of August. With fall just around the corner, before we know it the kiddies will be back in school, and a chill will be in the air. Until then, enjoy the rest of your summer.
I'll be back again next month with another edition of the Community Update.
Be awesome,
James Falconer Community Manager Mobile Nations @JamesFalconer
Get more iMore in your inbox!
Our news, reviews, opinions, and easy to follow guides can turn any iPhone owner into an Apple aficionado