Mobile Nations Community Update, August 2015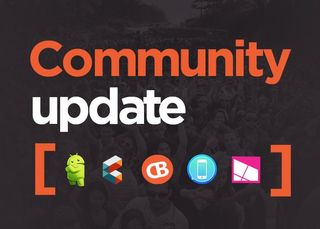 Mobile Nations Community Update
Greetings all! Time for the Mobile Nations Community Update, your monthly look at the best contests, recent happenings, hottest forum threads, and more from Android Central, Connectedly, CrackBerry, iMore, and Windows Central.
August has been awesome to say the very least. Over on Windows Central, the Windows 10 forums continue to buzz with all sorts of action. On Android Central we've had another batch of new phones (OnePlus 2, Note 5 and S6 edge+) to play with, and on iMore and CrackBerry the promise of new phones around the corner has us all talking. Of course, all the while we've been keeping it fun on Connectedly.
Time to take a quick look at the best from this month. The August edition of the Mobile Nations Community Update goes... Now!
Mobile Nations Contests!
We've got a ton of great contests going on right now around Mobile Nations. We've picked out some of the bigger ones you'll want to check out:
Win a $200 iMore store shopping spree!
Win a Samsung Galaxy S6 edge+!
Win a Samsung Galaxy Note 5!
Remember, contest details, rules, closing dates and more are found via the links above. Go ahead and check 'em out... and good luck!
Community Spotlights
Of all the discussions taking place on Android Central these days, tales and opinions on Note 5 'Pen-Gate' take the cake. Be sure to hit up our Note 5 Forum to join in the fun. Naturally, plenty of new devices to talk about this month, and reviews have followed suit. Take a gander at our first look at the Moto X Play, Samsung Galaxy Note 5 Review, OnePlus 2 Review, and ASUS ZenPad S 8.0 Review. All very much worth your time. Oh, and we also caught a look the alleged LG Nexus 5 for 2015.
Plenty of wild news on Connectedly these days. We learned the Tesla P85D broke the Consumer Reports rating system, and told you about how 'Hum' can turn your old car into a smart one. Of course, along with all of the Samsung Galaxy Note 5 'Pen-Gate' madness, we had to run with 7 reasons you should get the Note 5, and 10 reasons you shouldn't. Both worth a look. Be sure to sound off in the comments once you're there!
Rumors continue to swirl about the possibility of Android running on BlackBerry. Recent video leaks featuring the rumored Venice slider seem to confirm Android is a real possibility. There's plenty more to come on the Venice, latest rumblings having the device coming in November. In other news, BBM has seen tremendous growth over the summer (July was one of the strongest months ever for BBM growth), and T-Mobile is trying everything to get you to bring your BlackBerry to their network.
We're going to see plenty of news and rumors on iMore with the next Apple Event coming up soon on September 9th. Already we've seen hints from Siri, rumored iPhone 6s specs, and word that the iPhone 6c probably won't happen. I should also mention that our Apple Music: The Ultimate Guide ebook is available now in the iBooks Store and Kindle Store. Go get it!
Windows 10, Windows 10, WINDOWS 10. It's all about Windows 10 on Windows Central these days. The forums are humming, and plenty of great discussion, help and how-to threads are going up in the forums all the time. On the front-end of the site, we learned that Windows 10 has been installed on over 75 million devices, and that Microsoft may hold a big hardware event in October. Not too shabby at all. But if Windows 10 ain't your thing, Mauro wrote up a handy guide on how to downgrade from Windows 10 to Windows 8.1.
Hot forum threads
78
New iPhones to be .2mm thicker (iMore)
218
To those that want BlackBerry to go Android (CrackBerry)
801
What are your favorite cases for the Galaxy S6? (Android Central)
208
How to check and force a Windows 10 upgrade (Windows Central)
132
Samsung Galaxy Note 5 - Don't put your S pen in backwards! (Android Central)
Android Central Forums Connectedly Forums CrackBerry Forums iMore Forums Windows Central Forums
Volunteer of the month
Member since: September, 2012
Posts: 4.9k
Devices: Lumia 930
Based in the UK, Stephen (aka Muessig) has been one of the most rock-solid members of Windows Central for quite some time. He first joined our volunteer team as a Moderator, and shortly after this appointment it was clear to see he was a huge asset. From there he took on the role of our Ambassador Team Leader, where he led the team and made sure member questions were answered promptly, with accuracy and clarity.
In recent weeks, Stephen has transitioned to be the Moderator Team Leader on Windows Central, and I've got to say he's been doing an amazing job.
With the recent launch of Windows 10, the community has been a little 'busy' to say the least, and Stephen has made sure discussions are always on-point, respectful, and fun. I know for a fact that Windows Central is in a much better place with him as part of the community, we're lucky to have him.
Stephen, on behalf of Mobile Nations, our volunteers, and millions of members, THANK YOU for everything you do. We're looking forward to more amazing things on Windows Central, and I know you're going to be an extremely important part of the team for years to come!
Until next time…
What a wacky month August has been. We've seen Windows 10 installations hit 75 million devices, a Note 5 with an S Pen that must be stored just-so, and a rumored BlackBerry device with Android on-board. Interesting stuff.
Looking ahead, IFA is coming up September 4-9 in Berlin, and you can expect Phil and the Android Central team to be there. Rene and the iMore crew will be primed and ready for the next Apple Event, scheduled for September 9th. New iPhones anyone?
September should be a good one (a real good one), and I hope you'll keep it locked to Android Central, Connectedly, CrackBerry, iMore and Windows Central for all the news and discussion you can handle!
Be awesome,
James Falconer
Community Manager
Mobile Nations
Get more iMore in your inbox!
Our news, reviews, opinions, and easy to follow guides can turn any iPhone owner into an Apple aficionado