Mobile Nations Community Update, December 2013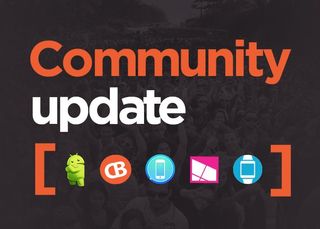 Community Update
So here we are, we made it... to the very first Mobile Nations Community Update. I'm James Falconer, Community Manager for Mobile Nations. If you've seen me around the forums on Android Central, CrackBerry, iMore or Windows Phone Central, it's good to see you again. If this is the first time we've met: Howdy!
This is the first of what will be a monthly series of Community Updates spanning the Mobile Nations network. Each month we will highlight the most exciting things happening in our forums, stand-outs among the forum membership, moderators and our community ambassadors, plus a lot more.
Many of us run with one primary smartphone or tablet, but these devices do NOT exist in isolation. There's not just iPad or just BlackBerry or Android or Surface - they coexist. The communities likewise aren't islands - there are bridges, there's crossover, and comingling. This Community Update aims to strengthen those bridges and highlight the very best across all of Mobile Nations Communities. So let's get to it!
Contests at Mobile Nations
We always love to give away stuff at Mobile Nations. If you've been keeping to just your favorite community, you might have missed some of the great contests happening on our other sites. So here's what's happening:
Over at CrackBerry they're giving away a brand new BlackBerry Z30 courtesy of Rogers Wireless and it's a pretty easy contest to get in on. Just leave a single comment on the post telling them why a BlackBerry Z30 would make your holiday season the best ever and you're in!
iMore is hosting their weekly photo contest and this week the focus is on winter or more specifically snow! What does it take to enter? The task this week is to get out there and capture images of snow. Whether it's sledding with your children, looking out the window with your favorite animal friend, or any other kind of snow related activity. For your efforts, you can win a sweet Mobile Nations prize pack!
Android Central is in the holiday spirit as well with their 12 Days of Christmas giveaway. They've teamed up with Sprint and are giving away a great Samsung phone or tablet every day for the next little while. You'll have to follow along with the 12 Days of Christmas posts as they go up but entering is simple, just leave a single comment each day. At the end of each day, a winner will be chosen and posted on the next day until the contest closes.
Finally, the folks over at WP Central are in the giving mood and have put together a quick and easy giveaway. Just head on over there, pick out something from the WP Central Store that you'd like to get as a stocking stuffer and it could be yours. Whether you're looking for a case to protect your phone or tablet, some new headphones so you can keep rocking into the new year, or some extra power to see you through long winter nights, they've got you covered!
Community Spotlights
Android Central:
One of the hottest forums on Android Central continues to be the Nexus 5 forum. Whether you own one or not, it's a great place to hunker down and talk google phone with like-minded members. We also need to wish AC's Moderator Team Leader, Kevin O'Quinn, all the best, as he embarks on a new journey and career out on the west coast. Go get 'em Kevin, we know you're going to do great things!
CrackBerry:
Over at CrackBerry they recently gave away a trip to Toronto and a visit to BlackBerry HQ. I was fortunate enough to take a look at some entries, and let me tell you, there was some stiff competition for the prize. Many entries were as slick as the Porsche Design P'9982, which (coincidentally) we created a new forum for not so long ago.
iMore:
iMore has been a hub of activity for us over the last month. We have a new iMore.com News & Discussion Forum, which serves as a place for die-hard forums members to gather and discuss Apple news. We also setup a new 13-inch iPad Pro Forum, and our members have jumped all over it, discussing the would-be / could-be next-gen iPad from Cupertino.
Smartwatch Fans:
If you haven't noticed yet, we've pulled the covers off (just slightly) on a brand new community. Smartwatch Fans is going to cover everything smartwatches, from top to bottom. Look for reviews, forums, photo galleries, and all sorts of good stuff coming down the pipe here... and to help get the ball rolling, we've already launched new Twitter, Instagram, and Google+ Community accounts for the community!
Windows Phone Central:
WPCentral has been growing steadily, and I couldn't be more pleased. We've seen a whackload of new devices hit the scene, from the Lumia 1520 all the way up to the 2520. Oh, and while we're at it we've seen the launch of the Surface 2 and Surface 2 Pro, along with the much anticipated launch of the Xbox One.
Hot forum threads
-- begin forums links -->
-- end forums links -->
Members of the month
Member since: August 25, 2013
Posts: 1744
Devices: Samsung Galaxy S4, iPad 2
Despite having only signed up for the forums back in August, UJ95x has quickly become a familiar name in the Android Central forums and is always glad to help those in need of some quick answers. Plus, he knows how to have some fun as well when hanging out on the forums games section and the Android Central lounge. It's also worth noting, due to his general awesomeness, UJ95x has recently been named to the Android Central Ambassador team. Welcome aboard, UJ!
Member since: January 10, 2013
Posts: 8864
Devices: BlackBerry Z10, iPhone 5s
Whether you're hanging out on the CrackBerry Forums or on the iMore Forums, Spencerdl is a name you may have come across a few times now especially if you're a fan of wallpapers such as Spencerdl is. Always up for sharing wallpapers and playing some forums games, Spencerdl has amassed over 8400 posts on CrackBerry alone and now that he's checking out the iPhone 5s has made his way over to iMore to spread some wallpaper love and help out others whenever possible. Keep up the great work, sir!
Member since: February 25, 2011
Posts: 1939
Devices: BlackBerry Z10, BlackBerry Pearl 8100
Want to talk about BlackBerry? If so, Eldricho will likely be right there to offer up his help, thoughts and opinions on it all. Whether it be to how the company is being run right down to the latest and greatest apps available. Aside from all of that, Eldricho has a pretty long device history as well starting with the BlackBerry Pearl 8100 and ending up on the BlackBerry Z10. Somehow, he inexplicably got a BlackBerry 7290 in 2013 and ended up bricking it. We're afraid to ask what he was doing with a 7290 in the year 2013 but hey big ups for the nostalgia factor.
Member since: July 9, 2012
Posts: 1140
Devices: Lumia 920, Galaxy Tab 2
With almost 1200 posts on the WP Central now, pankaj981 has become quite a familiar name in the forums. If you have Windows Phone 8 questions, there's a pretty great chance pankaj981 has the answers you're looking for or can at the very least, point you in the right direction on where to find the answers you seek. From simple to advanced problems, pankaj981 seems to have a solution for them all.
Ambassadors of the month
Each month, we like to acknowledge the most awesome, passionate and dedicated members of the Ambassador Program. Our Ambassadors volunteer their time each and every day to ensure you feel welcome, get answers to your questions, and much, MUCH more. Below are our selections for this month.
Member since: July 19, 2013
Posts: 4185
Devices: LG G2, LG G Pad 8.3
With a particular love for LG devices, Haalcyon has been one of our all-star Ambassadors on Android Central over the past month. Doing his best to answer your questions (he does an amazing job at this), and welcome new members, Haalcyon is definitely a go-to guy on AC.
Member since: August 14, 2008
Posts: 39827
Devices: BlackBerry Z10, iPad mini
Jaydee5799 is one of the most helpful and friendly members I know of. Always pleasant and welcoming to folks around the CrackBerry Forums, Jaydee is a rock-solid Ambassador for CrackBerry that we can all be proud of.
Member since: December 3, 2012
Posts: 5754
Device: iPhone 4S
One of the newer Ambassadors on the iMore team, pr1nce has gone above and beyond the call of duty. He is one of the most active members we have, and is always available to lend a hand, answer a question, or simply welcome you to the BEST Apple-focused community around, iMore.com!
Member since: September 30, 2012
Posts: 6460
Device: Lumia 920
What can I say about this guy. BIGPADDY is a die-hard Windows Phone fan, and he's just super-cool to have around. He brings a passion and dedication to WP Central that is unmatched, and I know the community truly appreciates all of his help.
Moderator mentions
I'd be remiss if I didn't touch on the outstanding work of our moderators. Much like our Ambassadors, they volunteer their valuable time to help keep the trolls out, and the good stuff in :) This month I wanted to single out our Network Moderators. This powerful team of three oversee ALL of our communities, and lend a hand to our local mod teams when needed.
Member since: August 21, 2008
Posts: 7184
Branta is one of a kind. He busts spam. He's a straight shooter and doesn't mess about. In the end, he's a dedicated, loyal and passionate member of the Mobile Nations community you can count on time after time, after time. Thanks Branta, for all you do.
Member since: July 13, 2008
Posts: 9149
Devices: Samsung Galaxy S4, Nexus 7
Bev can be found investigating site issues and helping out teams on a daily basis. I know our mod teams can't thank Bev enough for her support, help and guidance over the past year. She's always ready and willing to jump in and lend a hand, something I know our mod team leaders are extremely grateful for!
Member since: May 21, 2007
Posts: 16281
Devices: HTC One, HP TouchPad
Our most recent addition to the Network Moderation team, HelloNNNewman brings a passion matched only by Branta and bevcraw. Working alongside his colleagues, HelloNNNewman serves as a vigilant eye overlooking our communities. Keeping our members happy and spammers at bay is what he does best.
To our Network Moderators and everyone on our Moderation Teams, a very sincere THANK YOU for all you do. Your time, effort and dedication to our communities is not something that is overlooked. We have the BEST volunteers out there, and you are shining examples to us all.
Wrap up...
I hope you've enjoyed the first edition of the Community Update. This has been particularly satisfying to publish, considering how busy we've been this month. Myself included...
You see, we all love to wear multiple hats around here at Mobile Nations, and right now I've got my event planning hat on. My days lately consist of countless phone calls and emails with the likes of LG, General Motors, Gameloft, Nikon, Pioneer, and Oculus VR to name a few... all with the goal of bringing them to YOU on our #CESlive stage. That's right, if you haven't heard, we're putting on an incredible live show at CES this year, with our good friends at Geek Beat. Our broadcast schedule is filling up fast, and I know you're going to be blown away by our coverage.
Until next time... Nothing but the happiest of holidays to you all. We hope you're able to spend quality time with friends, family and those that mean the most to you… and, hopefully you pick up a new gadget or two (or three) in the process.
Stay awesome.
James Falconer Community Manager Mobile Nations
Get more iMore in your inbox!
Our news, reviews, opinions, and easy to follow guides can turn any iPhone owner into an Apple aficionado