Mobile Nations Community Update, February 2015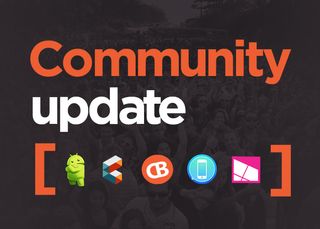 Mobile Nations Community Update
It's that time again. Time to bring you up-to-date with the latest happenings around Android Central, Connectedly, CrackBerry, iMore, and Windows Central in our Community Update.
We're on the cusp of all sorts of goodness, with Mobile World Congress going on next week. We already have our team on-site in Barcelona to deliver everything you need to know. There should be plenty of HTC, Huawei, LG, Sony and Samsung goodness to share with you. Galaxy S6 anyone? Stay tuned.
Of course, earlier this week Pebble unveiled their latest smartwatch, the Pebble Time. There's been all sorts of discussion and chatter about the new device, but I'll touch on that later.
February is a short month, but that doesn't mean there's a lack of cool stuff going on around Mobile Nations. The February 2015 edition of the Mobile Nations Community Update is on... NOW!
Mobile Nations Contests!
If you're looking to win some cool stuff, look no further than any Mobile Nations community. You can check out the ongoing contests below. Remember, new contests can and do go up all the time, so keep checking your favorite Mobile Nations community(ies) for even more contests.
The full details as well as any contest rules and closing dates that may apply can be found on their respective sites. Good luck!
Community Spotlights
As usual, things are busy as ever over on Android Central. One of the more interesting things (at least in my opinion) to pop onto the scene over the past little while was LG's unveiling of the LG Watch Urbane. It's one of the best looking smartwatches I've ever seen. Can't wait to learn more about it during Mobile World Congress. Phil and his team are getting ready as we speak, but in the meantime be sure to check out their LG G Flex 2 Review and Amazon Echo Review... and if you're hyped about the launch of the Samsung Galaxy S6, take a look at what Alex would like to see from Samsung's latest flagship.
The BIG news of late on Connectedly has been a long 'Time' coming. Of course, I'm talking about the unveiling of the Pebble Time. The device was announced the other day, and the smartwatch maker is returning to their roots to distribute the initial models via a Kickstarter campaign. The campaign is already a record breaker, and the watch should ship to backers in May. Other noteworthy items include news on the ecobee3, Neptune Duo, Sony SmartWatch 3, and Anki Overdrive.
The big news of the past few weeks has been the official rollout of BlackBerry OS 10.3.1. The rollout began in Europe, the Middle East, Africa, and Asia Pacific for all BlackBerry 10 devices. If you've loaded up 10.3.1 be sure to check out what's new in BlackBerry OS 10.3.1. Very much worth a look. In the U.S., the BlackBerry Passport and Classic are now available for purchase from AT&T, while the Classic has also hit Verizon. For those that have been patiently waiting, the wait is over.
As you might expect, Rene and his team on iMore keep on cranking out the goodness. They've cranked out some really good stuff recently, from secret headphone shortcuts to make your life more awesome, to the ultimate iCloud Drive Guide. If you're a regular in the community, you'll know anticipation for the Apple Watch is building, and I for one can't wait. If you're interested in it, be sure to check out this recent piece from Serenity.
Lots of great stuff going on at Windows Central this month. We had a first look at Microsoft Health for the web, and Mark took the time to show us how to use the Microsoft Band keyboard. If you're looking for a new tablet on a budget, be sure to check out Simon's awesome guide to the best cheap Windows tablets. And of course with Mobile World Congress taking place next week, chances are we'll see a couple of new devices from Microsoft. Check out the Windows Central preview of the event right here.
Hot forum threads
584
Show us your iPhone 6 Homescreen (iMore)
344
Windows 10 for Phones - Wishlist! (Windows Central)
173
The 'I just got my AT&T Passport' thread! (CrackBerry)
131
Samsung Galaxy S6 Release Date and Spec Rumors (Android Central)
23
Pebble Time - Backers and Impressions? (Connectedly)
Android Central Forums Connectedly Forums CrackBerry Forums iMore Forums Windows Central Forums
Volunteer of the month
Member since: September, 2007
Posts: 15.9k
Devices: iPhone 6, iPad Air 2
John is the fearless leader of the iMore Moderation Team... and when I say fearless, I mean it. He resides in the Pittsburgh area, and besides his work as an IT consultant, he is a fire fighter. Very appropriate. When he's not putting out fires with us, he is doing the same (literally) in the real world.
John joined us in 2007 as a member of CrackBerry, with his 8330 in hand. He quickly became a BES expert, and joined the CrackBerry Moderation team in 2008. Since those early BlackBerry days, he moved over to the Apple ecosystem, and uses Apple products (including his iPhone, of course) on a daily basis.
Perhaps what I love most about John is his no-nonsense attitude. He takes care of business without any fuss, and his level-headed demeanour rubs off. If you want something done or simply need an opinion, he will give it to you point blank, with no fluff. I've always appreciated that.
I know I can speak on behalf of John's team, and all of the members at iMore when I say THANK YOU John for all you do at iMore. The community is better off with you as a part of it, and we hope to have you with us for years to come.
*hat tip*
Until next time…
With CES now well behind us, there's time to take a deep breath and prepare for Mobile World Congress next week. There's going to be plenty of good stuff coming out of the event, particularly for those with an Android or Windows focus.
On the horizon we will see many new notable wearables hitting shelves, including the Apple Watch, LG Watch Urbane, and of course the recently revealed Pebble Time. We're going to get a closer look at the Apple Watch on March 9th, when Apple puts on their 'Spring Forward' special event. Can't want to strap all of these to my wrist (but not all at the same time... well, maybe).
In closing, I'm particularly pleased that spring is approaching... Mostly because it is hovering around -40 Celsius outside my office. I need sunshine and heat. Halp!
Be awesome (and send blankets),
James Falconer
Community Manager
Mobile Nations
Get more iMore in your inbox!
Our news, reviews, opinions, and easy to follow guides can turn any iPhone owner into an Apple aficionado