Mobile Nations Community Update, February 2016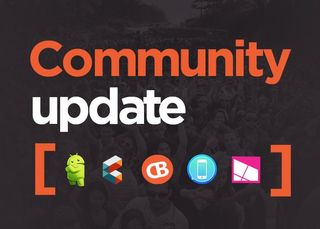 Mobile Nations Community Update
As February draws to a close, it's time again for the Mobile Nations Community Update. Below we're going to take a look at some of the best stuff happening around Android Central, Connectedly, CrackBerry, iMore, and Windows Central.
The biggest event to take place this past month was Mobile World Congress. Now that it has come and gone, we have the Samsung Galaxy S7, the S7 edge, LG G5, and a whole lot more. I'll touch more on this later in the update.
We also have a brand new Windows Central Gems series going on right now. As with previous Gems series, we're highlighting some great apps for Windows 10 that you definitely need to know about. Hard to believe this is our fourth installment of the series, but here we are!
Time to get down to it. The Mobile Nations Community Update for February, 2016 is on... NOW!
Mobile Nations Contests!
We always have great contests underway around Mobile Nations - and we've got some real BIG contests slated for March (you won't want to miss them). Especially fun right now are the Microsoft Gems sweepstakes underway over at Windows Central. Check them out below along with some other exciting giveaways around Mobile Nations, and make sure you keep it locked to our contest page for some really cool stuff in the coming month.
Enter now for a shot at the new Samsung Galaxy S7!
#StandWithApple for your chance to win an iPhone!
Remember, contest details, rules, closing dates and more are found via the links above. Go ahead and check 'em out... and good luck!
Community Spotlights
As mentioned up top, there has been a LOT going on around Android Central these days. Mobile World Congress has just wrapped up, and we had the new Samsung Galaxy S7, S7 edge, LG G5, Sony Xperia X line, and Xiaomi Mi 5 all dropped on us (to name a few). MWC is always a whirlwind of announcements and new tech, and the Android Central team did a tremendous job covering the madness. To make sense of it all they compiled a list of their top picks from MWC 2016. It's worth a look - check it out right here.
On Connectedly we had a couple of fun pieces go up, especially if you love virtual reality. The Oculus Rift PC bundle pre-order began on February 16, and Sony's take on the virtual reality headset looks mighty fine. Of course, come Valentine's Day we had to put up some of our top tech picks. The day has come and gone, but our recommendations remain - everything from the Fitbit Charge HR, to Philips Hue, to Sonos. Check 'em out!
The CrackBerry community is as boisterous and passionate as ever. For those with a BlackBerry Priv, the February security update was made available earlier in the month. And speaking of the Priv - you might want to head over to this page for a chance to win one - yeah, we're giving another one away! We're also selling some Limited Edition CrackBerry 'Back in BlackBerry' t-shirts and hoodies. They're on sale until March 3, so get one now before it's too late.
If you've been keeping up with your tech news, you'll know all about Apple's stand against a government request to create a tool allowing iPhones and iPads to be brute-force hacked. The company stance is that once a tool like this is made, it could get into the wrong hands, and that'd be trouble for us all. Rene and the iMore team have written plenty about it. One of my favorite pieces is Rene's work on Apple, the FBI, and your privacy. If you'd like to take a deeper dive, we've wrapped up all the coverage right here. If you're pining for a new iPhone, you may not have to wait that long. The iPhone SE event is now reported for the week of March 21. Keep an eye on iMore for the latest news on this as it happens.
While MWC did bring a lot of goodness to the Windows Community, the thing I'd like to touch on most is the fourth edition of our Gems Series. Yes, Windows Central Gems is back and we're taking a closer look at some of the absolute best apps you've got to try for Windows 10. Daniel, Mark and the Windows Central team are doing great things here, and new articles go up each Monday, Wednesday and Friday. We've made it through three Gems so far (Duolingo, Yummly, and PicPlayPost), with plenty more to come. Oh, and did I mention there are some really great contests going on during the event? Keep it locked to Windows Central for more on these, including chances to win a Lumia 950 XL, Sphero BB-8, Xbox One, and a whole lot more.
Hot forum threads
762
Share your iPhone 6s Plus Homescreen! (iMore)
405
Best Cases for your Lumia 950 XL (Windows Central)
332
Pics and Vids taken with the BlackBerry Priv (CrackBerry)
297
Official 'I've ordered my Galaxy S7 edge!' Discussion (Android Central)
235
Windows 10 Activation/Upgrade/Clean Install FAQ (Windows Central)
148
LG G5 Initial Impressions (Android Central)
50
Is TouchID not accepting your fingerprint? (iMore)
Android Central Forums Connectedly Forums CrackBerry Forums iMore Forums Windows Central Forums
Volunteer of the month
Member since: October, 2013
Posts: 16.3k
Devices: iPhone 5
Ledsteplin is one of our most active, engaged, and passionate members. In fact, 'Led' is not only our top poster as of late, he's also received the most 'liked' posts of any member this past month. It's a rare double-header that few have achieved.
With over 16,000 posts in the iMore since October of 2013, Led posts with frequency, accuracy, and a fiery passion for all things Apple. He's firm, but fair, and is always around to help and provide the information members are looking for.
Led, on behalf of Mobile Nations, our entire team, the hundreds of volunteers and millions of members worldwide - THANK YOU. We can't do this without your help, knowledge and support. You're a prime example of what makes our communities so great, and we hope to have you on our side for years and years to come!
Until next time…
With new Android phones and tablets in our hands, the MWC hangover is real. Real good. The Samsung Galaxy S7 and S7 edge are being well received by our community, along with the LG G5 and many of the other devices announced recently. Very much looking forward to discussions on these phones as we head into March.
The spotlight will no doubt shine brighter than ever on Apple. The security debate is a hot (and insanely important) issue. Rene and the team will continue to cover it like no one else can. With a new iPhone just around the corner, there's going to be plenty of fun and passionate discussions going on in our forums. I encourage you to jump in, our volunteer teams in the forums are absolutely fantastic.
March is shaping up to be one heck of an interesting month. I hope you'll continue to join us right here for more coverage, discussion and awesome contests!
Be awesome,
James Falconer
Community Manager
Mobile Nations
Get more iMore in your inbox!
Our news, reviews, opinions, and easy to follow guides can turn any iPhone owner into an Apple aficionado