The Mobile Nations Community Update, January 2014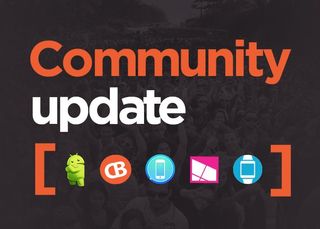 Community Update
Welcome to the second edition of the Mobile Nations Community Update! I'm James Falconer, Community Manager at Mobile Nations. If you hang around the forums at Android Central, CrackBerry, iMore, Smarwatch Fans or Windows Phone Central, chances are we've crossed paths. If you haven't, keep reading and I'll bring you up-to-speed on some of the most awesome stuff going on in our communities.
Early January was an incredibly busy time for all of us. Not only did we launch the brand new Smartwatch Fans site (headed by Editor-in-Chief Adam Zeis), we also produced #CESlive with our good friends at GeekBeat.tv. CES was a whirlwind of activity, and producing a live show alongside our usual coverage of the show was a huge undertaking... Yet we pulled it off without a hitch. If you tuned into our coverage, I hope you enjoyed it. If you didn't, check out our recap video (it's worth a look).
2014 is off to a great start. Mobile Nations is growing. Our staff, volunteers and members remain passionate, dedicated, and eager to take on the coming year. I hope you'll join in the fun that is (and will be) 2014.
Hello Smartwatch Fans!
It's been nearly a month now since we officially launched Smartwatch Fans and after working out some launch bugs that were bound to happen and tweaking up the design a bit, the site is rocking! So a big warm welcome to you all who have signed up and are participating.
The forums are buzzing now with over 7k members and growing daily as there is no shortage of Smartwatch news out there. Big kudos to Adam Zeis for getting Smartwatch fans off on the right wrist and if you haven't already, be sure to stop by and say hello!
Of course, we can't welcome a new community into our family without running some contests! At Smartwatch Fans we currently have two available, both lining you up with a chance to win Smartwatch goodness.
Contest: Enter to win a smartwatch of your choice!
Contest: Win a Martian Notifier Smartwatch!
You can head on over to either of the posts to read through the full details as well any contests rules and closing dates that may apply, they're both pretty easy though, I promise!
Community Spotlights
Android Central:
Android Central is as busy as ever with Google seemingly buying up the world. First it was robotics firm Boston Dynamics, then it they went ahead and purchased Nest which Phil recently spent two weeks with. Then there's the rumor of the Nexus 5 coming in several new colors thanks to it having been spotted already coming in a pretty sweet looking fiery red!
CrackBerry:
Things were going rather slowly on CrackBerry while everyone was waiting for the official release of BlackBerry OS 10.2.1 but that has now arrived and the place has gone post crazy with how-to's, app updates and tutorials teaching folks what's new in the latest operating system and that's just the blogs. The forums are on a whole different level and are insanely busy!
iMore:
iMore has been on a roll this month. Apple recently had their Q1 2014 earnings call where they announced they sold an impressive 51 million iPhones, 26 million iPads, and just for the heck of it, 4.8 million Macs. Combine that with the 30th anniversary of the Macintosh, there's been a lot happening.
Smartwatch Fans:
Over at Smartwatch Fans things are off to a great and more importantly, steady start. The forums are growing on a daily basis and because of that, we're expanding the forums team just as fast. If you're interested in the smartwatches, or even just considering a smartwatch it's the place to be right now. On the blogs side, Adam recently took a look at the latest from Pebble otherwise known as the Pebble Steel, it's a review you'll not want to miss especially if you're a current Pebble owner.
Windows Phone Central:
At WPCentral both the forums and blogs have been busy keeping up with the rollout of the Lumia Black update for Nokia devices along with the the release of such devices as the ginormious Nokia Lumia 1520. Windows Phone users are also enjoying all the new app and game releases hitting their devices, with one of the latest being none other than Grand Theft Auto San Andreas. It's a good time to be a Windows Phone user.
Hot forum threads
-- begin forums links -->
-- end forums links -->
Members of the month
Member since: October, 2011
Posts: 4,115
Devices: BlackBerry Z30, BlackBerry PlayBook
With well over 4,000 post it's not hard to find Thurask in the CrackBerry Forums. Answering everything from basic questions to some more advanced questions surrounding OS leaks, Thurask has become a trusted member of the Mobile Nation's communities and one many folks have come to rely on for quick and accurate answers.
Member since: April, 2012
Posts: 4,139
Devices: Samsung Galaxy Note 3
If your preferred forums is that of Android Central, there's a good chance you've seen Almeuit's name if not at least once, several times. With over 4,000 posts and only having arrived to the community in April of 2012, Almeuit has can always be found helping out, sharing experiences and answering plenty of questions oh and Almeuit hates you if you're a carrier who throttles data speeds.
Member since: March, 2013
Posts: 2,070
Devices: iPad Mini
With the iMore forums getting busier and busier these days, iOS Gravity is someone who's always willing to help those in need there. Whether you're looking for some new apps, need some guidance on Jailbreaks or just need some general help with your iOS device, chances are great that iOS Gravity can help you out in one way or another.
Member since: July, 2011
Posts: 2,233
Devices: Lumia 900
If you're on WPCentral and looking to have some fun, snowmutt can point you in the right direction - the 30K challenge forums. Aside from that though, if you need any help with your device or just want some friendly forum banter there's a good chance snowmutt will be there to lend a helping hand.
Member since: April, 2009
Posts: 809
Devices: Undecided
Although Barljo is new to Smartwatch fans and seemingly undecided as to which smartwatch to go with, he's always on the forums ready to help out, offer up advice and welcome any new members to the forums. Where Smartwatch fans is our latest site, Barljo is the type of person every forums needs. Just ready to help whenever and wherever possible and is just there to enjoy the diversity of it all.
Ambassadors of the month
Each month, we like to acknowledge the most awesome, passionate and dedicated members of the Ambassador Program. Our Ambassadors volunteer their time each and every day to ensure you feel welcome, get answers to your questions, and much, MUCH more. Below are our selections for December (Yeah I know, It's long overdue!) Our January selections will be coming soon!
Member since: May, 2009
Posts: 3,890
Devices: Samsung Galaxy Note 3
Eclipse2K is a diehard Chicago Blackhawks fan, and when he's not busy cheering on the hawks he can be found in the Android Central Forums. Android is his OS of choice, having owned a Droid RAZR, Thunderbolt, and now a Galaxy Note 3. On top of that he's been through a handful of Droid devices, and even some BlackBerry's too. He's constantly on the look out for new features, tips, and info, and loves to help and share with our members. He's definitely a 'go to' guy when you need help, he's awesome!
Member since: August, 2009
Posts: 12,032
Devices: BlackBerry Z10, BlackBerry PlayBook
Diego is one of our international Ambassadors at CrackBerry, hailing from Brasil. One of the friendliest guys you'd ever want to meet, he pays close attention to the introductions forum and welcomes new members left and right! You can also find him working hard to answer your important BlackBerry questions with lightning speed and accuracy. As a side note... Diego is also known to provide special help to those that speak Portuguese. Thanks Diego!
Member since: February, 2010
Posts: 1,975
Device: iPhone 5S, TouchPad
kataran is an all-star iMore Forum Member and Ambassador that got into computing back in vocational school with the heathcliff H89. Since those days, he's been a self-proclaimed tech geek. And we're very thankful! Having been recently selected to participate in the iMore Ambassador program, he quickly validated the decision by becoming the awesome Ambassador we knew he could be. The advice and help he gives in the forums is invaluable. If you have a question or concern with your Apple product, kataran is definitely one of the Ambasssadors you will want to talk to!
Member since: September, 2011
Posts: 4,543
Device: Lumia 920, Surface Pro 2
Nothing but good things to say about unstoppablekem. He brings an exuberance that rubs off on members and volunteers alike. He is one of the most 'thanked' volunteers on Windows Phone Central, and for good reason. He puts in the time and effort to make sure you get the help you need, and has a fun time while doing it!
SPECIAL MENTION: jsntrenkler
Member since: January, 2010
Posts: 18,278
Device: iPhone 5s, iPad mini
Jason is a longtime member that was recently appointed to the iMore Ambassador team. He always carries through and does an amazing job helping members and striking up new, friendly conversations. In fact, he's done such a great job that we've named him the Ambassador Team Leader on Smartwatch Fans! Look for Jason offering warm welcomes, answers to your questions, and much more in the iMore and Smartwatch Fans forums!
Moderator mentions
Our moderation teams are lead by a group of thoughtful, passionate and dedicated volunteers. These team leaders put in the time and effort to ensure that our members get the most out of our communities. Here's a little bit more about them.
Member since: November, 2010
Posts: 15,727
Paul has been an exceptional moderator at Android Central for some time. Always a solid member of the team, Paul was recently promoted to Moderator Team Leader when the position became available. He's taken on the new role with great vigour, and is doing a tremendous job. Working with Paul is a pleasure, he's always willing to go the extra mile for members and volunteers. Paul is also a huge Chicago Blackhawks fan, and loves talking hockey. I know this first-hand, as we often chat about the latest NHL news and happenings.
Member since: November, 2008
Posts: 28,846
I've had the good fortune of knowing Rich (aka 'pkcable') for many years now. A staunch BlackBerry supporter, Rich lives and breathes everything BlackBerry. The CrackBerry Forums are his domain, and how he keeps up with the frantic pace of these forums I'll never know… but I'm very thankful he does..
Member since: September, 2007
Posts: 14,575
Not sure if many iMore members know this, but John can be found fighting fires during the day. Literally. He's a firefighter. And if fighting fires wasn't enough, he spends every spare moment helping foster and grow the iMore Forums along with his incredible team. His strong voice and leadership skills continue to lead the iMore team in the right direction.
Member since: January, 2008
Posts: 7,000
Dave is the man around the WPCentral Forums. The focal point of the moderation team, Dave absolutely LOVES everything Windows Phone, and can be found offering advice and help around the WPCentral forums on a daily basis. The organization and structure of the WPCentral Forums are due in no small part to Dave's efforts, and he continues to make the forums THE place to go for anyone wanting to talk Windows Phone.
Member since: February, 2009
Posts: 6,147
Andy (aka 'zocster') is Mod Team Leader at our newest site, Smartwatch Fans. He broke in as a moderator at CrackBerry, and quickly rose to become an all-star. His staunch support of Smartwatch Fans was very evident from the start, and it was a no-brainer to bring him on board to help pave the way for the new site. Can't wait to take on new challenges with Andy, it should be fun!
To our Moderation Team Leaders, a very sincere THANK YOU for all you do. Each and every day you help make our communities awesome places to be. You're all stand-out examples of what a member should be... and we can't thank you enough.
Until next time...
That's it for the second edition of the Community Update. Once again the process of putting this piece together has brought a smile to my face.
I hope you had a great holiday season and are off to a solid start in the new year. Personally, I can't wait for all the goodness coming down the pipeline in 2014. Having the 'inside track' on what is to come, I know you're going to be blown away.
I like to say 'Stay Awesome' in my sign-off... But this time around I'm going with something a little different. It's bloody cold up here and there's 7 feet of snow on my driveway.
Stay warm,
James Falconer Community Manager Mobile Nations
Get more iMore in your inbox!
Our news, reviews, opinions, and easy to follow guides can turn any iPhone owner into an Apple aficionado