Mobile Nations Community Update, January 2016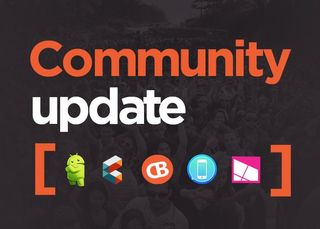 Mobile Nations Community Update
Greetings all! Hope you had a very happy new year, and things are going great for you in 2016. It's time again for our Community Update, where we take a quick look at some of the best stuff happening around Android Central, Connectedly, CrackBerry, iMore, and Windows Central.
As you'd expect, our teams were busy earlier in the month with the Consumer Electronics Show (CES) in Las Vegas. Plenty of new and exciting things were there, including Faraday Future's new concept electric car, and plenty of VR. If you're looking for some of our top picks from the show, Android Central compiled a list of their award winners.
With February around the corner, we start to put the focus on the upcoming Mobile World Congress - and perhaps more importantly - the Samsung Galaxy S7. Our S7 forums are already lighting up with activity, and we can't wait for the phone to launch.
Let's get down to it. The Mobile Nations Community Update for January, 2016 goes... NOW!
Mobile Nations Contests!
We always have great contests underway around Mobile Nations - and we've got some real BIG contests slated for February (you won't want to miss them). One of the more popular contests from January was our Honor 5X contest with almost 100,000 entries! As for this moment, we have two photo contests wrapping up to finish off the month. Check them out below, and make sure you keep it locked to our contest page for some really cool stuff in February.
Remember, contest details, rules, closing dates and more are found via the links above. Go ahead and check 'em out... and good luck!
Community Spotlights
As mentioned in the intro, focus is shifting rapidly to the upcoming Samsung Galaxy S7 on Android Central. We already have plenty of coverage, including details on battery life, benchmarks, and even the latest S7 rumors. To find it all in one place, we've got oodles of additional (and ongoing) coverage wrapped up for you right here. Other than that, plenty of interesting comparison pieces have gone up recently, including the Honor 5X vs OnePlus X, and Samsung Galaxy Note 5 vs iPhone 6s Plus.
CES was jam-packed full of new wearables, gadgets, phones, appliances, accessories, you name it. Through all the noise two key stories managed to find their way to the Connectedly homepage. Faraday Future's new concept car caught a lot of people by surprise, and the reaction was, let's say, 'mixed'... at best. The show also featured a LOT of virtual reality technology. We had the pleasure of walking the show floor each day, and the virtual reality area was one of the busiest areas of the show. The PlayStation VR caught our attention - you can read about it here.
On CrackBerry, more BlackBerry Priv headlines are stirring up discussion. The Priv is now available from T-Mobile (on contract or outright), and plenty of users in the U.S. are thrilled. Other major markets to receive the Priv of late include India, France, Italy, Spain and the Netherlands. For all the new Priv owners out there - an Android 6.0 Marshmallow update is due out later in Q1 2016.
As you no doubt expect from the team at iMore - plenty of great articles and editorials this month on all things Apple. Some of my favorites from the month include Android Wear for iPhone and Apple Watch for Android?, iPhone 5se and its place in the Apple universe, Secret Safari shortcuts to speed up your browsing, and secret Siri commands you can ask right now (try them, they're fun). Of course, you might recall Apple CEO Tim Cook spoke with analysts recently during the company's Q1 2016 earnings call... If you're into the financial stuff, you can read about that right here.
For Windows Central, CES 2016 revealed plenty of new laptops, desktops, tablets and more. One of the more interesting pieces of hardware to come out of the show was the Samsung Galaxy TabPro S. You can check out the forum right here. Since the show, still plenty going on. If I could ask you to read one thing, and one thing only on Windows Central today - You should check out Jason Ward's exclusive interview with Microsoft's Chris Pratley, Mike Tholfsen, and Chris Yu. This is great stuff - and if you're a Windows user - a must read.
Hot forum threads
870
What are your favorite cases for the Galaxy S6? (Android Central)
569
BlackBerry Priv Homescreen Screenshots (CrackBerry)
291
First Impressions of the Lumia 950XL (Windows Central)
148
Samsung Galaxy S7 Rumors (Android Central)
128
Do you use a Stock Keyboard or 3rd Party Keyboard? (iMore)
54
10 Reasons why I love Windows 10 (Windows Central)
35
Share your iPad Pro Art! (iMore)
Android Central Forums Connectedly Forums CrackBerry Forums iMore Forums Windows Central Forums
Volunteer of the month
Member since: December 9th, 2008
Posts: 4.8k
Devices: Samsung Galaxy Note 5, Samsung Galaxy Tab 4 10.1
Ralph (aka DenverRalphy) has been a long time volunteer and all around great guy. He's one of those guys that always seems to be upbeat, positive, and willing to lend a hand to answer questions at the drop of a hat. With this superb attitude (and obvious passion) for tech and our communities, he was recently named our fourth Network Moderator!
This is a bit of a big deal. Network Moderators are a rare breed, and keep a lookout over our entire network for spam issues, troublemakers, and much more. It's not easy, but as he eases into position I can tell he's going to do just fine... and our communities are that much stronger for having him on board.
Ralph, on behalf of Mobile Nations, the hundreds of volunteers and millions of members around the world, THANK YOU for your continued help and support. You've been (and will continue to be) a true asset to the team, and in your new role I know you're going to do great things - and have an even greater impact as we move forward in 2016. Congrats!
Until next time…
With the new year now in full swing, I hope you're looking forward to all the goodness due to drop this year. New Android phones (Samsung Galaxy S7 amongst others), new iPhones, new Windows Phones, and maybe a new BlackBerry or two? We shall see.
The next big event on our calendar is Mobile World Congress in Barcelona, February 22-25. We will have a strong team there (as usual), and chances are we're going to be treated to a lot of reveals and announcements, so keep it locked to Mobile Nations - more specifically Android Central - for top notch coverage.
That's a wrap for this month. As always - feel free to reach out to me if you have any concerns about ANYTHING going in at our communities. I'm here 24/7 - well, almost :)
Be awesome,
James Falconer
Community Manager
Mobile Nations
Get more iMore in your inbox!
Our news, reviews, opinions, and easy to follow guides can turn any iPhone owner into an Apple aficionado