Mobile Nations Community Update, July 2014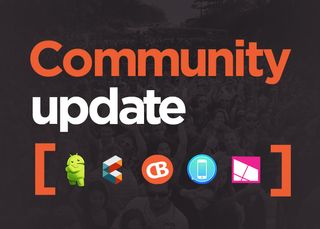 Community Update
It's that time again, time for the Mobile Nations Community Update. Android Central, Connectedly, CrackBerry, iMore, and Windows Phone Central are all chugging along with good stories, great conversation, and awesome people.
#MobileFit month has wrapped up, Speaking personally, I know I'm heading into the heart of summer a little bit leaner and meaner thanks to #MobileFit. If you participated, I hope you achieved great results, and had a little bit of fun too!
As we head into July there's all sorts of goodness on the horizon. Behind the scenes we're working on a powerful Question & Answer system to help our community members find answers to their problems… FAST. We're also working on a number of new design elements to bring many of our communities up to a new level.
That said, it's time to move into the monthly update. Here we go!
Mobile Nations Contests!
If you're looking to win some cool stuff, look no further than any Mobile Nations community. You can check out the ongoing contests below. Remember, new contests can and do go up all the time, so keep checking your favorite Mobile Nations community(ies) for even more contests.
Weekly Photo Contest: Win a Chromecast or Android Central Swag Bag
'A Month of Pi' Contest - Win a Raspberry Pi!
The full details as well as any contest rules and closing dates that may apply can be found on their respective sites. Good luck!
Community Spotlights
Android Central:
As usual, Android Central has been so busy, I can't possibly jam all the goodness into this little space. However, some of the more notable stories include the Samsung Gear Live, LG G Watch, and Samsung Galaxy Tab S reviews. Phil managed to get his hands on the Moto 360 as well. Very cool. Of course, if you want to keep up-to-speed with Android Wear, you'll want to read AC's everything you need to know about Android Wear piece, and check out the complete list of Android Wear apps while you're at it. Finally, Android L is a hot topic these days, especially in the forums. Head on over to our official Android L and Android L Developer Preview forums to join in the discussion.
Connectedly:
On Connectedly there's been the usual avalanche of news on today's connected devices (and upcoming devices). I'd love to list them all here, but I think instead I'll just focus on some of the more notable ones, including the Samsung Gear VR, Nest Protect, AirDog, Vessyl, Garmin Approach S6, and FitBit Surge, Charge, and PurePulse. Of course, Connectedly was all over the LG G Watch and Samsung Gear Live smartwatches. Remember to keep it locked to Connectedly for all your connected device news, from smartwatches, to robots, to home automation, connected cars, and more!
CrackBerry:
There's been quite a bit going on at CrackBerry these days too. BlackBerry teamed up with Amazon to deliver Android Apps on BlackBerry 10. With that news, we of course showed you how to get Android apps on your BB10 device with ease. There was plenty of buzz surrounding our first official looks at the BlackBerry Classic and BlackBerry Passport, and on top of that we managed to land an exclusive pre-release review of the Passport. Of course, I'd be remiss if I didn't mention our new interim EiC at CrackBerry. Bla1ze has taken over the day-to-day (he's doing an awesome job by the way), and even hit us up with his first from the editor's desk post late last month.
iMore:
With WWDC 2014 long gone, iMore moved on to a lot of great new stuff. Rene took the time to explain custom keyboards, widgets, and even share extensions in iOS 8. For more, be sure to check out our iOS 8 forum. If you're into gaming, you'll probably want to check out Simon's hands-on with the new Civilization Revolution 2. Late in June we learned that Apple hired two former Nike FuelBand engineers, throwing even more 'fuel' on the iWatch fire. Oh, and the iPhone turned 7 recently. How about that!?
Windows Phone Central:
Windows Phone Central is still hopping like mad, and the Windows Phone 8.1 forums are still absolutely lit up. We've also heard that Windows Phone 8.1 Update 1 is nearing completion. We've heard plenty of rumors as well, including a rumored new Lumia smartphone, two new phones offering '3D Touch', and a rumored Surface mini tablet. We also managed to get a hands-on with the new HP Pavilion x360 lineup. Certainly no loss of things to talk about in the Windows Phone Central Forums!
Hot forum threads
-- begin forums links -->
-- end forums links -->
Volunteer of the month
Member since: August, 2010
Posts: 19k
Devices: iPhone 5, iPad mini
JustMe'D is, in a word…. AWESOME. He runs double-duty for the iMore community as Ambassador team leader and Moderation team member. A solid leader and respected team player, JustMe'D (Darrick) is always polite and courteous to his teammates and community members. Anyone that has interacted with him will tell you exactly the same.
He joined Mobile Nations back in August 2010, and hit iMore for the first time in 2011. Since then he's thoroughly enjoyed interacting with our members as you can easily see by his more than 19,000 forum posts. He's always helping members with their questions, and has received more than 2 thousand 'thanks' and almost 5 thousand 'likes' during his tenure. Translation: members love and appreciate what he has to say.
I'm regularly jealous of Darrick, as he'll often shoot me a note to let me know about the comedy show, sporting event, or some awesome family activity that he has going on that day. Yes, the retired life is good, but he continues to do an amazing job on iMore in both Ambassador and Moderator capacities.
Darrick, on behalf of myself, iMore, and Mobile Nations, THANK YOU for all you do. Your calm, cool, steady leadership is appreciated and we're extremely proud to have you as part of our team.
Until next time...
As you'd expect, summer is heating up with all sorts of goodness from the Mobile Nations communities. From Android Wear and Android L to Android apps on your BlackBerry… to custom keyboards on iOS, smart cups, and mysterious Lumia devices, there's never a shortage of things to talk about.
Now that #MobileFit month now behind us, I'm looking forward to continuing the effort in July, and I hope you are too. I haven't missed my daily 10,000 step goal yet, and intend to keep it going as long as I can! Feel free to join me on FitBit if you're a daily user like me!
Wishing you all a safe and fun summer. Keep it locked to your favorite Mobile Nations Community, and remember... if you have any comments or suggestions on how to make things even better around here, my door is always open! Would love to hear from you!
Stay awesome,
James Falconer Community Manager Mobile Nations @JamesFalconer
Get more iMore in your inbox!
Our news, reviews, opinions, and easy to follow guides can turn any iPhone owner into an Apple aficionado