Mobile Nations Community Update, July 2015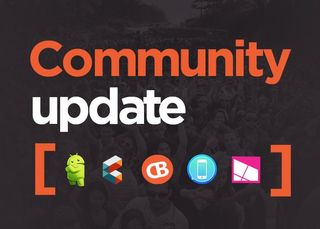 Mobile Nations Community Update
July has come and gone (well, it's almost gone), and that means it's time for the Mobile Nations Community Update! This month we take a look at the best contests, recent happenings, hottest forum threads, and more from Android Central, Connectedly, CrackBerry, iMore, and Windows Central.
If you're plugged-in to our network you'll know it's been a busy one. The Android-on-BlackBerry rumors continue to swirl, and speaking of Android, boy did we ever see a lot of new Android phones this month. In addition, Windows 10 recently dropped and the community forums at Windows Central are busier than they've ever been.
Let's get down to the good stuff! The July edition of the Mobile Nations Community Update starts now!
Mobile Nations Contests!
We've got a ton of great contests going on right now around Mobile Nations. We've picked out some of the bigger ones you'll want to check out:
Announcing our Axon Phone winner and a second chance giveaway!
Take our Apple Watch survey and be entered to win $500!
Windows Central and Opera giveaway – Win a Lumia 1520 or Surface 3!
Remember, contest details, rules, closing dates and more are found via the links above. Go ahead and check 'em out... and good luck!
Community Spotlights
So much going on over at Android Central, it's crazy. The OnePlus 2 is official and will be available in August. Motorola just announced two new Moto X's: The Moto X Style and Moto X Play. Both are coming to us in the fall. If you can't wait for these phones, you can always jump at the new Moto G, available now. While all of this was going on, Russell took some time to interview Bill Nye. So good. Oh, and the Samsung Galaxy S6 edge+ and Samsung Galaxy Note 5 are coming too. Crazy.
You might have noticed some big changes around Connectedly this month. In case you missed it, we've deployed a new homepage design on the site. Check it out if you haven't already. For those that are into the community forums on Connectedly, there's nothing to worry about. The forums are still there. In fact, we're still tweaking them a bit to match the new design, and some new sections will be added as we continue to grow and develop the site. Stay tuned for more!
Plenty going on over at CrackBerry this month. Of course, top of mind are the rumors that BlackBerry is considering Android for an upcoming phone. We caught a render showing off the BlackBerry Venice, complete with Android on board. This is a huge topic of discussion in the community. In other news, BlackBerry announced BES12 version 12.2, and for those awaiting a new phone, the BlackBerry Dallas recently arrived at the FCC. On top of it all, there's a BLUE BlackBerry Classic Giveaway going on right now. The giveaway ends shortly, so head over to this post for details on how to enter before time runs out!
As usual, lots of fun & helpful fare on iMore this month. Some of my personal favorites include an Apple Music Guide ebook put together by Serenity (you can pre-order it now, an Everything you need to know about Apple Music FAQ, a How to use Apple Pay guide, and an Apple Watch review three months on.
On Windows Central, it's all about Windows 10. With the OS now live, Daniel and his team have been all over it. Check out their definitive Windows 10 review, it's a must read (and watch - there are 7 videos within). If you're running Windows 7, you'll want to check out this How to upgrade Windows 7 to Windows 10 guide. In other news, make sure you check out these details on the Cityman and Talkman flagship Lumia phones.
Hot forum threads
407
Show off your Apple Watch! (iMore)
552
BlackBerry considering Android for upcoming handset (CrackBerry)
485
Will the Note 5 have removable battery and storage? (Android Central)
226
Micosoft Cityman Features Leaked (Windows Central)
8
Impressions of the Pebble Time (Connectedly)
Android Central Forums Connectedly Forums CrackBerry Forums iMore Forums Windows Central Forums
Volunteer of the month
Member since: April, 2012
Posts: 10.5k
Devices: Lumia 1520, Lumia 2520
Robert (aka RumoredNow) stepped up-to-the-plate for Windows Central BIG TIME this past month. We had some major changes in our volunteer team leadership in July, and Robert was right there to support us. Long story short, the Ambassador Team Leader position became available, and Robert was right there to step in and take over.
I've been impressed with Robert for a long time now, as he's been a moderator on Windows Central for some time. I have to admit I was a little concerned how the additional role of Ambassador Team Leader would effect his performance, but I'm pleased to say he's kicking butt. I absolutely love the passion and enthusiasm he brings to the community, and I know the community would echo that sentiment.
Robert, on behalf of Mobile Nations, our volunteers, and millions of members, I'd like to thank you for all you do. Keep up the good stuff and don't stop. The community needs you!
Until next time…
Another month has come and gone, but what a great month it was. Plenty of new phones, lots of new tech, and our communities remain the go-to place to talk about it all.
August is shaping up to be a heck of a month. I'm looking forward to a rumored Samsung event in New York City mid-month, where the Samsung Note 5 and Galaxy S6 edge+ will apparently be unveiled. Should be real good. Also anticipating some interesting moves from BlackBerry as we head into the fall. Quite a few posibilities out there, but as always... time will tell.
Stay awesome all, I'll catch up with you again at the end of August!
James Falconer
Community Manager
Mobile Nations
Get more iMore in your inbox!
Our news, reviews, opinions, and easy to follow guides can turn any iPhone owner into an Apple aficionado