Mobile Nations Community Update, June 2014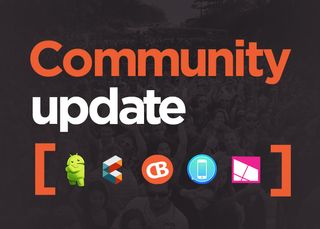 Community Update
Once again it's time for the Mobile Nations Community Update. In this edition I'm proud to report the 'state of the nation' is strong. Android Central, Connectedly, CrackBerry, iMore, and Windows Phone Central are full of great members and conversations as usual, and to make things even better, summer is just around the corner!
To go along with the warmer weather at this time of year, #MobileFit month is happening across Mobile Nations... RIGHT NOW! We have a forum and event page dedicated to it on Connectedly. Be sure to visit and bookmark both to stay in touch with the latest #MobileFit content and discussion from around the network!
Many Mobile Nations staff and community members are stepping up to get fit and active in our Fitbit Group. I'm participating too, and am really enjoying putting in some extra effort to work out each and every day. It's so easy to get stuck behind a desk all day, it feels GREAT to get out and walk, jog or bike... so I encourage you to join the #MobileFit group on Fitbit if you haven't already!
Time to move on. Keep reading for more goodness!
Mobile Nations Contests!
If you're looking to win some cool stuff, then you'll certainly want to check out the ongoing contests below and remember, new contests can go up at any time so be sure to keep checking the individual Mobile Nations sites.
Win an LG G3 from Android Central
The full details as well any contest rules and closing dates that may apply can be found on their respective sites... good luck!
Community Spotlights
Android Central:
There's honestly been so much happening at Android Central it's hard to even find a spot to begin and end without missing something off the list. The LG G3 is finally official, HTC announced the HTC One E8, Motorola took the wraps off their Moto E while the Moto G got a new LTE version. On top of all that, Android 4.4.3 has started rolling out to several Nexus and Google Play devices. Really, that's just the tip of the iceberg for Android stuff, you'll want to hit Android Central for all the latest news.
Connectedly:
For June, Connectedly is off to the races as well leading the charge in connected devices for #MobileFit Month. On top of that though, there's been plenty of other things happening. Samsung swapped out Android for Tizen on the Samsung Galaxy Gear devices and have now started showing off Tizen powered TV's. If you're into DIY stuff, then you'll certainly want to check out the Getting Started with Arduino and Raspberry Pi series of posts, it'll channel your inner nerd and have you building epic stuff in no time!
CrackBerry:
With the BlackBerry Z3 now available and selling well in Indonesia, it's back to the waiting game for the next set of devices for BlackBerry which will be the long rumored Windermere and of course, the QWERTY BlackBerry Classic. Speaking of Windermere, some new images of that device have now appeared although, it should see just a tiny bit more polish before release. On the news front, BlackBerry CEO John Chen recently hit up the Re/Code Conference and talked about new devices, developers and taking BlackBerry to its Enterprise roots.
iMore:
WWDC 2014 is now in the history books and iMore was there to capture it all. Of course, that doesn't mean the iPhone 6 rumors will come to an end as the device was expectedly not announced there but iOS 8 is out of the bag as is OS X 10.10 Yosemite and they're both jam packed with new features, additions and improvements. it's far too much to cover in this area so make sure you on over to iMore to learn all about it and everything else from WWDC 2014. Oh, right. Apple bought Beats.
Windows Phone Central:
WPCentral is still insanely busy with all the Windows Phone 8.1 happenings, but to keep them all on their toes, Microsoft also rolled out their latest Surface tablet better known as the Surface Pro 3. If you're looking to learn more about the Surface 3 and what all it brings to the table then you'll want to Daniels initial thoughts on it all. It's a fairly long read but it's a great look at the Surface Pro 3.
Hot forum threads
-- begin forums links -->
-- end forums links -->
Volunteer of the month
Member since: November, 2010
Posts: 16,460
Devices: HTC One, Nexus 7
Paul has been with Android Central for almost 4 years now. In fact, his 4 year Anniversary is coming up real soon... and I'm not sure what we'd do without him. His passion for Android is evident, and through the years worked his way up from dedicated member, to mod team member, and finally to Moderation Team Leader.
One thing I know for sure, Paul is ALWAYS willing to lend a hand to members with problems. If he knows the answer he'll step up and provide solutions immediately. If he's not sure, he will reach out to other team members for help. Bottom line, he does all he can to help others with problems, and the Android Central community is better off because of that.
Paul lives in the greater Chicago area with his wife and 5 children. Naturally, living in the Chicago area he's a HUGE hockey fan. In fact, I can't count the number of times Paul and I have discussed the latest happenings in the NHL. The NHL playoffs were a disappointment for Paul with his beloved Blackhawks going down in 7 games ot the L.A. Kings, but that said, he's still hopeful for next year... I mean who are we kidding, the Blackhawks still have one of the best teams in the NHL!
I consider Paul a good friend and colleague. I know if you got to know him the way the Android Central team and myself do, you'd feel exactly the same way. To get started, pop on over to the Android Central Forums and say hello. Paul will be there, trust me.
Paul, thanks for all you do. The community and all of Mobile Nations tips their cap to you Keep up the great stuff.
New Voices at Mobile Nations!
As part of our ongoing commitment to provide the absolute best news coverage possible, you may have noticed some new voices around Mobile Nations. They've been around for a month (or so) now, and it's high time we introduced them to you. So here they are!
Technically, Rich isn't new to Mobile Nations, but he is new to the broader community. Rich got his Mobile Nations start on Windows Phone Central more than three years ago, and is now taking on the challenge of tackling the news for the entire network from his perch in the UK.
Follow Rich on Twitter: @RichEdmonds
Harish comes to the Mobile Nations news team from both SamMobile and India. He brings a depth of Android experience to the team, as well as that international perspective that we love so much. And he's a serious gamer — his rig probably puts yours to shame.
Before coming to Mobile Nations, Chuong wrote for GottaBeMobile, covering all manner of mobile devices. Living in California, Chuong is anchoring the Newsroom shift for the Pacific time zone, taking our news coverage late into the night.
Follow Chuong on Twitter: @ChuongVision
The newest addition to the Mobile Nations news team is John. He comes to us from Neowin, and has several years of tech writing experience, so he's hit the ground running. In addition to helping out with the always busy US daytime news coverage, will be helping to expand WPCentral's coverage of Windows and all things Microsoft.
Follow John on Twitter: @JCalMN
Until next time...
What an end to May and beginning to June we've had. WWDC has come and gone, and iOS Developers and users are no doubt excited about iOS 8 and OS X Yosemite. Now the focus is turning towards the coming iPhone lineup. What will it have in store? The iPhone 6 rumors are plentiful.
Besides the big Apple news, Android is seeing 4.4.3 begin to drop, the BlackBerry Z3 is selling well in Indonesia, and the Surface Pro 3 was announced as the latest Surface tablet from Microsoft. All exciting stuff for sure, no matter which platform you prefer.
As I mentioned at the top, #MobileFit month is in full steam, and as an active participant I'm feeling great. To date I haven't missed my 10,000 steps/day goal on my Fitbit, and I intend to carry that through to the end of the month (wish me luck!).
From myself and everyone else at Mobile Nations, enjoy the rest of your month. I'll be back again in July with new updates from our communities.
Stay awesome,
James Falconer Community Manager Mobile Nations @JamesFalconer
Get more iMore in your inbox!
Our news, reviews, opinions, and easy to follow guides can turn any iPhone owner into an Apple aficionado