Mobile Nations Community Update, June 2015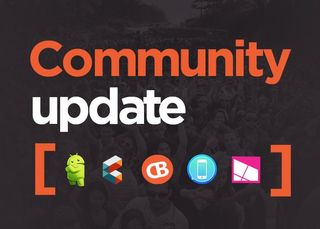 Mobile Nations Community Update
With June coming to a close, it's time again for the Mobile Nations Community Update! Keep reading as I take you on a quick tour around our network for all the latest from Android Central, Connectedly, CrackBerry, iMore, and Windows Central.
Of particular interest this month are the awesome contests we've been running. I'll point out the best ones still available for you to enter. There's some amazing prizes waiting to be won, so make sure you check them all out (and enter them all gosh darn it!).
While I'm at it, I might even have a prize or two up-for-grabs for those that make it all the way to the end of this post. Keep an eye open for that and I'll catch you in the comments.
Time to get down to business. The June edition of the Mobile Nations Community Update is ON!
Mobile Nations Contests!
We've been on a bit of a tear this month when it comes to contests. In fact, I believe we've run more contests this month than any other month in our history! I've picked out some of the bigger ones you'll want to check out:
We're giving away a Samsung Galaxy S6 — and there are three ways to enter!
Win Pad & Quill's new leather Backpack or Briefcase
Win a Nexus Player in the latest Android Central Photo Contest
Email is broken - help us fix it (and maybe win a new BlackBerry in the process!)
Remember, contest details, rules, closing dates and more are found via the links above. Go ahead and check 'em out... and good luck!
Community Spotlights
As you'd expect, all sorts of goodness dropped at Android Central over the past month. Of course, were giving away a Galaxy S6 (enter now, do it!), but on top of that Phil and his team have put together some really great stuff. Be sure to check out Alex's editorial on the genius of Google Play Services, and Russell's look at that chip on your battery (no, the government isn't spying on you). Of course, plenty of new reviews went up, including a Samsung Galaxy S6 active and Dell Venue 10 7000 Series review.
Perhaps the biggest news to hit Connectedly recently is the pre-order of the Pebble Time. If you're in the US and live near a Best Buy location, you can now pre-order the latest wristable from Pebble in red, white and black. I personally haven't pulled the trigger on a Pebble Time yet, but I was a big fan of the original Pebble and Pebble Steel. Chances are I'll cave in time, for the Time. Oof.
There's been quite a bit of news dropping over at CrackBerry as of late, mostly due to the company's Q1 Fiscal 2016 results. If you're into that sort of thing, head over to this post for all the details. Key points worth noting include software and technology licensing revenue up 150% over Q1 FY15, positive free cash flow of $123 million in the quarter, and a cash and investment balance increase of $50 million over Q4 FY15. Oh yeah, and BlackBerry CEO John Chen has said he's not against building an Android device, so long as he can make it secure. Hmmmmmmm.
WWDC hit us in early June, and as you'd expect Rene, Serenity and Peter were all there to take it in (and kick butt). If you happened to miss the keynote, the team has a full wrap-up for you right here. There's also an everything need to know about iOS 9 piece, an Apple Watch and watchOS 2 FAQ, and a first look at OS X El Capitan. All are awesome, and all are worth a read (or two).
On Windows Central, we've been making our way through Hidden Gems, a series of features focusing on all sorts of great apps for Windows and Windows Phone. If you haven't checked it out yet, I highly recommend you do. Of course, earlier in the month Daniel and his team were at the Electronic Entertainment Expo (E3). If you're a gamer and missed out on the coverage, check it out here.
Hot forum threads
303
Show off your Apple Watch! (iMore)
253
Tell us about your first BlackBerry (CrackBerry)
193
Optimizing your LG G4 battery (Android Central)
108
How is your Microsoft Band holding up? (Windows Central)
12
Pebble Time Comparison Pics (Connectedly)
Android Central Forums Connectedly Forums CrackBerry Forums iMore Forums Windows Central Forums
Volunteer of the month
Member since: July, 2009
Posts: 14.4k
Devices: BlackBerry Z30, BlackBerry PlayBook
For the longest time Noah (aka 'Elite1') was one of our standout moderators on CrackBerry. He is still a moderator in the community, however he has also taken on the duty of Ambassador Team Leader as well. In this capacity he makes sure we welcome new members, and find answers to pressing questions any member might have. If you've ever had a question or concern about your BlackBerry, and turned to our forums for help... chances are Noah was there to help you out.
Without a doubt Noah is one of the friendliest people you're ever going to meet. This makes him a great Ambassador. But at the same time he's always one to speak up and make suggestions to help make our community better. I've always appreciated that about him.
Noah, on behalf of CrackBerry, Mobile Nations and the countless members and volunteers you've helped through the years, THANK YOU for your tireless help and effort. You're a true asset to the community and we appreciate everything you do.
Until next time…
Hard to believe June is coming to a close already. Time flies when you're having fun!
As I mentioned at the top, I'd like to give away some prizes here, much like we did last month. I'd like to get a little more feedback on the Community Update. What do you like? Not like? What would you add to make it better?
Sound off in the comments and we'll dish out $25 Mobile Nations coupon codes to those with the best feedback and suggestions. You can use these codes in any of our stores to load up on some of the best accessories for your phones and tablets. Do it now!
James Falconer
Community Manager
Mobile Nations
Get more iMore in your inbox!
Our news, reviews, opinions, and easy to follow guides can turn any iPhone owner into an Apple aficionado