Mobile Nations Community Update, March 2014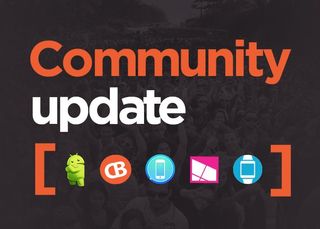 Community Update
Welcome yet again to the Mobile Nations Community Update! Around Android Central, CrackBerry, iMore, Smartwatch Fans and Windows Phone Central, it's been a fun start to 2014.
We recently wrapped up our coverage of Mobile World Congress, and the event has left us with a legacy of devices, devices, and MORE devices to discuss in our forums. In the end, we have somewhere in the neighbourhood of 35 new device forums across all Mobile Nations communities. If you want to talk Samsung Galaxy S5, Nokia X Series or even the BlackBerry Z3 or Q20, we've got you covered.
All told, our communities are having a great time discussing the plethora of new devices that have hit the scene. Fun times for sure, but there's much more goodness to come in 2014. We're just getting started.
Mobile Nations Contests!
Although we just wrapped up a network-wide contest to celebrate CrackBerry's 7th Birthday, we're all ready to give away some more goodies to our readers! This week you can head on over to any of the links below and find a contest to get yourself entered into.
Weekly Photo Contest - Street Scenes
The full details as well any contest rules and closing dates that may apply will also be found there, and good luck!
Community Spotlights
Android Central:
Android Central had an incredibly busy Mobile World Congress and there was a ton of devices announced, including the long awaited Samsung Galaxy S5, which Phil has already covered in a first impressions post. But as you know, the Android world is forever moving forward, so there's even more to look forward to a bit later this month when HTC will be unveiling the next-generation of the One series.
CrackBerry:
CrackBerry forges on with the latest BlackBerry 10.2.1 news and updates and they even took the time to go ahead and re-evaluate the BlackBerry 10 OS thanks to the fact that OS 10.2.1 is quite a departure from what initially launched. But the icing on the cake came during Mobile World Congress with the announcement of the BlackBerry Z3, and the BlackBerry Q20 otherwise known as "The Classic" thanks to the return of the track pad and belt of BlackBerry buttons.
iMore:
The folks at Apple have been keeping iMore on their toes. Apple recently unveiled their CarPlay system and with that, announced all the companies that will be supporting it in their vehicles. If that's of no interest to you, there's no plenty of iPhone 6 rumors making their rounds as well and Rene and his team have got everything you need to know about it thus far covered.
Smartwatch Fans:
Over at Smartwatch Fans things are still on the rise and it seems every new day brings a new smartwatch to cover. Many folks are still waiting for their Pebble Steel's to arrive and even Intel is getting into the mix now, having laid out $100 Million to purchase Basis. Of course, Mobile World Congress brought a ton of smartwatch news as well including the Galaxy Gear 2 and the Galaxy Gear Neo, both of which Smartwatch Fans has a hands-on with.
Windows Phone Central:
Mobile World Congress was also a spot for WPCentral this year and Nokia managed to take the spotlight with several announcements. Although some of them were expected thanks to leaks, it's still a fascinating to now know that Nokia will be releasing smartphones powered by Android under the Nokia X platform. Also in a bit of a crossover announcement, Nokia announced that BBM would be making it's way to Windows Phone as well. Crazy times.
Hot forum threads
-- begin forums links -->
-- end forums links -->
Members of the month
Member since: August, 2012
Posts: 1,207
Devices: Moto X, Droid RAZR M
Often found in Android Central's General News & Discussion forum, A895 has been with us since August 2012. Over the past few months A895 has really picked up his participation in the forums, always willing to lend a hand with Moto X and Droid RAZR M questions from our membership. We also have a sneaking suspision that A895 may be in the market for a new HTC One when the time comes... Keep up the good stuff A985!
Member since: January, 2009
Posts: 15,635
Devices: BlackBerry Z30
Author of the infamous 'Bacon Thread', Slff can often be found in the CrackBerry Rehab & Off-Topic Lounge. Yes, he's a true character. That aside, Slff is a friendly member always willing to take time to answer member questions and offer feedback. He's a nice dude, but don't you dare try and pry his beloved Z30 from his hands!
Member since: January, 2014
Posts: 541
Devices: iPhone 5s, iPad Air
An iPhone 5s and iPad Air user, iRiidium recently joined iMore (in January). It's clear to see that he enjoys his time in the forums, as he's quickly racked up well over 500 posts in a short period of time. Of course, you can find him dishing out advice and opinions on the iPhone 5s, but he's also very active in other areas of the forums from accessories, to iOS 7 and the iPhone 6!
Member since: September, 2013
Posts: 124
Devices: Nexus 4, iPad 2
Hailing from Scotland, chimpboy is one of the newer members in the Smartwatch Fans forums. He can be spotted in all areas of the forums, but was most recently found discussing the Google Watch, and what 'must have' features our members would like to see. Keep postin' chimpboy, it's great to have you in our community!
Member since: August, 2013
Posts: 1,505
Devices: Lumia 920, iPad (3rd gen)
Himanshu has been one of our most active posters this past month. He carries a Lumia 920 as his daily driver, and can often be found in the Windows Phone 8.1 and Software Development forums on Windows Phone Central. Himanshu is a student, and is busy learning C and C++ at the moment, and has aspirations to become a developer in the future.
Ambassador Spotlight
Our Ambassadors volunteer their time each and every day to make our communities more awesome. They make sure you get the answers you're looking for, and make you feel welcome in our forums. This month I'd like to acknowledge some very special Ambassadors for their outstanding efforts.
Member since: August, 2013
Posts: 4,763
Devices: Galaxy S4, iPad 2
UJ95x has the unique distinction of being the first member to be mentioned in TWO community updates. You see, back in December he was tapped as a Member of the Month. He was so good, we asked him to join our Ambassador team, which he humbly accepted. From there, he hasn't looked back, and it's fantastic to have him on our team.
Member since: December, 2010
Posts: 31,721
Devices: BlackBerry Z10, iPad (4th gen)
hamsterwheel is an awesome Ambassador. There's not much more to it than that. Always found helping out members, hamsterwheel is one of the most 'liked' members we've seen in a long time, racking up almost 5000 'likes' on the CrackBerry forums in February alone. Impressive stuff!
Member since: November, 2010
Posts: 12,462
Devices: iPhone 5s, iPad mini 2
Jaguarr40 lives and breathes iMore. For real. He loves the site and is always found answering questions and offering warm welcomes to our newest members. If you're a member in the iMore forums, there's a 99.9% chance you've already crossed paths with Jaguarr! (no worries, it's a good thing)
Member since: November, 2012
Posts: 2,270
Device: Nexus 4
I've been blown away by the passion and time Fairclough puts into the Smartwatch Fans forums. He's one of our top contributors, and is always super-friendly and welcoming to our new members. If you are having an issue with your new smartwatch, or just have a question you'd like answered, Fairclough is an Ambassador you're going to want to seek out.
Member since: January, 2012
Posts: 2,391
Devices: Nokia Lumia 800, Microsoft Surface RT
Following the example set by BIGPADDY and Curtieson, DBDev has well and truly joined the list of exceptional Ambassadors. Whether the topic is Windows Phone 8, Windows Phone Apps, or just a general 'off topic' discussion, DBDev is always there to join in the fun.
Moderator mentions
Our moderation teams are among the best volunteers in our communities. They put in their time and expertise to make sure your forums experience is a great one. Below are just a few of the all-star moderators you'll see around Mobile Nations.
Member since: January, 2009
Posts: 11,570
Devices: Samsung Galaxy S4, Nexus 7
NotJustaPhone can be found helping out at Android Central along with the help of several Android toys that adorn his computer. While he carries a variety of Android devices (Nexus 7, S4, and Note II), he's no stranger to other platforms. His strong and knowledgable voice makes him a huge asset to our community each day.
Member since: July, 2009
Posts: 11,712
Devices: BlackBerry Z30, BlackBerry PlayBook
elite1 is a longtime CrackBerry moderator, and recently stepped up to become Ambassador team leader as well. Yes, his plate is full, but he manages to do fantastic things day in and day out. To say his help and expertise and leadership is valued around CB is a huge understatement. Thanks elite1 for all you do!
Member since: December, 2007
Posts: 10,771
Devices: iPhone 5, iPad
kch joined our moderation team many months ago, and has proven to be one of the best 'spam busting' moderators we've seen in quite some time. If you enjoy the clean, spam-free experience you get in the iMore forums, take a moment to thank kch for his efforts.
Member since: January, 2014
Posts: 360
One of the newest team members on the newest Mobile Nations community (Smartwatch Fans), Matthew has been a rock-solid addition. While SWF continues to grow and grow, he can be found in the forums setting an example of what a forums member should be.
Member since: June, 2009
Posts: 25,004
Devices: Nokia Lumia 920 & 900
What can you say about Laura other than… SHE'S AWESOME. Laura can almost always be found around Windows Phone Central, but if not, chances are she's helping out at another Mobile Nations community. She's always willing to lend a hand and go that extra mile to make sure our forums are great places to be. For that, I know we are forever grateful!
To each of the moderators listed above, a very sincere THANK YOU for all you do. There's no doubt about it, you make our communities awesome places to be.
Until next time...
It's been a busy few months to start 2014 for sure, but there's still a LONG way to go.
Microsoft has the Build 2014 conference coming up on April 2nd, and no doubt a LOT of good stuff is going to come out of it for Windows Phone users.
The Apple Worldwide Developers Conference (WWDC) is taking place June 10-14 in San Francisco. We can expect all sorts of good stuff here, perhaps even the announcement of the iPhone 6. As the event draws near, more and more discussion is taking place in our iPhone 6 forum. Check it out if you haven't already.
So much good stuff to come this year, I can't wait… and I hope you feel the same way! If you haven't yet, take a few moments to join us in our forums to discuss and debate all things mobile. Our members and volunteer teams are waiting to welcome you.
See you in the forums,
James Falconer Community Manager Mobile Nations
Get more iMore in your inbox!
Our news, reviews, opinions, and easy to follow guides can turn any iPhone owner into an Apple aficionado