Mobile Nations Community Update, March 2015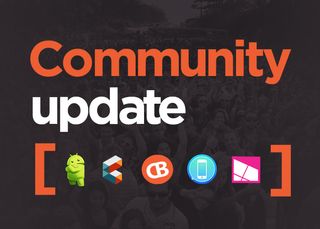 Mobile Nations Community Update
With the end of the month upon us, it's time to bring you up-to-date with the latest happenings around Android Central, Connectedly, CrackBerry, iMore, and Windows Central in the Community Update.
There's so much to talk about in our communities these days, from the Apple Watch to the Samsung Galaxy S6, S6 edge, new Lumia devices, and heck... even a new BlackBerry. It has been the rarest of months, where we learn of new gear for each major platform. It has indeed been a great month, with lots of new members and terrific conversations in our forums.
Let's get down to it. The March 2015 edition of the Mobile Nations Community Update is on...NOW!
Mobile Nations Contests!
If you're looking to win some cool stuff, look no further than any Mobile Nations community. You can check out the ongoing contests below. Remember, new contests can and do go up all the time, so keep checking your favorite Mobile Nations community(ies) for even more contests.
The full details as well as any contest rules and closing dates that may apply can be found on their respective sites. Good luck!
Community Spotlights
On Android Central much of the discussion in the community is focused around the Samsung Galaxy S6 and Samsung Galaxy S6 edge. Of course, with the HTC One M9 having hit us lately, there's plenty of discussion on the latest from HTC. Worth noting, Phil and his team published great reviews of the Moto E LTE 2015 and HTC One M9... along with a hands-on preview of the Samsung Galaxy S6 and S6 edge.
The latest connected news continues to drop over at Connectedly. Of note recently is a key update to the Fibit Surge and the Neptune Suite campaign hitting Indiegogo. The smartwatch news hasn't slowed down either, with Moto Maker support now available for the Moto 360, Apple Watch Pricing, TAG Heuer announcing a partnership with Google and Intel, and Will.i.am teaming up with Gucci. For discussion of these products and everything connected, make sure you head over to the Connectedly Forums.
Over on CrackBerry there's been quite a bit of buzz. We went hands on with the BlackBerry Leap, caught a new Porsche Design Passport concept, and even took a look at the BlackBerry 10 Slider. Also worth noting, BBM for Android passed 100 million downloads on Google Play. That's a lot of BlackBerry love.
There's no doubt about it, iMore has been all about the Apple Watch ever since our coverage of the Spring Forward event. Rene and his team have done a stellar job covering the new wristable, set to hit us real soon. Some of the most noteworthy articles include the Apple Watch Buyer's Guide and Official Apple Watch Specs. If you need more help before you buy, be sure to check out our other guides including Which Apple Watch Edition should you get? and Which Apple Watch band should you get? Must read stuff. For more, be sure to head over to our Apple Watch Forums.
On Windows Central, the Windows 10 discussion continues in our forums. Anticipation continues to build, and we've segmented our forums for Windows 10 discussion for phones, tablets, and laptops. We also witnessed the announcement of the Lumia 640 and Lumia 640 XL. With all the goodness dropping on Windows Central these days, we've also re-organized the forums a bit. Be sure to check them out if you haven't in awhile, it's good stuff!
Hot forum threads
174
Which Apple Watch will you get? (iMore)
123
Microsoft Band Wallpapers! (Windows Central)
121
Upcoming Galaxy S6 Cases (Android Central)
53
BlackBerry Leap is Live! (CrackBerry)
8
Gucci partners with Will.i.am to launch new smart wearable (Connectedly)
Android Central Forums Connectedly Forums CrackBerry Forums iMore Forums Windows Central Forums
Volunteer of the month
Member since: May, 2009
Posts: 18.5k
Devices: HTC One M7, TouchPad
Dave (aka HelloNNNewman) is without a doubt one of the best volunteers we have. Hailing from the Chicago area, he has a deep love of mobile tech, including webOS (You'll notice he still packs a TouchPad).
Speaking of webOS, Dave came to Mobile Nations back in the webOS Nation days, where he was one of the best moderators in the community. He definitely had (and still does have) a deep love for Palm, HP, and webOS... and was very sad to see things shake out the way they did.
That said, Dave has never been one to quit. He stepped up to the plate to help Mobile Nations and all of our communities. For some time now, Dave has been one of our Network Moderators. He keeps an eye on issues network-wide, helps fight spam, and spearheads a number of initiatives with us, along with our other Network Mods Bevcraw and branta.
I've come to really appreciate Dave over the last few years, as he's a guy you can count on to give you his honest opinion... and he's someone that will get things done, time and again.
The passion, time and effort he puts in around here is appreciated by all of us here at Mobile Nations. I know our communities are a MUCH better place because of his efforts, and I'm looking forward to working with him for a long time to come.
Good on ya Dave. Thanks for everything you do.
*hat tip*
Until next time…
So there you have it. March has given us all sorts of goodness, and our communities are chomping at the bit to get all this great new tech once it becomes available.
With all the new stuff coming our way this spring, a lot of folks are going to have some real tough decisions on where to spend their dollar.
To be spoiled with choice is a great problem to have.
As we head into April and warmer temps, all the best to you and yours... and I hope to see you around our forums real soon!
Be awesome,
James Falconer
Community Manager
Mobile Nations
Get more iMore in your inbox!
Our news, reviews, opinions, and easy to follow guides can turn any iPhone owner into an Apple aficionado