Mobile Nations Community Update, May 2014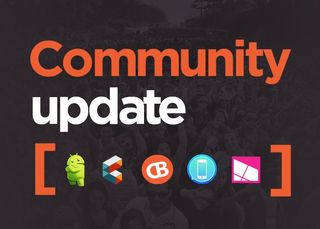 Community Update
Time for the May Edition of the Mobile Nations Community Update! I'm pleased to report that the Android Central, CrackBerry, iMore, and Windows Phone Central communities have all been buzzing with activity, as per usual. But what I'm really excited to talk about this month is the latest addition to our network.
If you're a regular around Mobile Nations, you'll no doubt know about Connectedly. If you haven't heard, Connectedly is our newest community site, formerly known as Smartwatch Fans. The rebrand enables us to broaden the community focus from smartwatches, out to almost anything 'connected'. Everything from Blu-ray players, to gaming consoles, to smart appliances, home audio, smart toys, in-car systems, and a whole lot more can be found there. And we think you're going to love it.
Keep an eye on the Connectedly blogs for all sorts of good stuff from our editors, and perhaps even a special guest post or two. If you missed it, be sure to check out our welcome post and launch contest. Entry into the contest is as easy, and you could win a Sonos Playbar & two Play:1 speakers, a Philips Hue starter pack, or a Sphero. While you're at it, be sure to pop into the Connectedly Forums, and download the official Connectedly App if you're rocking an Android-powered device.
Time to move on. Keep reading for more goodness!
Mobile Nations Contests!
If you're looking to win some cool stuff, then you'll certainly want to check out the ongoing contests below and remember, new contests can go up at any time so be sure to keep checking the individual Mobile Nations sites.
Connectedly Site Launch Contest - Enter Now!
Enter iMore's Weekly Photo Contest!
Enter Android Central's Weekly Photo Contest!
The full details as well any contest rules and closing dates that may apply can be found on their respective sites, and good luck!
Community Spotlights
Android Central:
Last month, Android Central was all about the Samsung Galaxy S5 and the brand new HTC One M8 . With both devices now available, there has been plenty of help and how-to posts going up. On top of all that, the OnePlus One has been making a lot of noise so it was inevitable Android Central would be taking a look at it. You can check out the hands-on and first impressions right now.
Connectedly:
With the rebranding from Smartwatch Fans to Connectedly now complete, Connectedly is open for business and off to a great start. If you're looking to go beyond the smartphone and tablet platforms and explore the emerging world of connected devices there's no better place. So far we've taken a look at E-cig style vaporizers, launched a Google Glass series of posts and even managed to release a few new Android apps for everyone to be able to access the site with ease.
CrackBerry:
Things at CrackBerry have slowed down a bit on the newsfront, but thankfully the BlackBerry Z3 has been announced. CrackBerry was one of the very few to get their hands on a review unit. Our BlackBerry Z3 Review is live right here. In other news, there's still plenty of rumors about the BlackBerry Windermere floating about and one interesting and likely older prototype BlackBerry device has popped up. If that's not enough to keep your interest, there's also been a ton of details about the next big update to the BlackBerry 10 OS, otherwise known as 10.3 being shared.
iMore:
The iPhone 6 rumors continue over at iMore and they're not likely to slow down until the device is finally announced and released. On top of those rumors though, there has been several departures and new arrivals at Apple and that's only adding fuel to the fire of what they may be working on. iWatch, Healthbook and iOS 8, and of course, the next generation of OS X are hot topics of discussion. It's a great time to be an Apple fan simply because there's so much to talk about right now.
Windows Phone Central:
With Microsoft's Build 2014 dev conference now in the history books, WPCentral has been busy reviewing Windows Phone 8.1 and checking out the slew of app updates that have been happening because of that developer release. If that's not enough, Microsoft is planning an event for May 20th where it's pretty much expected they'll be introducing a new tablet called the Surface Mini. You'll want to stay tuned for more on that, indeed.
Hot forum threads
-- begin forums links -->
-- end forums links -->
Members of the month
Member since: December, 2013
Posts: 974
Devices: Samsung Galaxy Note 3, Samsung Galaxy S2 X
Hailing from London, England, Madd54 has been a shining star in the Android Central forums for the past month. While having joined us only in December of last year, he has managed to rack up well over 1,000 posts to date. Great stuff Madd54, we will be talking with you in the forums soon!
Member since: November, 2010
Posts: 222
Lucas is one of many new, enthusiastic members at Connectedly. Right out of the gate, he wowed us by providing the community with a great guide on how-to control Wemo devices with your voice. I have a feeling Lucas has only begun to scratch the surface... So we're looking forward to more good stuff from Lucas as Connectedly continues to grow. Thanks Lucas!
Member since: February, 2013
Posts: 9,396
Devices: BlackBerry Z30, iPad Air
A softy at heart, we're told Carjackd came up with his username by combining the names of his children. Family is obviously a priority. Love it! Being Canadian (he's from Burlington, Ontario) Carjackd is a loyal BlackBerry user, and can often be found in the Off Topic Lounge. However, with the recent Connectedly launch, you can find him over there too! Good to have you with us Carjackd!
Member since: February, 2014
Posts: 1,466
Devices: iPhone 5s
Joining us this February, yukhalilsel has recently been lighting up the iMore forums with all sorts of goodness. His activity level in the forums has been nothing sort of astonishing, racking up over 1,400 posts to date. Impressive. yukhalilsel comes to us via the Netherlands, and has his trusty iPhone 5s nearby at all times. Thank you yukhalilsel!
Member since: February, 2009
Posts: 2,615
Devices: Lumia 920, Venue 8 Pro
With his Nokia Lumia 920 and Dell Venue 8 Pro in-hand, xandros9 has risen to become one of our stand-out members on Windows Phone Central. So much so in fact, that he was added to our Ambassador team last week. He's always eager to help, and sets a great example not only for members, but for our Ambassador teams as well! Great to have you on board xandros9!
Ambassador Spotlight
Our Ambassadors volunteer their time each and every day to make our communities more awesome. They make sure you get the answers you're looking for, and make you feel welcome in our forums. This month I'd like to acknowledge some very special Ambassadors for their outstanding efforts.
Member since: December, 2012
Posts: 14,619
Devices: HTC One (M8), Nexus 5
What can we say about GolfDriver97 other than... He's awesome! GolfDriver is a huge help to members, and posts like a mad man (that's a good thing) most days on Android Central. There's not a key discussion going on that he is not involved with. Always warm, welcoming, and friendly, he is beloved by the AC community with good reason.
Member since: November, 2012
Posts: 546
Devices: Nexus 5, HP TouchPad
Teejai80 has been a team player from the start. Having joined us when Connectedly was still 'Smartwatch Fans', he was behind us 100% when it came to the site rebranding, and helped out wherever he could. Of course, he's also extra busy in the forums helping out our members with answers to their problems... and if you've ever interacted with him, you'll know he's just a super nice dude. Thanks Teejai80!
Member since: February, 2009
Posts: 33,134
Devices: BlackBerry Torch 9850, BlackBerry PlayBook
One of our more active Ambassadors, Middbrew posts a lot. I mean, a LOT (to date Middbrew has over 33k posts). He receives a ton of 'likes' on his posts too, making him a community favorite. With his trusty Torch 9850 and PlayBook by his side, chances are you're going to cross paths with Middbrew if you post at all on CrackBerry... and that's a good thing!
Member since: March, 2013
Posts: 5,355
Devices: iPhone 4s, iPad mini
Always full of vim and vigor, iOS Gravity still brings the energy and passion to iMore that he brought when he was first named a member. Relatively speaking, he is still a newer Ambassador, but his contributions have been amazing. He's one of the hardest working Ambassadors we have, and always goes out of his way to welcome new members, and provide answers to pressing questions from the membership. If you have an iOS-related question, chances are he has an answer for you! Thank you iOS Gravity!
Member since: November, 2013
Posts: 1,878
Device: Lumia 925, Surface RT
With a Lumia 925 by his side, Guytronic comes to the Windows Phone Central forums on a daily basis from his home base in California. He's setting the bar high for Ambassadors network-wide, and can always be found sharing a laugh in the Off-Topic Lounge, or providing clear, concise answers to those in need. The Windows Phone Central community has a good one in Guytronic, thanks man!
Moderator mentions
Our moderation teams are among the best volunteers in our communities. They put in their time and expertise to make sure your forums experience is a great one. Below are just a few of the all-star moderators you'll see around Mobile Nations.
Member since: April, 2011
Posts: 7,474
Devices: Samsung Galaxy Note 3, iPad (3rd gen)
One of the newer moderators on Android Central, dpham00 has been a solid addition. When it comes to carrier knowledge, dpham00 has a wealth of knowledge. If you EVER have a question regarding your carrier of choice, hunt him down and ask him. You won't regret it! Keep up the great work dpham00, it's great to have you on the team!
Member since: November, 2008
Posts: 31,333
Devices: BlackBerry Z30
You may know pkcable as the Mod Team Leader over at CrackBerry. This is true... but did you know he's also a moderator at Connectedly? Yes, he lives and breathes almost all things Mobile Nations, and is incredibly eager to help out wherever and whenever he can. The dedication and passion pk shows is unmatched, and we owe him many thanks. At the moment pk is recovering from an operation, but he's already up and around, and can be found around Mobile Nations doing his thing. Thank you as always pkcable, and a speedy recovery!!!
Member since: July, 2009
Posts: 3,916
Devices: BlackBerry Z30, iPhone 5
Like dpham00, elessar.cm is one of the newer moderators to join our team. But just because he's new doesn't mean he's not awesome... because he is. Always a warm and friendly voice, elessar.cm takes the time to welcome new members and help those looking for answers to their questions. We have a feeling elessar.cm is going to be a rock star member of our team for a long time to come.
Member since: January, 2012
Posts: 6,971
Devices: iPhone 5s
Taz joined the iMore moderation team earlier this year. The new responsibility has not slowed him down one bit, in fact, we believe he's been even more active in the forums since joining us. All in all, Taz is a great guy that loves to help out members and make them feel welcomed. Every day he does us proud and we're extremely grateful to have him on the team!
Member since: March, 2011
Posts: 5,034
Devices: Lumia 920, Surface 2
Always friendly, welcoming, and forthcoming with answers to members' questions, HeyCori has been a stellar member of the Windows Phone Central moderation team for some time now. Packing a Lumia 920 and Surface 2, HeyCori is extremely knowledgable not only on Windows Phone, but on Xbox and general gaming as well. Thank you HeyCori for your awesomeness, we appreciate it!
To each of the moderators listed above, a very sincere THANK YOU for all you do. There's no doubt about it, you make our communities awesome places to be.
Until next time...
The first half of May has been a whirlwind. Getting Connectedly up and running was a huge challenge, but thanks to our tech team, editorial team, and members like YOU, we got it done. Extremely pleased and proud of all involved.
Looking forward we have the Apple Worldwide Developers Conference (WWDC) coming up next month. June is sure to be abuzz with all sorts of Apple news, and I can't wait.
I hope you're enjoying the warmer weather as things heat up for the summer season. Plenty of good stuff to come, without a doubt. Hope you'll stick around Mobile Nations to join in the fun.
Stay awesome,
James Falconer Community Manager Mobile Nations @JamesFalconer
Get more iMore in your inbox!
Our news, reviews, opinions, and easy to follow guides can turn any iPhone owner into an Apple aficionado