Mobile Nations Community Update, May 2015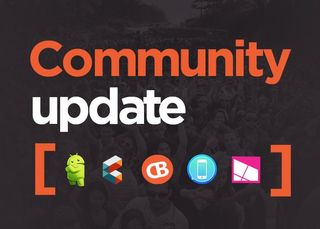 Mobile Nations Community Update
It's the end of the month, and that can only mean one thing: It's time for the Mobile Nations Community Update! As always, we're about to take a look at the happenings around our network, including Android Central, Connectedly, CrackBerry, iMore, and Windows Central.
May is truly coming to a close with a roar, and there's a LOT going on around our network. As we speak, Google I/O is wrapping up, and the Apple Worldwide Developers Conference and Electronic Entertainment Expo (E3) are both coming fast in June.
In a carry-over from last month, the Apple Watch, Samsung Galaxy S6, and LG G4 forums are still amongst the most popular across our communities. Be sure to check them out if you need help with one of these devices, or simply want to meet some really awesome members :)
Time to get down to it. The May edition of the Mobile Nations Community Update starts... NOW!
Mobile Nations Contests!
If you're looking to win some cool stuff, look no further than any Mobile Nations community. You can check out the ongoing contests below. Remember, new contests can and do go up all the time, so keep checking your favorite Mobile Nations community(ies) for even more contests.
The full details as well as any contest rules and closing dates that may apply can be found on their respective sites. Good luck!
Community Spotlights
Phil and the Android Central team have been all over Google I/O this week. The keynote brought us a lot of good things, including a look at Android M Developer Preview. As you'd expect, the team cranked out some solid reviews this month as well. Check out the LG G4 review, LG Watch Urbane review, and ASUS ZenFone 2 review if you're so inclined. Alex also looped back to take another look at the Samsung Galaxy Note 4. Take a look to see how the device has held up over the past six months.
As usual Connectedly has brought all sorts of amazing stories to their front page. Of the stories I've enjoyed the most over the past month include details on Pebble Time shipments, LG's latest 55-inch OLED display, and the Oculus Rift consumer VR headset. Of course, if you're into everything connected, be sure to join the discussion in the Connectedly Forums.
On CrackBerry we've heard a lot from BlackBerry CEO John Chen this month. He discussed the company's hardware business returning to profitability, and defended legislature use of BlackBerry. We also had the BlackBerry Classic go live on T-Mobile, and BlackBerry Blend 1.2 Beta dropped in the Beta Zone. Of course, if you're wanting to get your hands on the new BlackBerry Leap, you can pick one up at ShopBlackBerry... they even have them in white.
As we move on towards WWDC, you might have noticed iMore continued to rollout fantastic Apple Watch coverage. Of note this month was a Space Black Apple Watch unboxing, 16 Siri commands to save you time on your Apple Watch, and how to update Watch OS on your Apple Watch. We also learned about the new 15-inch MacBook Pro and $1,999 iMac 5K. Check it out.
Windows Central has been buzzing with Cortana news as of late. Just the other day we learned via Microsoft's Joe Belfiore that Cortana is indeed going cross-platform. If you have an iPhone, iPad, or Android, get ready for a little bit of Cortana in your life. We also unveiled a new blogroll on the homepage of Windows Central, so be sure to check it out if you haven't already, and share your feedback in the forums.
Hot forum threads
1185
How have people reacted to your BlackBerry Passport? (CrackBerry)
326
Samsung Galaxy S6: Post pictures of your home screen! (Android Central)
253
Is the Apple Watch too expensive? (iMore)
163
What was your first question for Cortana? (Windows Central)
17
Which color of Pebble Time will you get? (Connectedly)
Android Central Forums Connectedly Forums CrackBerry Forums iMore Forums Windows Central Forums
Volunteer of the month
Member since: February, 2009
Posts: 11.6k
Andy, aka Zocster has been moderator and friend to Mobile Nations for a very long time. Having spent most of his time on CrackBerry (for years), Andy recently stepped up to the plate to help lead the moderation team over on Connectedly.
New Zealand is home for Andy, which means he is in a slightly different time zone than most of us! This works out great for the team however, as he's one of the folks up and around when those of us in North America are fast asleep.
One thing I can say for certain about Andy is he's always willing to lend a hand, and always has a laid-back yet positive attitude to his volunteer efforts. He's a great guy and is incredibly easy to work with.
Andy, on behalf of Mobile Nations, our 7 million+ members and hundreds of volunteers, THANK YOU for all you do. We're extremely lucky to have you as part of our team.
Until next time…
As mentioned at the top, the month of May is coming to a close with a roar.
Google I/O is winding down as we speak, and the Apple Worldwide Developers Conference (WWDC) is just around the corner (June 8-12). Rene and the iMore team will be there to provide you the stellar coverage you've come to expect.
We've also got the Electronic Entertainment Expo (E3) coming up June 16-18 in Los Angeles. Expect Daniel and the Windows Central team to have this covered from top-to-bottom... and maybe even a little bit side-to-side. If you love gaming, keep it locked to Windows Central for up-to-the-second coverage with liveblogs, reports, and much more.
Before I go (and if you've made it this far!), I'd love to get some feedback from you. Leave a comment and tell me what YOU would like to see in future community updates. If I like your idea, I'll send you a $25 coupon code for use in any of our stores!
Until next month,
James Falconer
Community Manager
Mobile Nations
Get more iMore in your inbox!
Our news, reviews, opinions, and easy to follow guides can turn any iPhone owner into an Apple aficionado