Mobile Nations Community Update, November 2014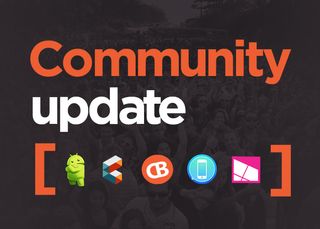 Community Update
Time again to wrap up all the goodness going on at Android Central, Connectedly, CrackBerry, iMore, and Windows Central.
For those that celebrated Thanksgiving yesterday, I certainly hope you shared good times and gave thanks with close family and friends. For those that have great deals on the brain (after all it IS Black Friday), you might want to check out our Guide to the Best Black Friday Deals while you can.
As we approach December there's lots of great stuff happening around the network. Let's take a look at each community to detail our hottest stories, newest contests, dedicated volunteers, and much more... The November 2014 edition of the Mobile Nations Community Update is here.
Mobile Nations Contests!
If you're looking to win some cool stuff, look no further than any Mobile Nations community. You can check out the ongoing contests below. Remember, new contests can and do go up all the time, so keep checking your favorite Mobile Nations community(ies) for even more contests.
'Feast' photo contest on Android Central (TWO Nakamichi Bluetooth Speakers up for grabs!)
The full details as well as any contest rules and closing dates that may apply can be found on their respective sites. Good luck!
Community Spotlights
Android Central:
November has seen some really important reviews hit Android Central, including reviews of the Nexus 6, Nexus 9, Samsung Galaxy Note Edge and Samsung Gear S ... along with an in-depth Review of Android 5.0 Lollipop too! We also took some time out of our schedule to cover the Samsung Developer Conference in San Francisco, you can view our wrap-up here. On top of that, the Android Central App along with our Best Android Phones Guide have both been updated. All good stuff, and all worth checking out.
Connectedly:
Adam and the team at Connectedly have been busy as always. They published a Fitbit Charge Unboxing (I think I need to get one), along with some key updates to our Ultimate Fitness Tracker Buyers Guide. As per usual there's been nothing but cool new gadgets and tech to hit the front page, including the FLUX 3D Printer, ASUS ZenWatch, Razer Nabu, LittleBits Smart Home Kit and Arki fitness band... and if you're a regular over at CrackBerry, you might have noticed our interview with the new CEO of Powermat, Thorsten Heins.
CrackBerry:
Interesting times (as always) at CrackBerry this past month. BlackBerry has introduced a new Passport Trade-Up Program, and anyone in North America can now pre-order the Passport in red and white. If you're still waiting for the BlackBerry Classic, it is slated for launch on December 17th, however pre-orders are already live. On the lighter side, we noticed that U.S. President Obama still can't leave home without his BlackBerry. Atta boy.
iMore:
The iMore team have been cranking out some stellar how-to guides that are definitely worth noting. If you're packing a new iPad Air 2, iPhone 6 or 6 Plus, they're worth a read. Some that come to mind are How to use Apple Pay and How Apple keeps your Handoff data secure. If you're into gaming, a couple of my favorite pieces from the month include Serenity's article on Space Age, and of course, this nifty little Candy Crush Soda Saga tips, hints and cheats piece :)
Windows Phone Central:
For those packing Windows goodness, Daniel and the Windows Central team certainly have you covered. This past month we found leaked photos revealing a new 5-inch Windows Phone. We also had a Foursquare update, and the language learning app Duolingo has arrived for Windows Phone as well. Finally, if you're visiting friends or family this holiday season, be sure to check out our best travel apps on Windows Phone for the holidays. It's worth a look.
Hot forum threads
Volunteer of the month
Member since: December, 2012
Posts: 21.6k
Devices: HTC One M8, Nexus 5
Joe (aka Golfdriver97) is one of our most passionate and hardcore members at Android Central. Having joined us in December of 2012, he quickly rose through the ranks and was noticed by our volunteer teams as a member to watch. As time ticked by, Joe was eventually asked to join the Android Central Ambassador team, which he humbly (and enthusiastically) accepted.
Earlier this year Joe took on even more responsibility as the Ambassador Team Leader, and I can tell you he does a tremendous job. The Android Central forums are one of the busiest in our network, and Joe is ALWAYS there to lend a hand, offer advice, answers, or just a kind word to help members and guests along.
Without a doubt, Joe is one of our most awesome members, and the time he spends at Android Central is appreciated not only by the Mobile Nations crew, but by the membership as a whole.
Joe, on behalf of Mobile Nations and the millions of community members from all over the globe, THANK YOU for all you do. You make Lloyd proud.
*hat tip*
Until next time...
It's hard to believe December is almost here. With the year winding down, we're ramping up our preparations for CES.
We will have an all-star crew in Las Vegas yet again, and our #CESlive show is going to be bigger and better than ever. This year we're teaming up with our friends at Geek Beat AND Tom's Guide. More hosts, more guests, more awesomeness. It's going to be great.
But before we get there we still have plenty of holiday action to take care of. If you're looking to get a jump on great gifts for the holiday season, be sure to check out our guide full of the Best Black Friday Deals... and our 2014 Holiday Gift Guide is full of good stuff too.
With that, it's time to wrap up this edition of the Community Update. I'll catch you again in December.
Stay warm and be awesome,
James Falconer
Community Manager
Mobile Nations
Get more iMore in your inbox!
Our news, reviews, opinions, and easy to follow guides can turn any iPhone owner into an Apple aficionado