Mobile Nations Community Update, October 2015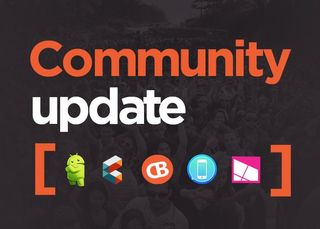 Mobile Nations Community Update
Time again for the Mobile Nations Community Update! Join me as I walk you through some of the best things that happened around Android Central, Connectedly, CrackBerry, iMore, and Windows Central this month.
October was a heck of a month, with plenty of event coverage. Microsoft held their #Windows10Devices event in New York City, and unveiled the Surface Book, Surface Pro 4, and Band 2 (among other things). The event was so inspiring, we even released a limited edition t-shirt to help you be productive like a boss. Ha!
For Android lovers, the LG V10 was announced, and over the past few weeks we've hit the community with a whole lot of reviews, contests and special features, keep reading for more details on them.
iMore has been chock full of new Apple TV coverage, and we've spun up some great contests to celebrate the latest hardware from Apple.
Of course, CrackBerry is all about the BlackBerry Priv. The community is buzzing for the latest device coming out of Waterloo, and now that pre-orders are live, it won't be long until we have the first BlackBerry to feature the Android operating system in our hands.
But enough of this intro, let's get down to business. The October edition of the Mobile Nations Community Update goes... NOW!
Mobile Nations Contests!
We've got quite a few great contests going on right now around Mobile Nations. We've picked out some of the bigger ones you'll want to check out:
Win the all new Apple TV from iMore!
Enter to win the new LG Nexus 5X!
And since Halloween is this weekend, we have our 5th annual Mobile Nations No Tricks Just Treats Halloween Photo Contest underway on each of our sites! Check out your favorite site below for details on how to enter.
Remember, contest details, rules, closing dates and more are found via the links above. Go ahead and check 'em out... and good luck!
Community Spotlights
So. Many. Phones. Android Central has been absolutely lit up with all sorts of goodness over the past few weeks. Of course, we were live at the LG V10 event, but since then there's been so much more. Our Android History series has gone live (check 'em out, they're awesome), and we've reviewed the Nexus 5X, Nexus 6P and HTC One A9 to name a few. The team has also managed to get their hands on the Droid Turbo 2, Droid Maxx 2, and OnePlus X.
Some really cool stories have gone up on Connectedly this past month. Some of my favorites include the good and bad of owning an electric car, how it feels to drive an autonomous car, a tiny USB stick that can turn your TV into a Windows 10 PC, and Nintendo games on your smartphone are almost here (yay!). Oh, and if you're looking for a deal on a fun little camera, the HTC RE Camera now costs just $50.
On CrackBerry, it's all about the BlackBerry Priv. Pre-orders are now live, and we're seeing new information drop as the hours go by. Over the last 24 hours we've seen a new feature overview video, and our BlackBerry Priv forum is understandably buzzing with anticipation. If you're looking for help, advice or just want to talk Priv with our members, I suggest you jump in right here.
Earlier in the month new 'Magic' accessories launched, including the Magic Mouse 2, Magic Keyboard and Magic Trackpad 2. Since then, the new Apple TV became available, and the iMore team is killing it with all sorts of coverage. Some of my favorites include designing Apple TV apps, where to grab a cheap HDMI cable for your new Apple TV, and the best Apple TV accessories. For more on the new Apple TV, be sure to check out our Apple TV Forum.
All sorts of new devices to talk about on Windows Central these days. We've got the Surface Book, Surface Pro 4, Band 2, Lumia 950 XL and Lumia 950 leading the way. If you're torn between the Surface Book and Surface Pro 4 like I am, be sure to check out this comparison. Check out this Core i7 Microsoft Surface Book Unboxing while you're at it too. Finally, the Microsoft Band 2 Review and Surface Pro 4 Review are worth a look or seven. Check 'em out. Well worth it.
Hot forum threads
2.9k
I've Ordered my Nexus 6P! (Android Central)
628
I've got a date with the Priv! (CrackBerry)
307
Hands-on experiences with the 950XL (Windows Central)
256
Nexus 5X First Impressions (Android Central)
236
What are your favorite cases for the iPhone 6s Plus? (iMore)
215
Cortana Tips and Tricks (Windows Central)
146
iPad Pro: Priced too high? (iMore)
Android Central Forums Connectedly Forums CrackBerry Forums iMore Forums Windows Central Forums
Volunteer of the month
Member since: August, 2009
Posts: 18.1k
Devices: iPhone 6s Plus, iPad Air 2
Derrick (a.k.a. Spencerdl) has been a longtime member at Mobile Nations, with an active account on all of our communities!
Having joined us back in 2009, Derrick has stood out as a trusted and friendly member, always willing to lend a hand or a kind word to help folks along. He's been a member of our Ambassador team on iMore for some time, and in recent weeks was added to our Moderator team as well. This dual role is a rare occurrence (and a tough role), but he manages to pull it all off with a smile.
Derrick, on behalf of Mobile Nations, all of our members, guests, volunteers and staff, I'd like to thank you for all you do to make things just a little bit more awesome around here. Your contributions are appreciated, and we look forward to working with you for years to come!
Until next time…
Hard to believe October is almost over. But then again, I open my front door to feel the cold winter chill, and it suddenly seems believable.
November is upon us, and that means that Black Friday and Cyber Monday are just around the corner. You can bet we'll have a ton of great deals posted for you to take advantage of, so make sure you keep it locked to your favorite Mobile Nations community for more details.
Talk with you again in November, but until then...
Be awesome,
James Falconer
Community Manager
Mobile Nations
Get more iMore in your inbox!
Our news, reviews, opinions, and easy to follow guides can turn any iPhone owner into an Apple aficionado