Mobile Nations Community Update, September 2014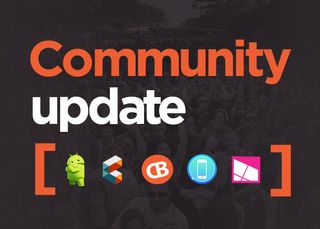 Community Update
It's time again to wrap up the goodness going on around Android Central, Connectedly, CrackBerry, iMore, and Windows Phone Central... The September edition of the Mobile Nations Community Update is a GO.
Since our last update, we've added a slick looking comment system to all of our blogs. The new system contains a reporting mechanism (to notify us of any spam or innapropriate comments), and an up and down voting option. On top of that, we recently celebrated our 15th anniversary. How cool is that!?
Of course, yesterday Apple held their big keynote, and everyone is talking about the iPhone 6, iPhone 6 Plus, and Apple Watch. We'll dive into that below, along with the boatload of new Android devices we've seen over the past month. Exciting times indeed. Let's get down to it.
Mobile Nations Contests!
If you're looking to win some cool stuff, look no further than any Mobile Nations community. You can check out the ongoing contests below. Remember, new contests can and do go up all the time, so keep checking your favorite Mobile Nations community(ies) for even more contests.
Celebrating 15 Years of Mobile Nations! (Win a $150 gift card!)
Win a FREE iPhone 6 from iMore.com!
The full details as well as any contest rules and closing dates that may apply can be found on their respective sites. Good luck!
Community Spotlights
Android Central:
The coverage going on at Android Central has been nothing short of ridiculous (and that's a good thing). From the Samsung Galaxy Note 4 and Galaxy Note Edge, to the Moto X and Moto 360, no stone was left unturned, and the community loved every minute of the coverage. Phil and his team have been scattered all over the place, from Berlin, to New York, to Chicago... and now Las Vegas for CTIA Super Mobility Week. My hat is off to Alex, Richard, Derek, Jerry, Andrew and Phil for an absolutely amazing job over the past few weeks.
Connectedly:
Much like Android Central, Connectedly has had no shortage of new devices to talk about. Everything from the Withings Activité fitness watch, to the Moto 360, LG G Watch R, Samsung Gear S, Asus Zenwatch, Apple CarPlay, and Samsung Gear VR (to name a few) all made headlines. Connectedly also featured a great guide, showing you how to choose the best heart rate monitor for you.
CrackBerry:
On CrackBerry, Bla1ze and the team have been doing a stellar job keeping us all in the loop. Earlier in the month we got a look at the upcoming BlackBerry Assistant app, and a closer look at BlackBerry Blend. We also got a sneak peek of the Porsche Design P'9983, and a closer look at the key specs. Of course, I have to mention our BlackBerry Passport contest (again). If you want a chance to win one, click here (all you need to do is leave a comment to enter).
iMore:
The Apple event yesterday in Cupertino was the talk of the tech world, and with good reason. The company introduced two new phones (the iPhone 6, and larger iPhone 6 Plus), along with their first wearable, the Apple Watch. They also introduced Apple Pay, a brand new one-touch payment system that doesn't require any pin numbers. To wrap up the event itself, U2 made an appearance on stage to belt out their latest single from a new album 'Songs of Innocence', which U2 is giving away for free to iTunes, iTunes Radio and Beats Music customers in 119 countries around the world... Making it the biggest album release ever in history.
Windows Phone Central:
Windows Phone Central has been jam-packed full of goodness, as per usual. Daniel and the team have gone hands-on with the Lumia 830, Lumia 730, and the new Lumia Camera. They've also managed to put up photo galleries of the Lumia 830, Lumia 735 and Lumia 730. Mark also posted a closer look at the 4K Moment Capture and Rich Capture features found within Lumia Camera. Really cool.
Hot forum threads
-- begin forums links -->
-- end forums links -->
Volunteer of the month
Member since: June, 2009
Posts: 31k
Device: Lumia 920, Lumia 900
Laura has been a fixture at Windows Phone Central for quite some time. She joined us in 2009, and quickly moved up the ranks as one of our most engaged and helpful members ever since. She heads up our moderation team on WPC, and does an absolutely tremendous job.
She carries a Lumia 920 and Lumia 900, and has a true passion for Windows and Windows Phone. It certainly shows in the day-to-day around the forums.
One of the things I particularly appreciate about Laura is not only her ability to help our members, but her ability to troubleshoot and help US when testing new site features and enhancements.
Laura, on behalf of Mobile Nations, our volunteers, and our MILLIONS of community members from all around the world, THANK YOU. It's passionate, dedicated volunteers like you that make our communities awesome places to be. Keep up the good stuff, it is truly appreciated.
*hat tip*
Until next time...
The last few weeks have been a whirlwind. First we get a whackload of new Android devices from the likes of Samsung, Motorola, Sony, and others... then we are treated to a new range of products from our friends in Cupertino. There's lots to see and do and talk about for sure.
Behind the scenes we have a lot of goodness coming to Mobile Nations (I can't wait to share with you all!). New features put together by real good people, for the awesome folks we're proud to call our members.
As we head into the fall I want to wish you all the best.
Stay warm and be awesome,
James Falconer Community Manager Mobile Nations @JamesFalconer
Get more iMore in your inbox!
Our news, reviews, opinions, and easy to follow guides can turn any iPhone owner into an Apple aficionado