Mobile Nations Community Update, September 2015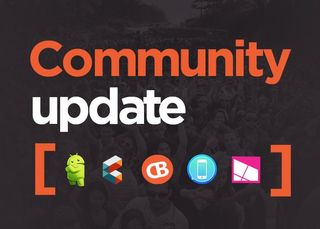 Mobile Nations Community Update
It's month-end, and that can only mean one thing: It's time for the Mobile Nations Community Update! Join me as we take a look at the best contests, recent happenings, hottest forum threads, and more from Android Central, Connectedly, CrackBerry, iMore, and Windows Central.
As expected, September was awesome. Last week the iPhone 6s and 6s Plus were released, meaning many of you have the latest from Apple in your hands (If you don't have one yet, learn how you could win one from iMore). On the Android scene the new lineup of Nexus devices has been announced, and they look awesome (I'm eager to get my hands on the 5X and 6P). Over on Windows Central the community eagerly awaits October 6th, when Microsoft is expected to reveal the Surface Pro 4, new Lumia phones, and much more.
Perhaps the surprise of the month was the official announcement of the Android-powered Priv by BlackBerry - Yes, BlackBerry hardware (featuring a physical keyboard) with Android on-board. There's plenty of chatter around the Priv right here in our forums. Feel free to join the discussion.
Let's get down to it. The September edition of the Mobile Nations Community Update is on... NOW!
Mobile Nations Contests!
We've got a ton of great contests going on right now around Mobile Nations. We've picked out some of the bigger ones you'll want to check out:
Tweet @iMore why you want to #SwitchToiPhone for your chance to win an iPhone 6s!
Win a Moto X Pure Edition from Opera and Android Central!
Android Central Photo Contest: Ornate
Remember, contest details, rules, closing dates and more are found via the links above. Go ahead and check 'em out... and good luck!
Community Spotlights
Over on Android Central it's all about the new Nexus lineup. Just the other day we were introduced to the Nexus 5X, Nexus 6P, Pixel C, a new Chromecast, and Chromecast Audio. If you missed the Nexus announcements, you can catch the replay right here. When you couple the new Nexus lineup with launch of Anrdoid 6.0 Marshmallow, the state of the Android world is good. Very good indeed.
The team at Connectedly has been busy bringing all sorts of fun, wacky and connected tech to the forefront. Some of my favorite stories of late include the Wilson X smart connected basketball, the best router you can buy in 2015, 10 things smartphones have helped kill, and a closer look at the Ultimate Selfie (watch the video, but if you're afraid of heights, prepare to feel queasy).
The last couple of weeks have been, shall we say, 'interesting' on the BlackBerry scene. The company recently announced their Q2 Fiscal 2016 results, but more importantly they went official with plans to launch the Android-powered BlackBerry Priv. Naturally the CrackBerry forums are buzzing with Priv chatter... I have to admit, it has been fun to join in on the Android + BlackBerry discussion. Plenty of opinions (good and bad) of this convergence. If you'd like to take part, head over to the BlackBerry Priv Forum.
What else is there to say, other than the iPhone 6s and 6s Plus are here! iMore has dug deep into the new devices, delivering awesome reviews, guides, and how-to's for those with new iPhones in-hand (or not!). Some of my favorites include the iPhone 6s video review, the Ultimate iPhone 6s and iPhone 6s Guide, how-to get started with iPhone 6s and 6s Plus, and how-to use 3D Touch on iPhone 6s.
One of my favorite pieces on Windows Central of late was the Windows Central Office Tour. Was great to go behind the scenes with Daniel and Mark, and even cooler to see the gear they use on a daily basis. Looking ahead, there's a big Microsoft press event taking place on October 6 in New York City. Chances are we will see the Microsoft Band 2, Lumia 950, and Lumia 950 XL. Keep it locked to Windows Central for continuing coverage.
Hot forum threads
360
Samsung Galaxy Note 5 - Pictures of your home screen(s)! (Android Central)
345
The BlackBerry Priv Waiting Room! (CrackBerry)
235
Microsoft Lumia 950 XL Features Leaked (Windows Central)
189
iPhone 6s AT&T Pre-order/Shipping thread (iMore)
135
Why (or why not) are you getting the Nexus 6P? (Android Central)
134
What are your favorite cases for the iPhone 6s Plus? (iMore)
Android Central Forums Connectedly Forums CrackBerry Forums iMore Forums Windows Central Forums
Volunteer of the month
Member since: Feb 2012
Posts: 9k
Devices: Nexus 6 - Shield Tablet
Matt (aka Assassin Droid) has been a member at Mobile Nations since February 2012. One of our most trusted and respected members at Android Central, he's risen up the ranks from moderator to Mod Team Leader in recent months, and that's no small achievement.
The Mod Team Leader position at AC has had some great people in it over the last few years. Kevin O'Quinn and Paul627g were his predecessors, and if you've spent any time on Android Central, you will know how prolific they are. They each had a unique style and were awesome in their own way... and Matt is no different in that respect. While he does have big shoes to fill, he has been meeting (and exceeding) my expectations, and I'm looking forward to working with him for a long time to come.
On behalf of Mobile Nations, our volunteer teams, and millions of amazing members, I'd like to thank Matt for volunteering his time, effort, and expertise. Android Central and Mobile Nations are better off for having you as a member of our team. Keep up the good stuff!
Until next time…
What a month!
The iPhone 6s and 6s Plus are here, and the Nexus 5X, Nexus 6P and BlackBerry Priv are coming soon. If that wasn't enough, we're due for some new device announcements from Microsoft in early October (here's what you can expect). Looks like there's going to be plenty of options for us as we head towards the holiday shopping season.
September was one of the more entertaining and awesome months in recent history. I'm keeping my fingers crossed that we see more of the same next month.
I'll talk to you again at the end of October with a spook-tacular update. Until then...
Be awesome,
James Falconer
Community Manager
Mobile Nations
Get more iMore in your inbox!
Our news, reviews, opinions, and easy to follow guides can turn any iPhone owner into an Apple aficionado