Mobile Nations fitness month week 3: Sleep and relaxation!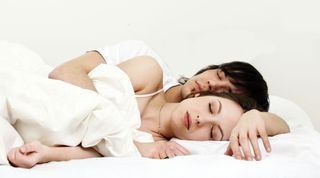 Leave a comment below telling us your Fitness Month goals and be entered to win a FitBit!
It's February and you know what that means? Mobile Nations Fitness Month! That's when we all get together to get in shape, share tips and tricks and recipes for success, review amazing apps and accessories, give away great prizes, and have a ton of fun! This year we're doing it a little differently, though. We're doing weekly themes, and that means every week you'll have new and exciting challenges, and new chances to win!
Week 3: Sleep and relaxation!
Relaxation, whether its full on mediation or just some simple breathing exercise, is how we keep our bodies and minds centered and balanced. Sleep is our reboot, when we write our daily cache to disk and run our system repairs so we're ready for the next day.
As part of fitness month, we'll be reviewing a bunch of great apps and accessories that can help encourage, track, and train us to sleep and relax better and smarter. We'll also be doing THREE cool contests!
Resting Up contest
First is our Resting Up contest. Every day this week there'll be a thread in our health and fitness forums, and all you have to do to enter is tell us how you slept, napped, meditated, or did your breathing during the day. The idea is to get a little community pressure going so we all sleep and rest better and get healthier. If you have a food tracker, app, or anything else that helps you out, you can simply share your results each day!
This is a great way to keep us all motivated and accountable, and get a little healthy peer-pressure going! Plus, every day you enter is a chance to win a $20 gift certificate!
Resting MY Way contest
Second is our Nutrition MY Way contest. Just head on over to Resting MY Way thread in the forums and tell us how you use your mobile device, your phone or tablet, to sleep and rest better. What are your favorite apps? Yoga? Meditation? White noise? What are your go to accessories? We want to know! Tell it to us in the form of a story, like a blog post. We'll post the best entries on Friday, so get them in ASAP! Need more incentive? We'll pick one winner a week and send them a $100 gift certificate!
Comment to win contest
Last but certainly not least, leave a comment below telling us about your Mobile Nations Fitness Month goals and you'll be entered to win a Fitbit It's a great -- and super geeky! -- way to track multiple aspects of your healthy lifestyle. You want to win this, so hurry up and leave a comment NOW!
Rene Ritchie is one of the most respected Apple analysts in the business, reaching a combined audience of over 40 million readers a month. His YouTube channel, Vector, has over 90 thousand subscribers and 14 million views and his podcasts, including Debug, have been downloaded over 20 million times. He also regularly co-hosts MacBreak Weekly for the TWiT network and co-hosted CES Live! and Talk Mobile. Based in Montreal, Rene is a former director of product marketing, web developer, and graphic designer. He's authored several books and appeared on numerous television and radio segments to discuss Apple and the technology industry. When not working, he likes to cook, grapple, and spend time with his friends and family.
My goals for this month are to lose 6 lbs. I am working on an exercise routine and I eat well. The fitbit would allow me to track my steps during the day as my pedometer broke. Thanks!

Sorry for going back to last week's topic (nutrition) but I watched a movie called "Fat, Sick, and Nearly Dead" on Netflix last night. Amazing. In a way it's the exact opposite of "Supersize Me." The protagonist is 100 lb overweight, has a chronic autoimmune illness, and he switches to a 100% juicing diet as a last resort. Drastic, but it worked for him. And for another guy he ran into who was much more than 100 lb overweight. I think I'll try something with juicing, but not the extreme 100% juice-fasting. I only need to lose about 10 lb.

My goal this month is to lose another 5 pounds, and to sleep better.

My goal and not just for this month is to sleep more. I don't get nearly enough sleep each night.

My goal this month is to lose the last 15 lbs. I've already lost 20 lbs since I started my fitness / health adventure on December 25th. My technological assistance: • Withings Scale
• Weightbot for weight tracking
• Lose it for calorie tracking
• iBooks to reference "The 17 Diet" book
• Interval Timer for keeping time during my cardio interval training

My goal is to lose 20 lbs, 10% of my body weight. I like that the Fitbit is tied into MyFitnessPal. I use that app to track my calorie intake, and a Fitbit would be nice to help keep track of calories burned in the same place.

My goal for this month is to get on a better sleep schedule and also cut out the fast food from my diet.

With our work, home, kids, and everything else thrown at us, getting 7 1/2 to 8 hours of sleep can be a big challenge to do. It does make sense "I am so tired I can not sleep" when you get up at 5A to get the house ready to start the day, you have to go to bed at 9P to get 8 hours. That can be hard to do. You are still winding down from the day, and starting to relax, reading, TV, or just something you like to do to relax. Next thing it's 12A, and you are only getting 5 hours of sleep. I have to force myself to shut everything down at 9P. It is easy to say get 8 hours of sleep, but hard to do. I do feel better when I do get 8 hours. I just have to do it.

This may be the most pathetic comment you receive on this topic. My goal for the month is to finally get off my butt and catch up to my wife who is already doing a great job working out with her fitbit! Winning one would remove another excuse I keep using to stay motivated.

Goal is to better track my exercise and food intake for better blood sugar control. Have been using MyNetDiary to help track info.

Trying to incorporate more whole foods into my diet. Cutting out as much processed food as possible.

I have a 6 months goal to lose 45lbs, im have already 5 weeks with diet and excercise and I have lost almost 9lbs. My goal this month is at least 9 more pounds!!!

I want to drop my body fat percent by about a third over the next six weeks. Spring break baby!

My goal is to exercise 3-4 times a week and cut out sweets.

I set my goal last year when I hit 200 lbs to lose 25 lbs by Jan. 1st 2012. Well over 6 months later I ended the year way past my goal and hit my healthy weight range for my age and height, 160 lbs. I was over the moon and blew past my expectations so sometime around October 2012 I set a new goal for the year end to fit into a leather jacket that I bought three years previous. I only wore it once and it didn't fit. On New Years Eve I don the leather jacket and went to the bash in style with another goal under my belt. My number one tool is the app MyFitnessPal on my iPhone. It wasn't easy at first but I started to get used to tracking everything I ate. I cut down on my portion sizes, stopped snacking as often and hit the gym every other day. Now that 2013 has started my next goal I have named Phase Two: Beast Mode, it is to get a six pack. This months goal is to hit the gym every other day and use my incline bench at home on the days I don't go to the gym. My workout consists of 5 sets of 10 reps hanging oblique knee raises, 3 sets of 10 reps benchpress(90lbs), 3 sets of 10 reps Crunches(45 lbs), 3 sets of 10 reps Bicep curl(50 lbs), 3 sets of 10 reps hanging oblique knee raises, 3 sets of 10 reps shoulder press(50 lbs), 3 sets of 10 reps Crunches, 12-15 minutes on the treadmill @ 6.5 or 7, finally 3 sets of 10 reps hanging oblique knee raises to finish off. I keep track of each workout in Epic Workout app which is really basic but it does what I need. It's all about balance to me and pushing your limits so my next challenge for this goal is to stay motivated all the time.

I've been using MyFitnessPal to keep a daily food log. This would help me keep better track of my physical activity.

Cut off another 10 lbs! :)

Mobile Nations Fitness Month goals
My goal this month is to increase my sleep to at least 7 hours per night. So far so good. I have made it to 7 or more every night. Here's hoping I can make it the last eight days.

Last year i started and tryed to change things but never got anywhere. I decided starting the year and like everybody does, seriously plan some long-short term goals to complete.
Related to this week's theme ''Sleep and relaxation''some are:
- Sleep minimum 7h (8h if better but let's be realistic...)
- When i wake up drink a cup of water and relax breatheing heavilly 5 times
- Once a week on weekend 15mins yoga (App)
- Take a nap in the afternoon for extra energy (If needed) Other goals are:
- 2-3 Gym sessions per week (To loose some pounds but more to be active)
- Healthy eating (+ Control intake) For now i am nearly 2 month's in and going well with all arround results, alltough it's sometimes difficult you have to think in the benefits long term!
(It's very cool that all this is going on here, very encouraging!) (Also on the forums i posted apps i use, check that out!)

I need more rest! I use Sleep Cycle! It is awesome.

My Mobile Nations Fitness Month goals are to become more physically fit and maintain a healthy body status! I would like to maintain my current weight, or even add some weight in muscle. Starting in march I hope to join the intramural soccer team at my college. This would give me a great opportunity to get daily exercise in and have fun at the same time. It would also provide great motivation to work out as I love playing soccer and each work out that I do will improve my game and my physical morale. I hope to start going to the college gym 3-4 times a week. And of course, I plan to incorporate a healthy, nutritious diet into my goals to improve my physical fitness. And those are my Mobile Nations Fitness Month goals! A fitbit would be an awesome addition to my fitness plan!

well let me start out telling you about what started my on the road to better health. A co-worker and friend of mine had been trying to get me to come train at his gym with him for over a year, finaly i found myself ready so i said yes im going today and thats what i did.
my first time stepping on a scale at the gym i was 307 lbs and that was the 7th of feb 2013 and i had goal in mind to lose 40lbs by the summer i thought that was a resonalble goal. my first week i went to the gym twice and then the next three times with in 2 weeks i had lost 12lbs already that really motivated me i now go to the gym as much as i can with work and family having priority each day i go im there for a minimum of one hour and fifteen min. and now that my cardio is up and i have more stamina im even going to start to go for a minimum of two and a haft hours 2x a week if any of u are still reading this with my poor spelling and lack of puncuation thank you. i have been going to the gym for a month now and i have already lost 27lbs im sure i will make my goal of 40lbs by summer i am now looking past that to a long term goal of weighing 215 lbs im sure you want to know what i am doing at the gym and here is the website for it http://www.fkpmmavancouver.com/
i started with just the cardio class and now i am branching out to all kinds of there classes the instructors are awsome and very motivating its always a fun intense work out and you always leave feeling better about yourself then when you cam in
all this said yes i have changed my diet and cut sugar and the case of coke i would drink almost daily. i dont starve i eat lots up to 6 times a day i just eat better foods and im starting to crave healthy foods no instead of Mc D or other junk food i have never felt the need to post like this before maybe i will never again but i one of you can can motivation and start your path to health then that is awsome thank you for reading, take care
Get the best of iMore in in your inbox, every day!
Thank you for signing up to iMore. You will receive a verification email shortly.
There was a problem. Please refresh the page and try again.