Mobile Nations Weekly: Lock it down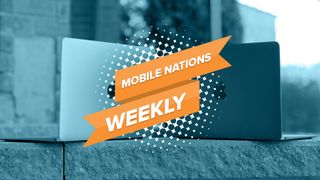 Tesla had a huge week, starting off with their quarterly earnings call — they're still losing money, in case you were concerned. No, what's actually interesting is that Tesla is dramatically accelerating their production timeline, shooting to be producing 500,000 cars a year by 2018 — they plan to make 80,000-90,000 cars in 2016. They also executed a stealth upgrade option — some new Model S cars actually have a bigger battery than what they customer paid for, but they can pay to unlock the extra range.
Windows 10 has landed on 300 million computers, phones, and Xbox consoles. That's huge. Also big: a thorough updating and redesigning of HP's Pavilion PCs, our in-depth review of The Division, and details about how Microsoft plans to modernize classic Windows apps.
Google made a huge and long-awaited update to their keyboard app: one-handed mode (and some other stuff) while the HTC 10 got a software update with camera improvements. And while the roll-out of Marshmallow for the BlackBerry Priv continues, BlackBerry's CEO confirmed that two new phones are coming by the end of the year (and we'd put out money on them running Android).
Apple, ever the subject of the tech media's attention, found itself in the cross-hairs again. This time? Well-founded confusion about the confusing way that Apple Music merges streaming, cloud, and local music and the un-ending clamor that Apple's best days are behind it (which may be true, but is likely hogwash).
We should also mention the elephant in the room: that huge data breach that may have compromised up to 232 million logins for Google, Microsoft, and Yahoo. If there was any doubt that you should be using two-factor authentication to make sure your accounts are secure, it should be erased now. Here's how to set-up two-factor authentication for your Apple, Google, and Microsoft accounts. Additionally, check Two Factor Auth.org for a comprehensive list of services where you can enable two-factor authentication.
iMore — Factored
The will-it-won't-it see-saw that is iPhone 7 rumors continues, this week turning cold on a smart-connector. iOS 10, on the other hand, is promising a redo on the Music app, and maybe more.
There was also another data breach so, if you haven't already, make sure you set up 2-factor authentication and get an app like Authy to manage it for you. Now, not when it's too late!
Follow @imoregram on Instagram for your chance to win awesome iPhoneography gear!
Android Central — Always waiting for a software update
HTC pushed an update to its new HTC 10 that has a few improvements for the camera, and we took the new software for a spin. At the same time, rumors are swirling about a potential upcoming Android Wear watch from the company.
Google rolled out updates to many of its core apps this week, including a one to Google Keyboard with several new features. And now's a great time to remember that we should be glad these apps are in Google Play, because it can take some time for full software updates to hit your phone.
If you're one who wants to keep up with the security side of Android, be sure to check out this month's Android Security Bulletin. As these monthly security updates get more popular in the general public, Android manufacturers are starting to step up their game in terms of update frequency. Chances are those who are interested in Android security are also checking out Android N, and we want to know how you're finding the software so far.
And if you've been eyeing the Nextbit Robin, you have until May 10 to get one for just $299 on Amazon, which is one heck of a deal.
CrackBerry — More to come
John Chen once again confirms plans to release two new phones, Android Marshmallow is reaching even more Priv owners as carrier updates have now begun and finally, BlackBerry brings back their 'Fan of the month' contest led by John Chen. All in all, a good week.
Tesla Central — The 'go' pedal
Tesla's not your typical car company, and it shows with how they implement new options. Take the 75kWh Model S battery upgrade — it's built into every new 70kWh Model S, but that extra 15 miles of range is locked away until you pay a $3000 upgrade fee. That doesn't sit right with some people, but that's simply the future of how we'll buy cars (not to mention a simpler manufacturing line for Tesla).
The bigger news, however, comes from their quarterly results (they're still losing money, but that's not new): Tesla is moving up their manufacturing plans and aiming to hit 500,000 cars a year by 2018 and 1 million cars a year by 2020. It's hugely ambitious for a company that plans to make 90,000 cars this year.
Last, Tesla CEO Elon Musk said that there's still time to reserve a Model 3 and get it by 2018 — but that time is quickly running out
Windows Central — 300,000,000
Microsoft did not release any new OS builds this week as they try to fix some last minute bugs. Nonetheless, there was still some big news as Microsoft announced that they had hit 300 million installations of Windows 10 across all devices including Xbox, PC, tablets, and phone. The company is now almost a third of the way to that 1 billion goal they set for themselves.
HP announced a series of new updates to their existing Pavilion computer line. The Lumia 650 went on sale on Cricket for just $130 and the Verizon Lumia Icon is getting back into things as Microsoft is now supporting the phone for the Insider program (right after we boasted about how well it runs on that phone).
Vine launched their new app for Windows 10 on PC and it's pretty impressive. A mobile version is expected shortly.
Finally, we answer questions about Project Centennial and whether or not converted Win32 apps can run on Windows 10 Mobile. We also show you how to set up two-step-authentication on your Microsoft Account.
Get more iMore in your inbox!
Our news, reviews, opinions, and easy to follow guides can turn any iPhone owner into an Apple aficionado
Derek Kessler is Special Projects Manager for Mobile Nations. He's been writing about tech since 2009, has far more phones than is considered humane, still carries a torch for Palm, and got a Tesla because it was the biggest gadget he could find. You can follow him on Twitter at @derekakessler.