Mobile Nations Weekly: Name and release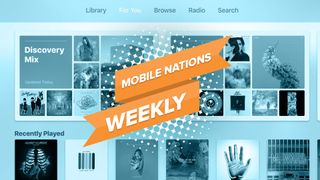 Android N finally has some branding clarity: N is for Nougat and the version is 7.0. It'll still be a while before the next flavor (*ahem*) of Android starts hitting devices, but at least we now know what it will taste li— err, what to call it. Samsung did something we've long been asking for — they released unlocked U.S. versions of the Galaxy S7. BlackBerry went big with advertising the same week they got the disappointing, if envitable, news that the United States Senate would no longer issue BlackBerry phones to staffers — but it appears that a new Android-powered BlackBerry is on the horizon.
Huawei is pushing hard with their new Windows 10 tablet, the MateBook; it's super thin and super impressive. Additionally, we finally have a date for the launch of the Windows 10 Anniversary Update (also known as Redstone): August 2 for PC, Mobile, and even Xbox. But one of the marquee features — Messaging Everywhere — didn't make the release.
Those living on the bleeding edge of the Apple world are putting all of the upcoming software updates through their paces through developer previews. From iOS 10 to macOS Sierra, there's a lot to take in. Not to mention the big updates coming for tvOS and watchOS 3
The Tesla community is grappling with the first fatal wreck in an Autopilot-driven vehicle. The tragedy is drawing more scrutiny of automated driving, but also highlighting the dangers that arise when we get too complacent with technology that we know isn't yet ready to operate entirely on it's own. People die when we get reckless, and in this instance we're lucky only the driver of the Tesla was killed or injured.
VR took a tentative step forward into... reality? In a truly interesting experiment, the upcoming Ghostbusters movie put on a really unique VR experience. They called it "Ghostbusters: Dimension" and it took the stereoscopic 3D vision and audio and threw in some new senses: touch and smell.
iMore — Apple Jacks
We're working our way through all the upcoming Apple software updates — iOS 10, macOS Sierra, tvOS 10, and watchOS 3 — but that doesn't stop the rumors from rampaging anyone. Right now it's all iPhone 7 all the time. Well, almost, Apple Music turned one, iPhone turned nine, and a whole lot more happened as well. Here are the highlights!
Android Central — Android 7.0 New Name
Android 7.0 confirmed! Say hello to Nougat!
On the hardware front, Samsung did what we were all asking for — release a fully-unlocked U.S. model of the Galaxy S7 and S7 edge. It doesn't have carrier bloatware, yet works on all U.S. carriers (yes, even Verizon), and you can just go buy one without any extra hassle. It's wonderful.
As we continue our refreshed coverage of Chromebooks now that Android apps are here, we have a few more helpful articles — like how to make sure your Chromebook is up-to-date, what some of the best wireless mice are, how to use an external monitor, mouse and keyboard, and some general tips about making a buying decision.
For Project Fi users out there, you now have access to the U.S. Cellular network in addition to T-Mobile and Sprint. It won't add service for too many people out there, but the best part about it is you don't have to do anything special to get it — just update your Project Fi app.
Over in the UK, upstart phone company Wileyfox unveiled its latest affordable devices this week, packing solid specs, Cyanogen OS and great price tags. It's great to see some solid innovation in the low-end space.
CrackBerry — Ad budgets
This week has been a rather interesting one for BlackBerry. In light of BlackBerry opening up their New York pop-up store, they've now also kicked a rather large (for BlackBerry) advertising campaign and sale to go along with it. The company also posted to YouTube what has got to be one of the best videos BlackBerry has ever created to showcase their latest efforts and offer a look into where BlackBerry is headed.
On top of that, news of the US Senate no longer offering BlackBerry smartphones caused quite a stir when the words 'BlackBerry 10' and 'discontinued' were used together in the same sentence. Ahh, yes. There was also a small flood of new device rumors. More on those soon. We're not entirely hopping on that hype train just for the sake of it considering some of the hype doesn't quite add up yet. But it's safe to say that pieces of the new device rumors are based off of what could be considered old rumors with some truth now behind them regarding a possible partnership with Alcatel / TCL.
Tesla Central — Fatal autonomy
Tragedy struck the Tesla community in the form of the first fatality in a car driven by Autopilot. An accident in Florida took the life of prominent Tesla owner Joshua Brown and drew increased attention to the safety of the system (or lack thereof) and the role the driver is supposed to play in a semi-automated car.
As it turns out, it appears that the driver put too much faith into Autopilot and was engaging in some reckless behavior behind the wheel when attention should have been paid to the road. Autopilot isn't yet 100% infallible — human supervision and intervention are required — and this sad accident is proof of that.
Sometimes it takes a tragedy to get our thinking straight on a topic about which many are passionate. There are perfectly reasonable arguments to both sides of the autonomous driving debate, and if anything this incident will help to clarify for drivers and manufacturers the limitations of current systems, inform the design of future systems, and help to form the basis for the regulations and standards that will be essential to the future development of true fully autonomous vehicles.
Windows Central — Huawei does thin really well
Huawei has a new Windows 10 tablet coming to the market. We did a deep-dive review of the ultra-thin MateBook and came away impressed.
Microsoft revealed August 2 as the launch date for the Windows 10 Anniversary Update for PC, Xbox One, and Mobile. Not sure what's coming? We have you covered. Not without controversy, however, Microsoft did pull Messaging Everywhere. It's coming back though later in the fall with Skype support.
Now that Redstone 1 is nearly complete should you install the Windows 10 Preview on your laptop or PC? Here are the pros and cons.
Get more iMore in your inbox!
Our news, reviews, opinions, and easy to follow guides can turn any iPhone owner into an Apple aficionado
Derek Kessler is Special Projects Manager for Mobile Nations. He's been writing about tech since 2009, has far more phones than is considered humane, still carries a torch for Palm, and got a Tesla because it was the biggest gadget he could find. You can follow him on Twitter at @derekakessler.