More MobileMe going free rumors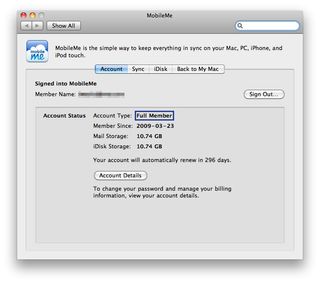 With the WWDC 2010 keynote mere days away, more rumors continue that Apple's push and sync solution, MobileMe, might just be going free. They're thin, admittedly, but BGR points us to a change in how account type is shown -- now "full member" is highlighted.
As opposed to free member?
We might just find out Monday, including what the differences are between "free" and "full" (or no change at all). We know you want it -- because we want it too - so go head, conjecture in the comments!
[BGR]
(opens in new tab)
Rene Ritchie is one of the most respected Apple analysts in the business, reaching a combined audience of over 40 million readers a month. His YouTube channel, Vector, has over 90 thousand subscribers and 14 million views and his podcasts, including Debug, have been downloaded over 20 million times. He also regularly co-hosts MacBreak Weekly for the TWiT network and co-hosted CES Live! and Talk Mobile. Based in Montreal, Rene is a former director of product marketing, web developer, and graphic designer. He's authored several books and appeared on numerous television and radio segments to discuss Apple and the technology industry. When not working, he likes to cook, grapple, and spend time with his friends and family.
Mine keeps changing between Individual and Full?!

Is there a free option now?

It would be nice if they had the free MobileMe, I don't need the iDisk but could seriously use the Find My Phone for my wife at times. The pictures and beta filtering was nice during the trial but I can't see spending $99yr for the service.

I agree, Me should be free. But it's not a good fee-service so I don't see how it could be a good free service.

I think maybe Find My iPhone and Back To My Mac may be "Full" features. Everything else should be free.
I won't pay for it regardless.

Mines still says individual.. btw the sprint evo line at my store was crazy.!!

Damn. I just had to renew my MobileMe account.

I assumed it was "full" as opposed to "trial." Do they still do trial memberships? It's been so long for me...

FULL has always been there and its for Family package .
Even if they dont wanna do it free, just do a $100 ONE TIME charge, not annualy. I would gladly pay $100 for lifetime FULL membership, but not every pucking year!

Makes you wonder if Apple makes it free (at the level that it is now), will they do a prorated reimbursement for those of us that paid? Oh wait, I must have momentarily lost my mind...back to reality!

I think making this free will be Apple's way of bowing out of taking any responsibility for the product. It's a marred product, no matter how well it functions for us.

Hmmm, mobile me goes free right after AT&T gets tiered pricing? I'm sure it's just a coincidence. Right? I mean, a data rich cloud computing option opens and a data free option closes. The lords work in mysterious ways.

My renewal date is tomorrow. I just received an invoice from Apple saying my credit card was billed 99 bucks. It's not free yet? If they are going to announce it's free on Monday @ the WWDC you think they would have waited to bill me? If it is announced on Monday I expect a refund?

@Arnie, they won't want another iPhone 1G issue on their hands (when they cut the price). If they make it free and you just paid they'll either credit your card or give you a $100 gift certificate to the iTunes store.

The service is poor at best. I have it on the family plan and we've lost data in the Calander many times. The iDisk feature is slower than molasses on my Mac. So slow it's nearly useless. The only thing we've used successfully is email and the find my iPhone feature. When we tried to get support on the lost Calander issues it was virtually non-existant. Free seems to be the only option that my keep me in the loop.

Love the service, don't care for the price. My wife uses google sync and it su**
be happy to keep paying but there need to be improvements (notes and to do editable in the cloud eg)

Google sync definitely does not suck. I've been using it since it was released and never had any problems. I prefer it over MobileMe. iDisk is a joke. Crashed my computer every time I try and use it.

Gee I must have the only ME account that works great! I love it, and will gladly pay the small $8 a month fee!

Between fruux and dropbox, who needs MobileMe?

@Art - I have the Family Pack, my Account Type reads "Family Pack - Master".

I want it just so I can access my Time Capsule remotely. How can Apple limit access without a MobileMe membership? Really, Apple?

I have been with them since it went @me.com, from @mac.com and the whole re-branding to MobileMe. I use it everyday, and would gladly pay to keep my subscription up. Find my iphone has come in handy about 10 times, all stupid things, but the idisk and mail and iphone/ical sync is worth every penny.

I like that my contacts are safe in the cloud, and can be zapped to my new iPhone in seconds. Bookmark and calendar syncing across devices is great and push email is fantastic. Find my iPhone is great too. However it is too expensive and iDisk is a piece of ****. It should be free to all iPhone OS device purchasers, or maybe like only $10 per year charge. €80 a year is ridiculous.

Contacts, Calendar, Bookmark sync + inter-Mac dock/keychain sync are worth it. And Find My iPhone has helped out repeatedly. iDisk is painfully slow.

It means if your on the 60 day trial or you've passed that and into the payment.

MobileMe.com is horrible on macs or pcs. The only features I really enjoy are the find my iPhone and the data syncing. The immediacy of it is awesome, nothing like hearing those dings as soon as someone sends me an email. iDisk and that photo gallery junk is crap

i love mobileme and an update is much needed. i just recently renewed my 1-year subscription for $99.99 and i'm wondering IF it were to go completely free i should get some type of a refund. right?

James you need to get a iPhone case stitched to your body, lost your iPhone 10 times. I've only used find my iPhone to see if it really works.

Rip in peace for mobile me, but u can't fight with free services. Don't get me wrong, the mobile me offers u the easiest interface for apple product syncing but 99 a year it's not the only option out there. Besides google servies r awesome, even more once I discovered igoogle I have my contacs calendars emails synket at even my homepage macs andiphone. Only missing find my iPhone, and bookmark synking

@daJe Ya the sprint store near me was crazy too. The 20 people in line where so thrilled. The line died down after about a hour or so I went back to the store and went in to see what the fuss is all about. Nice phone nice screen but to big for a PHONE. And i'm not a big fan of the os. Anyway back on topic I had moblie me for 1 year and the services where useful to me like twice. It's not really worth the $100.

Free MobileMe would surely make one hell of a impact between iPhone vs android war

I've seen a lot of people complain about iDisk being slow but I've never had a problem with it. It's always fast and I'm loading heavy files to it. $100 a year is worth it for all the features I get but $0 sounds a whole lot BETTER. Hopefully we see soon.

I dont know why most of you guys talk about Mobileme being $100, I bought both my wife and my MoMe account for $44 each on Ebay, ....it is definitely worth that to me...

I would be all over a free ad sponsored version. Doubt that'll happen though.

Mine says "individual." Hm.

I was lucky enough to purchase my MobileMe account for only $69 last year from an Apple Store near Orlando. I was on vacation at the time and the Apple employee was nice enough to give me the $30 discount. Just getting that discount was enough for me to purchase it. I am going to wait and see if it does become free. My account expires in 8 days and have turned off the auto renew. Also I uploaded everything from iDisk to my company's box.net cloud for the time being. This summer should really shape up for a huge tech war of Apple vs Android. I wonder how Blackberry is viewing this from te sidelines.

$99/year is to damn much for those features...that aren't that special nowadays, nor is the page's design that superb to deserve that ammount of money! At least for me, MobileME is getting to the point it looks like iWork.com... not usable at all, minus for that Find my iPhone feature, that never use (ok I know some people tend to lose their iphones on a regular basis).
For Calendar I can use google calendar and sync with iCal
For email...gmail of course
well to sync contacts...i can give that one to Apple...but hardly $99 for that feature..
Sorry Apple blokes...if you make the service free...or at least one free with some limitations...your faithful Mac fanboys will love you even more and will buy an iPad, a Macbook to match their iPhones and iMacs and sync everything as well as brag and show off! Try that mates!

I am anxiously awaiting the release of free membership to MobileMe, any sort of free option will definitely be welcomed and worth it. When it comes to Apple products and services South Africa is the second most expensive.

Please!! This should of been free since day one!!

Wonderful beat ! I wish to apprentice even as you amend your web site, how can i subscribe for a blog web site? The account aided me a applicable deal. I had been tiny bit acquainted of this your broadcast offered vibrant transparent idea
Thank you for signing up to iMore. You will receive a verification email shortly.
There was a problem. Please refresh the page and try again.