Moshi Versacover case for iPad Air now available for $60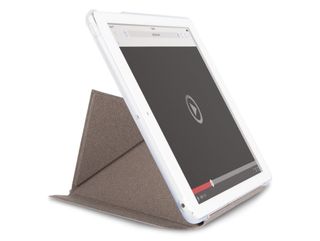 Previously announced for release this fall, Moshi has now made the Versacover case for the iPad Air available to buy now for $60. Already a popular case for the iPad mini, the Versacover for iPad Air offers the same sort of protection and 'origami style' stand for propping up your iPad at different viewing angles.
Three angles are available, the first two prop up the iPad in a horizontal or vertical viewing fashion, while the third angles it slightly so as to provide a more comfortable experience for typing. This folding front cover is paired with a polycarbonate rear shell to protect the back of your iPad Air.
The Versacover is available in Aloe Green, Denim Blue, Sakura Pink and Velvet Grey and can be purchased at the source link below. And, for a look at what the Versacover is all about, check out the hands-on video with the iPad mini version from Macworld earlier this year.
Source: Moshi
Ordered mine yesterday in grey. Have had on mini for a year and really like so wanted one for my new Air. Bought smartcover but it doesn's seem as sturdy on my Air as the one did on my iPad3. Moshi for me!

Awesome idea. When I get an Air I'm definitely picking one of these up Sent from the iMore App

Interesting. The cover looks so flimsy, though, as if the iPad would bounce under tactile assault. Does anyone have any long-term experience with one of these to tell about it's practical usage? (Nice shirt, Rene.)

My Moshi Versacover on my mini is sturdier than the Smart Cover I originally bought for it. Hoping the same for the Air.

That sounds awesome because it looks like such a neat, innovative approach to device covers.

That's good to hear. I got worried there for a second that it doesn't look too sturdy because on the video, it got a little wobbly when she tried using the Mini on landscape mode. Sent from the iMore App

I've been looking for smart case alternatives and this looks amazing! If I got an iPad this would be the case for me. Sent from the iMore App

Now that's clever! Sent from the iMore App

I'm still thinking about getting an iPad Air and I'll definitely need a case. This one looks fairly thin but quite useful. I'll definitely check it out. Sent from the iMore App

I love their products. I have their MacBook cases Sent from the iMore App

Moshi's stuff is relatively more thought out than your average accessory maker. Gonna have to try this one out in person when it shows up in my local stores. Sent from the iMore App

Moshi cover just arrived for my new Air. Liked it on my Mini and it is equally good on Air. Very sturdy. Like the angles better than the Smart Cover and it is much more solid plus my back is now protected. Kitchen scale says I added 1.5 oz. but it's worth it in my mind.

I'm very disappointed - that Apple didn't come out with this design. Around the house, I usually go naked (versus using the native iPad case), but I like this case so much, I may never take it off.
Thank you for signing up to iMore. You will receive a verification email shortly.
There was a problem. Please refresh the page and try again.