My Om Nom offers your own pet from Cut the Rope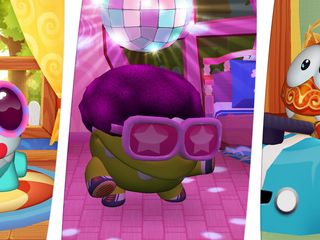 The folks behind the well-loved physics puzzle series, Cut the Rope, have released a new game called My Om Nom. In it, you get your own adorable little green alien to feed, dress up, and play around with. There are a few simple games to enjoy, but most of it is just about having your own Tamagotchi-style pet. Although it looks like it amounts to little more than Clumsy Ninja with minigames, Om Nom's appeal can't be denied.
Here's a quick look at the game's features.
YOUR OWN OM NOM! Take good care of the adorable monster from the famous Cut the Rope puzzle. Play with him, bathe him, and feed him regularly with candy!
INTRODUCING OM NELLE! For the first time ever, a little candy-eating monster girl.
FUN TO WATCH! See your pet react to you in hundreds of hilarious ways! They get sick when ignored, so make sure that you are caring and attentive.
UNLEASH CREATIVITY! Give your Om Nom a great new look with hundreds of customization options.
DECORATE YOUR HOME! From a modest shack to a luxury townhouse. Then visit other players' houses and see who is the better decorator!
PLAY MINI-GAMES! Send Om Nom on a space trip, or power up your brain with a 'match-three' puzzle.
SOLVE THE MYSTERY! Complete quests from the Professor to learn about the mysterious origins of Om Nom.
$4.99 - Download now

(opens in new tab)
Editor-at-very-large at Mobile Nations, gamer, giant.
I was really shocked by the price of the game. I'm one where I HATE "free" games but unfortunately I have so come to expect things to be free that I was quite surprised by the $5 price tag associated with this. I'll be interested in a review to see if it's worth it.

I'm really glad it's $4.99. I have no problem paying that and being done paying. This could easily have become one of those "free" games where the in ap purchases form a death by a thousand cuts scenarios.
Thank you for signing up to iMore. You will receive a verification email shortly.
There was a problem. Please refresh the page and try again.