New, updated, and discounted apps: iOS 8 updates incoming!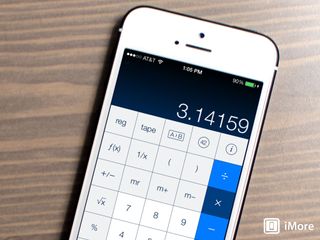 Today iOS 8 launches, and along with it, a whoooooole bunch of apps are being updated to support the new software. It's a veritable avalanche of updates, but we're going to dig up the very best ones for you. Give us a shout in the comments if you find any more!
iOS 8 app updates
New iOS apps
Goat Simulator: Achieve a trans-species nirvana in the greatest sim game of all time. - $4.99 - Download now

(opens in new tab)
Discounted iOS apps
Numerics: Business statistic visualizer. $19.99 Free - Download now

(opens in new tab)
Other iOS app updates
Get the best of iMore in in your inbox, every day!
Editor-at-very-large at Mobile Nations, gamer, giant.
Hey guys, 1Password just went free in the app store !!! Just superb !

Ha! Of course it would. Oh well, well worth the price I paid, so everyone that has been waiting should get it now. Sent from the iMore App

OMG!!! That is awesome. Thanks so much ashwyn021. I know their iOS8 version sounds like it's going to be really, really big!

You are most welcome, Sir.
1password is a great app. If it was a real necessity app for me I would not mind paying for it, but free is always better, so just had to grab this app !!

Are you fricken kidding me? I just bought this on Sunday. any chance you think they will give me a refund??

In addition, LastPass was updated last night, adding the Safari extension.

Any sign of touchId integration?

Touch ID has also been added, forgot to add that Sent from the iMore App

Any update for iphone4 Sent from the iMore App

? Sent from the iMore App

The iPhone 4 is not going to receive iOS 8.0 - the last available update for this device is iOS 7.1.x.

What? 1password went free? Great! I'll recommend it to some friends that were hesitant . Sent from the iMore App

Any update for iphoe4 in future ? Sent from the iMore App

Any update for iphone 4 in future ? Sent from the iMore App

How do we access iCloud Drive from iOS device ?

Sky Guide was also updated. They added a Notification Center widget as well as support for the 6/6+.

Not seeing it, but I'll keep an eye out.

Day One updated!! TouchID and Widget support.

Also "Daily Steps" received an update to include a new Notification Center widget which shows your step count! https://itunes.apple.com/us/app/daily-steps/id720629415?mt=8&at=10l3Vy

Will iMore get an iPad version soon?? Can't wait! Sent from the iMore App

Simon - in discounted apps, Numeric app link takes me to 1Password in App store? Sent from the iMore App

And Numerics is NOT listed as being FREE.
Thank you for signing up to iMore. You will receive a verification email shortly.
There was a problem. Please refresh the page and try again.