NSFW: Apple, iOS 8 Health, and the Gordian Knot of healthcare bureaucracy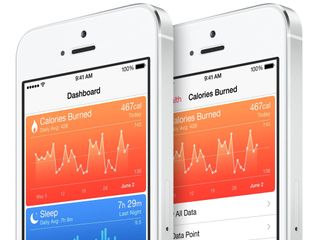 This year I've spent a lot of time in doctor's offices and I see what a giant mess the electronic health records (EHR) industry really is. And I don't think Apple's going to solve the problems facing the American healthcare industry. Apple's telling us that iOS 8's Health feature will give us a way of sharing important diagnostic information with our doctors. But it's predicated on a huge assumption: That our medical providers are affiliated with an institution that's willing to buy in to this particular data stream.
Because of my own health issues and those in my family, I deal with a lot of medical specialists. All of them use electronic health records (EHR) systems, because they're required to (especially if they expect reimbursement through Medicare and other social insurance programs). But getting these different medical providers to talk to each other is a byzantine process at best, thanks in part to a complete lack of interoperability between different EHR systems, federal and state restrictions, and pure administrative incompetence.
Case in point: My primary doctor wanted copies of lab tests that had been ordered by a specialist I'm seeing. Both of them required release forms signed by me in order to send and receive the paperwork. Even then, it would take days for it to happen.
I ended up just going to the specialist's office — fortunately I had to anyway, since I had another appointment scheduled — and asked for copies of my own lab tests. They were, of course, obliged to provide them, in hard copy form (they wouldn't or couldn't email them to me).
I just ended up faxing my doctor the results myself.
Faxing. Like a common 19th century fieldhand!
Because my primary provider recently switched over to a new EHR system that hasn't been fully implemented yet. They're either unwilling or unable to accept electronic records. So faxing the lab results was the only way they could have accepted the data, either from me or from the specialist I'm seeing.
They're promising at some point that I'll be able to do things like check their lab results or request medicine refills through their EHR system, but not today. They just launched it last month, replacing another system they'd used for a few years.
If my primary doctor and the specialist were part of the same network, they may have been able to just transfer the information between them. But that all depends on how recently both businesses had been integrated.
There's a lot of consolidation in health care these days, but healthcare IT moves at an entirely different pace than corporate mergers and acquisitions.
A couple of months ago I was seeing another specialist. When I checked in they asked me if I'd brought a medication list with me. I pulled out my phone and showed her the list.
"Do you think I can put that on the photocopier?" she said.
She was totally serious. She wanted to photocopy the screen of my phone.
Of course, I couldn't print out the list on their printer — closed network, as it should be. I offered to e-mail it, but they rebuffed the offer. So I wasted five minutes transcribing it by hand.
More wasted time, more wasted paper.
iOS 8's Health feature holds to promise to fundamentally change how many of us keep track of our health and fitness issues — it gives us a single location to store and review information on fitness, sleep patterns, nutrition — even set up a medical ID screen that's available from the lock screen of our phone, something to be used in an emergency.
I may be jaded by my experience, but I'm extremely skeptical that even Apple, with all its marketing acumen, its meetings with the FDA and even wins like the Mayo Clinic, is going to be able to make a dent here with iOS 8 Health.
What Apple is facing is nothing less than a Gordian Knot of EHR systems, healthcare IT, defensive corporate culture, administrative ambivalence and incompetence, and government bureaucracy.
And I don't think Apple, for all its graces, can do what Alexander the Great did with the Gordian Knot.
Master your iPhone in minutes
iMore offers spot-on advice and guidance from our team of experts, with decades of Apple device experience to lean on. Learn more with iMore!